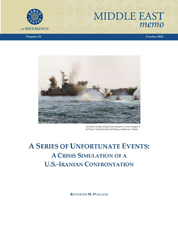 The potential for confrontation between the United States and Iran, stemming from ongoing tensions over Iran's nuclear program and western covert actions intended to delay or degrade it, remains a pressing concern for U.S. policymakers. The Saban Center for Middle East Policy hosted a one-day crisis simulation in September that explored different scenarios should a confrontation occur.
The Saban Center's new Middle East Memo, A Series of Unfortunate Events: A Crisis Simulation of a U.S.-Iranian Confrontation, authored by senior fellow Kenneth M. Pollack, presents lessons and observations from the exercise.
Key findings include:
• Growing tensions are significantly reducing the "margin of error" between the two sides, increasing the potential for miscalculations to escalate to a conflict between the two countries.
• Should Iran make significant progress in enriching fissile material, both sides would have a powerful incentive to think short-term rather than long-term, in turn reinforcing the propensity for rapid escalation.
• U.S. policymakers must recognize the possibility that Iranian rhetoric about how the Islamic Republic would react in various situations may prove consistent with actual Iranian actions.