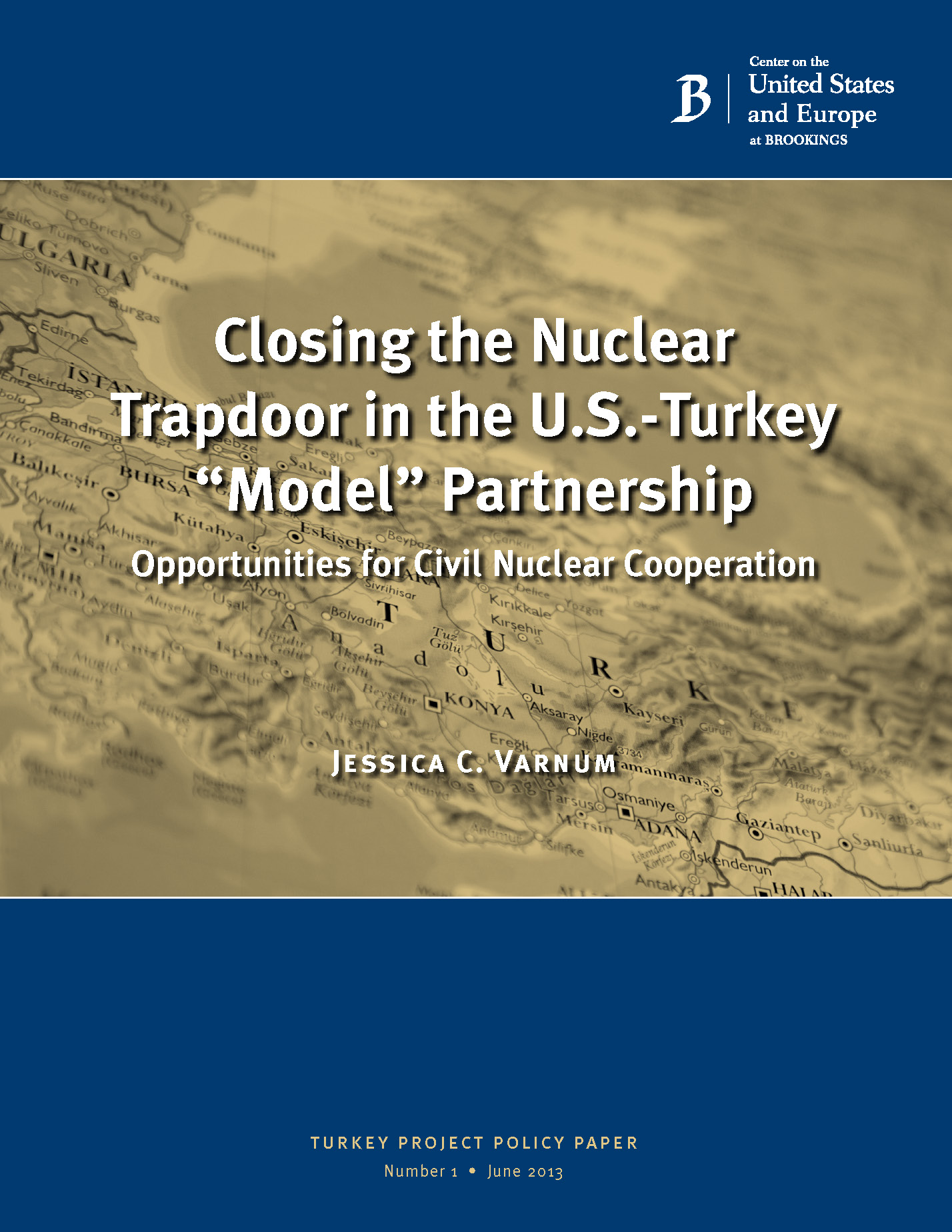 In the first Turkey Project Policy Paper, Jessica Varnum examines the potential for nuclear cooperation between the United States and Turkey to enhance what President Obama has called a "model partnership."

Under this new series, the Turkey Project of the Center on the United States and Europe at Brookings will publish regular in-depth reports on a range of issues that are shaping U.S.-Turkish relations. The quarterly analysis papers are designed to encourage independent thinking and informed debate on how the United States should engage this pivotal country.

Varnum discussed this policy paper at a June 20 Brookings event.
---
INTRODUCTION: WHY CIVIL NUCLEAR COOPERATION?
The strategic partnership between Turkey and the United States remains vital to both countries, but has struggled to adapt to a post-Cold War world. Under the ruling AKP (Justice and Development Party), Turkey has developed an assertive and increasingly independent voice on the international stage, articulating views that do not always align with U.S. preferences. Recognizing the need for a new bilateral paradigm, in 2009 the Obama Administration called for a "model partnership" to broaden and deepen cooperation. Civil nuclear issues are currently a trapdoor in this "model partnership," through which fall many unexploited opportunities for enhanced bilateral cooperation.
Given a plethora of common concerns—from free trade to the crisis in Syria—why focus finite resources on nuclear cooperation? Civil nuclear issues are uniquely salient to the health of the alliance, yet there is little positive bilateral engagement on these issues. In 2008, a U.S.-Turkey 123 nuclear cooperation agreement to enable bilateral nuclear trade entered into force, but so far very little cooperation has occurred. Meanwhile, some of the more serious bilateral disputes in recent years have involved so-called "peaceful" nuclear uses, because Ankara and Washington embrace separate and contradictory interpretations of the Nuclear Nonproliferation Treaty (NPT). Like many non-nuclear weapons states (NNWS), Turkey believes the NNWS possess an inalienable right under Article IV to nuclear fuel cycle capabilities, including enrichment and reprocessing (ENR) technologies. The United States believes the NPT grants NNWS a right to peaceful nuclear applications, but interprets this to mean fuel cycle services, not technologies. Fundamental to Turkey's perennial defense of Iran's "right" to uranium enrichment is the precedent it might set for Ankara's nuclear program. Although Turkey has no nearterm interest in ENR, it wishes to preserve all options. Accordingly, Ankara stood up to the United States in the Nuclear Suppliers Group (NSG) to ensure the NSG did not pass what it saw as overly restrictive technology transfer rules. In light of these and other differences, the relative absence of positive civil nuclear engagement undermines U.S.-Turkey relations.
The U.S. government has good strategic reason to support Turkey's nuclear energy ambitions. Doing so would benefit bilateral relations, and lend credibility to the U.S. claim that it supports the responsible spread of nuclear energy in accordance with the NPT. Ankara has demonstrated a consistently robust commitment to nonproliferation, as a party to all relevant treaties and regimes and a member of voluntary mechanisms such as the Proliferation Security Initiative (PSI). Unlike those energy-rich countries considering nuclear power, whose motivations may seem questionable, Turkey needs nuclear power to address chronic energy insecurity; the country's "increasing rate of demand for natural gas and electricity [which nearly doubled in the past decade] is topped only by China." Prime Minister Erdoğan cites nuclear power as the key to transitioning Turkey from its staggering 72% energy import dependence (primarily on Iran and Russia), into a country with "…the potential to export energy."
This paper therefore explores opportunities for the United States and Turkey to forge a new narrative of cooperation rather than conflict in the civil nuclear arena. Examining Turkey's decades-long nuclear power ambitions, the paper finds that U.S.-Turkish civil nuclear cooperation has a lengthy but inconsistent history. For primarily commercial reasons, U.S. industry is not currently involved in Turkey's first nuclear power plants (NPPs). U.S. industry disinterest is mistakenly perceived by many in Turkey, however, as evidence of U.S. distrust of Ankara's program. This misperception contributes to a difficult official-level dynamic, often overshadowing bilateral cooperative programs on nuclear nonproliferation, security, and safeguards. As such, the paper first considers cooperation challenges and opportunities for the U.S. government, but concludes by examining unexploited opportunities for industry, universities and civil society organizations to lead new nuclear cooperation initiatives in support of realizing a true "model partnership."
Adjunct Professor, Monterey Institute of International Studies -
Nuclear Threat Initiative Project Manager and Research Associate, James Martin Center for Nonproliferation Studies