The following opinion was originally posted at the America Abroad weblog on TPM Café. All past posts may be found at America Abroad – A Blog on Current Affairs on this website, or at TPM Café .
In yet another sign that sanity may be returning to US foreign policy, Secretary Rice is set to announce the administration's readiness to join in talks with Iran over its nuclear program. This is a good — if long overdue — step in the right direction. But unless a willingness to talk is accompanied by a willingness to engage in real negotiations, it may not be enough to end the crisis.
The worst possible outcome would be if we were willing to sit down with the Iranians, but not willing to deal in any substantive way. This has been the situation with North Korea, where the administration has consistently refused to work out a deal that meets not only our bottom line but also recognizes Pyongyang's concerns. If all we're prepared to do is sit at the table with Tehran and make demands, then we'd better not go at all.
Rather, we must be willing to negotiate. Now that we have said that we will talk, we must make clear that we are willing to settle all our differences through negotiations — including, ultimately, reestablishing economic and diplomatic relations and providing security guarantees as part of a regional framework. Then we can make demands, the most important of which is that Tehran agree to suspend all enrichment activities and again adhere to the Additional Protocol, which gives UN inspectors the right to inspect all suspect facilities on short notice. If Tehran refuses, we should proceed with sanctions through the UN if possible, with our European and Japanese friends if necessary, making clear our willingness to return to negotiations as soon as Iran suspends all enrichment activities and accepts full IAEA inspections.
Should Iran do so, the way ought to be open to negotiate a deal — one that would suspend all enrichment and reprocessing activities in Iran indefinitely. At that point, the package of economic and technical incentives (including assistance with Iran's nuclear energy program) that is being prepared by the EU would be on the table. Further talks could aim to restore complete economic and diplomatic relations between Washington and Tehran, once Iran ends its support of terrorism and commits to supporting a just and peaceful resolution of the Israeli-Palestinian conflict. A regional security dialogue could also be started, with the aim of guaranteeing the security of all those participating.
The road to diplomatic success is likely to be long and uncertain. But it has been clear that in order to get to the end, you at least have to be willing to start down the road. Rice's announcement thus represents a first, necessary step in that direction.
Posted at TPM Café on May 31, 2006 — 10:33 AM Eastern Time
America Abroad – A Blog on Current Affairs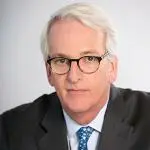 Former Brookings Expert
President -
Chicago Council on Global Affairs
Former U.S. Ambassador to NATO