Editor's Note:
This article first appeared in The Indian Express. The views are of the author(s).
Author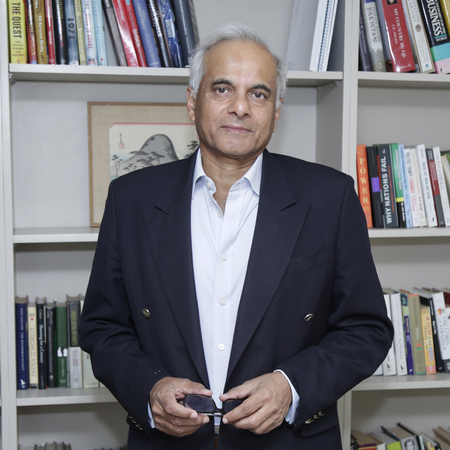 Chairman
Senior Fellow
The government faces a renewable energy trilemma. It has set itself a target of quadrupling the generation capacity of solar energy by 2022 and shifting the production of new automotive vehicles from the internal combustion model to electric vehicles (EV) by 2030. In parallel, it wants the clean energy industry to develop within the framework of its "Make in India" agenda. Finally, it wants to reduce the country's dependence on energy and energy-related imports.
The trilemma is that it cannot achieve all three of these objectives, as matters stand today. It can, conceivably, meet its solar energy and EV targets but only if it allows the industry to trawl the international market for the cheapest sources of polysilicon, photovoltaic (PV) modules and lithium-ion batteries to ensure competitiveness. PV panels account for 60 per cent of the cost of solar power and lithium-ion batteries 40 per cent of the costs of an EV. Currently, China dominates the market for all three products. On the other hand, it can promote its objectives of "Make in India" and energy self-reliance but only by imposing tariffs, and/or anti-dumping duties, on the imports of these products. The consequential impact will be higher costs and the uncompetitiveness of solar energy generation and EV production. This would deter consumers from shifting to these cleaner alternatives and the government may have to forego its generation targets. In short, the government can at best achieve only two of its three objectives.
To read more, please click here.
More
Indian Railways' business model is based on passengers underpaying and freight overpaying. Already, in financial year 2016-17, coal's extra freight charge increased the cost of power by about 10 paise per kilowatt on average. For power plants in distant states, which inherently rely on Railways for coal, this number can be three times higher.
Gujarat, Punjab, Tamil Nadu that are far from coal mines, and therefore pay more than others, will contribute proportionately more to recover the coaching loss — the passenger subsidy. This overpayment by coal-based power applies to all coal generation in States like Punjab as all their coal comes via Railways.