While the national economy is improving, the pace of growth remains inconsistent. To achieve sustainable and equitable growth, our nation's economy must be restructured from its inward focused, debt and consumption orientation to a globally engaged model driven by production and innovation. Business, civic and government leaders from across the nation have called for a new approach, one that creates more and better jobs by engaging rising global demand and attracting global talent and capital. These leaders recognize that only by harnessing the power of cities and metropolitan areas can we continue to foster job growth in the near term and restructure our economy for the long haul.
On Thursday, February 19 the Metropolitan Policy Program at Brookings and JPMorgan Chase hosted a forum, "Global Cities Indianapolis: Building and Sustaining a Competitive Region" focused on this new endeavor. Through a coordinated effort, led by the Indy Chamber, Indiana University – Purdue University Indianapolis (IUPUI) and Butler University, the region has already begun to address the opportunities and challenges brought by globalization.
Speakers at the forum provided context on the region's position in the global marketplace and offered insight into how area leaders can leverage the Indianapolis metro area's strengths to enhance the long-term prosperity of the region. The region's Export Plan was released at the forum, aimed at expanding exports to rapidly growing global markets with the goal of diversifying regional economies.
---
Presentation by Amy Liu
Photos from the event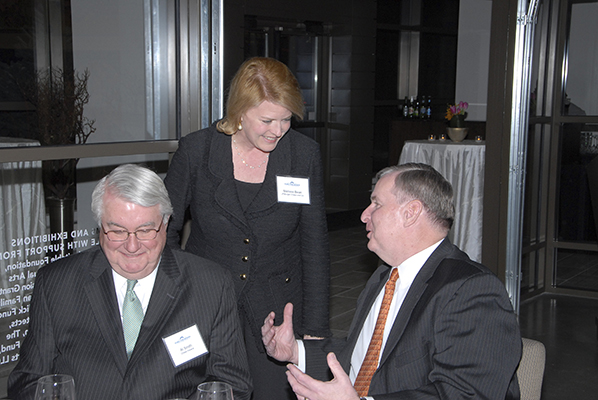 Al Smith, Chairman of Chase Indiana, Melissa Bean, Chairman of the Midwest for JPMorgan Chase and Indiananapolis Mayor Greg Ballard
Bob McElwain, Vice Chairman, Chase Indiana & President, Indiana Middle Market, Commercial Banking, opens the Global Cities forum
Indianapolis Mayor Greg Ballard addresses the forum audience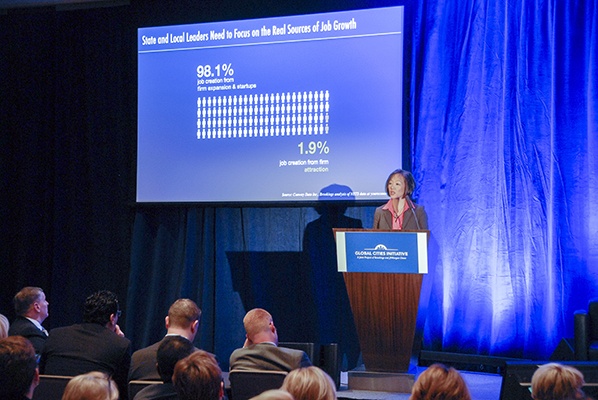 Amy Liu, Co-Director of the Global Cities Initiative and Brookings Metropolitan Policy Program
Michael Huber, Indy Chamber President and CEO
Marek Gootman, Kathy Davis, Jeffrey A. Day, Gil Latz, and Mary Ellen Wiederwohl