Few people realize that one of the nation's largest health programs runs through the tax system. Reformers of all stripes propose to modify current tax rules as part of larger programs to increase coverage and control costs. Is the current system working? Will tax-based reforms achieve their goals? Several of the nation's foremost experts on taxation and health policy address these questions in Using Taxes to Reform Health Insurance, a joint product of the Urban-Brookings Tax Policy Center and the American Tax Policy Institute. Led by respected economists Henry Aaron of the Brookings Institution and Leonard Burman of the Urban Institute, contributors examine the role taxes currently play, the likely effects of recently introduced health savings accounts, the challenges of administering major subsidies for health insurance through the tax system, and options for using the tax system to expand health insurance coverage. No taxpayer or consumer of health care services can afford to ignore these issues.
Related Books
Reforming Medicare
The Economic Payoff from the Internet Revolution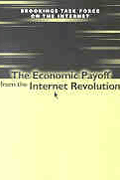 Health Care Policy
The Economic Payoff from the Internet Revolution
Robert E. Litan, Alice M. Rivlin
August 1, 2001
Beyond the Dot.coms
Henry J. Aaron is a senior fellow in Economic Studies at the Brookings Institution, where he holds the Bruce and Virginia MacLaury Chair. Among his many books are Can We Say No? The Challenge of Rationing Health Care, with William B. Schwartz and Melissa Cox (Brookings, 2006), and Reforming Medicare: Options,Tradeoffs, and Opportunities, written with Jeanne Lambrew (Brookings, 2008). Leonard E. Burman is director of the Urban-Brookings Tax Policy Center and a senior fellow at the Urban Institute. He is the author of The Labyrinth of Capital Gains Tax Policy: A Guide for the Perplexed (Brookings, 1999) and coeditor with Henry Aaron and Eugene Steuerle of Taxing Capital Income (Urban Institute, 2007).