Designing a new digital social contact for our technological future
High technology presents a paradox. In just a few decades, it has transformed the world, making almost limitless quantities of information instantly available to billions of people and reshaping businesses, institutions, and even entire economies. But it also has come to rule our lives, addicting many of us to the march of megapixels across electronic screens both large and small.
Despite its undeniable value, technology is exacerbating deep social and political divisions in many societies. Elections influenced by fake news and unscrupulous hidden actors, the cyber-hacking of trusted national institutions, the vacuuming of private information by Silicon Valley behemoths, ongoing threats to vital infrastructure from terrorist groups and even foreign governments—all these concerns are now part of the daily news cycle and are certain to become increasingly serious into the future.
In this new world of endless technology, how can individuals, institutions, and governments harness its positive contributions while protecting each of us, no matter who or where we are?
In this book, a former Facebook public policy adviser who went on to assist President Obama in the White House offers practical ideas for using technology to create an open and accessible world that protects all consumers and civilians. As a computer scientist turned policymaker, Dipayan Ghosh answers the biggest questions about technology facing the world today. Proving clear and understandable explanations for complex issues, Terms of Disservice will guide industry leaders, policymakers, and the general public as we think about how we ensure that the Internet works for everyone, not just Silicon Valley.
Related Books
Exploring Hate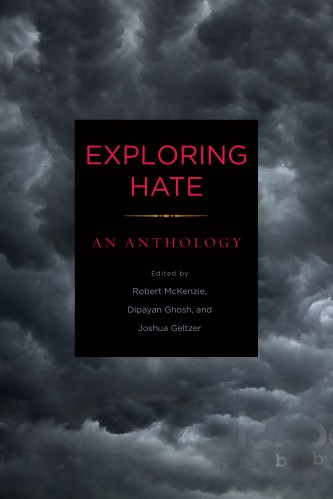 From Gutenberg to Google
Praise for Terms of Disservice
"With subject expertise and a lively writing, Dipayan Ghosh provides a rare and important examination of the underlying problems of Big Tech today: the business models."
—Cecilia Kang, technology reporter, New York Times
"One of the greatest challenges to confronting misinformation and disinformation is being able to define the problem in the first place—and Ghosh helps us to follow the money. We won't begin to solve this urgent problem unless we confront the market incentives that make it not just viable, but profitable. In this book, Ghosh helps us take a big leap forward in understanding the business model that underpins fake news—and how we can start to do something about it."
—Robby Mook, founder, Defending Digital Democracy Project, Harvard Kennedy School; former campaign manager, Hillary for America
"Terms of Disservice bravely goes after the root of all internet evil—the consumer surveillance business model, a dire threat to our privacy, democracy, and way of life."
—Bruce Reed, former chief of staff for Vice President Joe Biden, head of domestic policy for President Bill Clinton
"Lively, visual, and relentlessly clear-eyed, Terms of Disservice offers a disturbing evidence-backed portrait of a digital economy now cursed by catastrophic success."
—Jonathan Zittrain, George Bemis Professor of International Law, Harvard Law School
"Powerful internet platforms, driven by a ruthless commercial logic, have caused tremendous harm in the United States and around the world. With technological sophistication and crystal-clear writing, Terms of Disservice provides the analytical tools necessary to understand the structural roots of this crisis and the policies we need to confront it. Anyone who thinks democracy is worth saving should read this compelling book."
—Victor Pickard, professor, University of Pennsylvania; author of Democracy Without Journalism? Confronting the Misinformation Society
"Ghosh's deep knowledge of the way digital companies undermine our cognition, agency, and democracy is scary but required reading. Thankfully, his deep faith in the ability of government and civil society to develop a new social contract makes this a hopeful and actionable proposal."
—Douglas Rushkoff, professor of media theory and digital economics, Queens College; author of Team Human
"Terms of Disservice addresses the big picture of social media—both its place in our national economy and its corrosive effect on the individual. Ghosh concludes with a proposal for a social contract that preserves the strengths of social media while respecting the autonomy of the individual. The result is a roadmap for policymakers—we can only hope that they pay attention."
—Stephen B. Wicker, professor, Cornell University; author of Cellular Convergence and the Death of Privacy
Authors
Dipayan Ghosh
Co-Director, Digital Platforms & Democracy Project
- Harvard Kennedy School,
Faculty Member
- Harvard Law School
@ghoshd7
Dipayan Ghosh is the Pozen Fellow and directs the Platform Accountability Project at the Harvard Kennedy School. A computer scientist by training, he has served as a technology and economic policy adviser in the Obama White House and as a Privacy and Public Policy Adviser at Facebook.