Whether responding to a CNN.com survey or voting for the NFL All-Pro team, computer users are becoming more and more comfortable with Internet polls. Computer use in the United States continues to grow—more than half of all American households now have a personal computer. The next question, then, becomes obvious. Should Americans be able to use the Internet in the most important polls of all?
Some advocates of Internet voting argue that Americans are well suited to casting their ballots online in political elections. They are eager to make use of new technology, and they have relatively broad access to the Internet. Voting would become easier for people stuck at home, at the office, or on the road. Internet voting might encourage greater political participation among young adults, a group that stays away from the polling place in droves. It would hold special appeal for military personnel overseas, whose ability to vote is a growing concern. There are serious concerns, however, regarding computer security and voter fraud, unequal Internet access across socioeconomic lines (the "digital divide"), and the civic consequences of moving elections away from schools and other polling places and into private homes and offices. After all, showing up to vote is the most public civic activity many Americans engage in, and it is often their only overt participation in the democratic process.
In Point, Click, and Vote, voting experts Michael Alvarez and Thad Hall make a strong case for greater experimentation with Internet voting. In their words, "There is no way to know whether any argument regarding Internet voting is accurate unless real Internet voting systems are tested, and they should be tested in small-scale, scientific trials so that their successes and failures can be evaluated." In other words, you never know until you try, and it's time to try harder.
The authors offer a realistic plan for putting pilot remote Internet voting programs into effect nationwide. Such programs would allow U.S. voters in selected areas to cast their ballots over any Internet connection; they would not even need to leave home. If these pilot programs are successful, the next step is to consider how they might be implemented on a larger scale in future elections.
Related Books
Point, Click, and Vote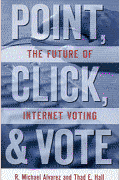 Election Fraud
Overcoming Trumpery
R. Michael Alvarez is professor of political science at the California Institute of Technology and codirector of the Caltech-MIT Voting Technology Project. His books include Hard Choices, Easy Answers: Values, Information, and American Public Opinion, written with John Brehm (Princeton, 2002). He is a nationally recognized expert on voting behavior and elections. Thad E. Hall is assistant professor of political science and a research fellow in the Institute of Public and International Affairs at the University of Utah.