Climate change threatens all people, but its adverse effects will be felt most acutely by the world's poor. Absent urgent action, new threats to food security, public health, and other societal needs may reverse hard-fought human development gains. Climate Change and Global Poverty makes concrete recommendations to integrate international development and climate protection strategies. It demonstrates that effective climate solutions must empower global development, while poverty alleviation itself must become a central strategy for both mitigating emissions and reducing global vulnerability to adverse climate impacts.
Related Books
Climate Change Policy after Kyoto
The Other War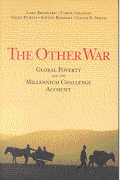 Development Financing
The Other War
Lael Brainard, Carol L. Graham, Nigel Purvis, Steve Radelet, Gayle E. Smith
June 17, 2003
Climate Change Policy after Kyoto
Climate Change
Climate Change Policy after Kyoto
Warwick J. McKibbin, Peter J. Wilcoxen
December 16, 2002
Authors
Lael Brainard
Member
- Board of Governors of the Federal Reserve System
Lael Brainard served as vice president and director of the Brookings Institution's Global Economy and Development program, 2006–09. She has been nominated by President Barack Obama to be under secretary of the U.S. Treasury for international affairs.
Abigail Jones is a research analyst with Brookings.
Nigel Purvis is the president of Climate Advisers and a visiting scholar at Resources for the Future. He is a former senior U.S. climate change negotiator, acting most recently as deputy assistant secretary of state for oceans, environment, and science.