Brookings today releases a report USAID's Public-Private Partnerships: A Data Picture and Review of Business Engagement, which will be the subject of a public discussion on March 8 featuring a panel of Jane Nelson (Harvard University), Ann Mei Chang (U.S. Agency for International Development (USAID)), Johanna Nesseth Tuttle (Chevron Corp.), and Sarah Thorn (Wal-Mart Stores Inc.).
The report is based on USAID's database of 1,481 public-private partnerships (PPPs) from 2001 to 2014 and a series of corporate interviews.
The value of those partnerships totals $16.5 billion, two-thirds from non-U.S. government sources – private companies, nongovernmental organizations (NGOs), foundations, and non-U.S. public institutions. Over 4000 organizations have served as resource partners in these PPPs.  Fifty-three percent are business entities, 32 percent are from the non-profit world, and 25 percent are public institutions. Eighty-five organizations have participated in five or more PPPs, led by Microsoft (62), Coca Cola (36), and Chevron (33).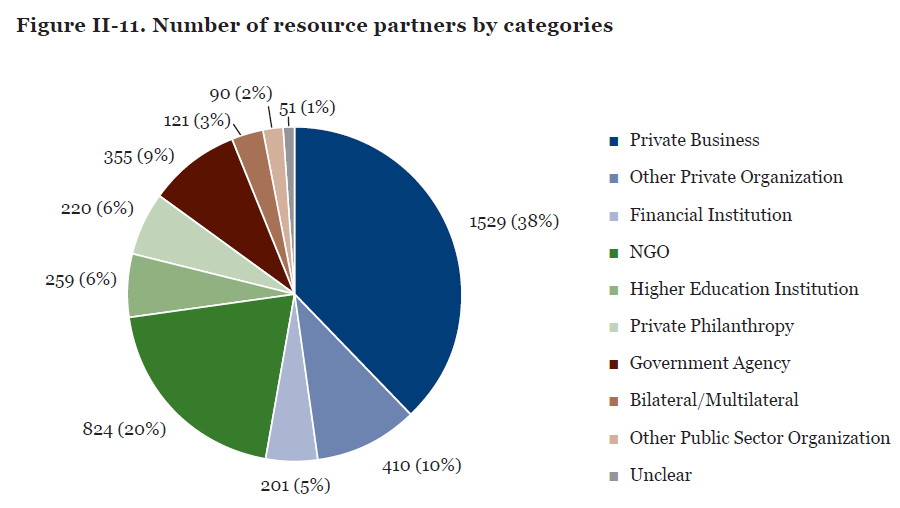 The partnerships are relatively evenly distributed among three major regions—Africa, Latin American/Caribbean, and Asia—but 36 percent of the value of all PPPs is from partnerships that are global in reach.
In analyzing the data, the researchers found that 77 percent of PPPs included one or more business partner, and that 83 percent of these partnerships are connected to a business partner's commercial interest (either shared value or more indirect strategic interest). In almost 80 percent of those PPPs, the business partner contributes some form of corporate expertise to the partnership.
The purpose of the March 8 panel discussion is to examine the report but also to go beyond by addressing outstanding questions like: how should the impact of public-private partnerships be identified, measured, and evaluated? Is shared value the Holy Grail linking corporate interest to public goods and achieving sustainable results? Where do public-private partnerships fit in USAID's strategy for engaging the private sector in development, particularly in light of the emphasis on the role of business in advancing the new set of Sustainable Development Goals?
We hope you can join us for what should prove to be an engaging discussion.