The late Danish Nobel Laureate Niels Bohr is often attributed as saying, "Prediction is difficult, especially about the future." Fifty years ago, Fortune magazine published "The Fabulous Future in America in 1980," a bold look into what life would be like in the United States 25 years hence. Some of the smartest and most influential Americans at the time made various predictions that held true—for example, technology sped up, polio was conquered and "calculating machines" were invented.
But in detail and broad conception, these luminaries almost categorically missed the mark, predicting energy would be free, most forms of transportation would be atomic-powered, houses would run on small atomic generators, people would commute by personal helicopter, and the economy would no longer be subject to serious recession. The 1980s as imagined in the 1950s were nothing like the era we experienced then, nor does it ring true in contemporary times.
An updated look at the future
Frances Hooper Professor of the Arts and Humanities Gary Saul Morson and President Morton Schapiro at Northwestern University have bravely taken on the task of prognosticating about our fabulous future again, only this time with an eye on 2040 and a great big question mark at the end. Their new edited book, "The Fabulous Future?", follows the lead of the earlier work by assembling a new array of leading specialists from diverse fields. It asks questions similar to its predecessor, with hopefully more accurate results. Morson and Schapiro suggest in their conclusion that the diversity of contributors has created a volume that more closely reflects the multiplicity of today's thinking and therefore might more accurately anticipate the world to come.
"Perhaps, like the 40-handicap golfer, if you swing enough, one of your shots will inadvertently go straight, and readers will be amazed that someone actually got something right."
Morson and Schapiro pose a series of questions that policymakers and the public at large are confronting on a daily basis. Some are focused on specific sectors (e.g., where is higher education heading and how should it develop?) while others are more existential (e.g., will we be happier?). The editors also are humble to a fault: "Will readers one day marvel that this volume contains Nostradamus-like predictions of the world to be?" The Fortune book suggests that what we say here will be wildly off the mark. But perhaps, like the 40-handicap golfer, if you swing enough, one of your shots will inadvertently go straight, and readers will be amazed that someone actually got something right.
I found the book to be fascinating reading, a perfect companion to take along to the beach, discuss with colleagues at an office happy hour, or even with friends at a weekend barbeque. Morson and Schapiro clearly want to stimulate a current discussion about our loftiest aspirations and greatest fears.
Technology is central
My main criticism is that they seem to underplay the central animating role that technology already plays in our lives, and how it will assume an increasingly vital role in the years leading up to their 2040 end date—and well beyond. By segregating technology as a sector, rather than an area of dominant influence, they make it more difficult to formulate a coherent picture of where we are headed as a society. Changes in the economy, health care, politics, the environment, and higher education—all of which are addressed in separate chapters—surely will be driven by technology research, innovation, and application. And even the question about the extent of our future happiness will be highly dependent on how we utilize technology and protect ourselves from its ability to be all-consuming and ever-intrusive.
The Fortune book depicted technology as a locomotive that would pick up speed as the years progressed. The unstated subtext for Morson and Shapiro, despite their old-style compartmentalization, is that the speed of technology exponentially expands influence across virtually all ways that we manage our individual and collective lives, now and forevermore. I am fairly confident that this observation still will be right on the money when a new set of authors assembles in 25 years to write about their predictions for the year 2065.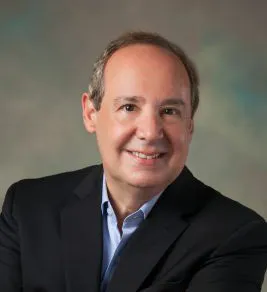 Howard Distinguished Endowed Professor of Media Management and Law and Beaman Professor of Communication -
University of Tennessee, Knoxville