Policy experts have long opined that healthcare spending in the U.S. is massively inefficient. Despite extremely high levels of healthcare spending the returns are terrible when compared with other western countries. Electronic exchange of medical records can help to mitigate some of that wasteful spending by reducing unnecessary or redundant procedures. In a new paper Niam Yaraghi presents his empirical analysis of doctors who used electronic health databases and finds substantively large positive impacts.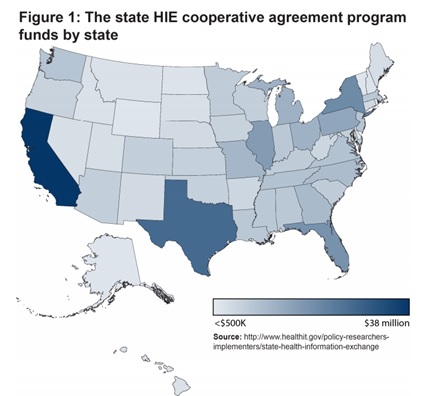 The Office of National Coordinator for Health IT has awarded slightly over half a billion dollars for states and others to establish electronic networks, which connect medical providers together and allow them to share their patients' data with each other. Yaraghi points out that building these systems alone will not yield results in and of itself, rather their success depends on participation of medical providers. The greater the number of medical providers who use these systems the more valuable they become for other doctors and patients. Healthcare providers are reticent to use a system with few records; but conversely a system with many patient records is extremely valuable.
Yaraghi looked closely at two emergency departments in Western New York in early 2014. The hospitals had medical liaisons that were able to query relevant medical information about the patients who visited the emergency room. Yaraghi then compared the number of laboratory tests and radiology examinations for the two groups of people with the necessary controls. He finds that "the number of laboratory tests is expected to reduce by 25 percent in patients for whom previous medical data is being queried." In addition the analysis revealed, "the number of radiology examinations is expected to reduce by 26 percent in patients for whom their care includes querying the [database]." Both numbers are substantively large and help to inform how widespread use of health records systems could eliminate waste.
To bring the benefits of this technology to a nationwide scale will require a larger effort. In another paper Yaraghi argues that the current incentive structure discourages medical providers from exchanging patient data. New approaches and policies are necessary to ensure that Americans gain from the potential benefits of Information Technology in healthcare sector.
Ph.D. student -
Vanderbilt University
Former Research Analyst -
The Brookings Institution