Starting today, April 1, the United States Citizenship and Immigration Services is accepting applications for the limited number (85,000) of H-1B Visas, the temporary visa that allows U.S. employers to hire foreign workers in specialty positions that require at least a bachelor's degree. Twenty thousand of the visas are set aside for foreign nationals who hold master's degrees or higher from U.S. universities. Once the cap is reached and if there are more applications submitted than visas available, USCIS will conduct a lottery on April 7. The process is first-come, first-served.
Neil Ruiz (@neil_ruiz), Jill Wilson (@JillHWilson) and Jonathan Rothwell (@jtrothwell), analysts and associate fellows in the Brookings Metropolitan Policy Program, have written numerous articles and commentary on the application process (the "race to the cap"), its flaws and how it could be improved to better help workers and the economy. A collection of this analysis appears below:
Immigration Facts: Temporary Foreign Workers (June 2013)
Data on the numbers, occupations, and geographical distribution of temporary workers, along with a look at proposed policy changes.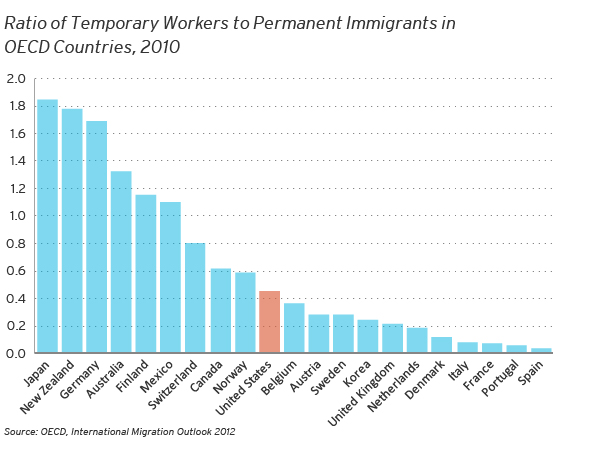 ---
H-1B Visas and the STEM Shortage (May 2013)
Evidence that the H-1B Visa program helps alleviate acute shortages in various STEM-related occupations.
---
A Balancing Act for H-1B Visas (April 2013)
Discussion of the Border Security, Economic Opportunity, and Immigration Modernization Act of 2013
---
The 2014 H-1B Visa Race Begins Today (April 2013)
Discussion of reforms to the H-1B system, including an "H-1B escalator" that would adjust the statutory cap depending on employer demand.
---
The Search for Skills: Demand for H-1B Immigrant Workers in U.S. Metropolitan Areas (July 2012)
Analysis of how the H-1B application process works and data on demand for H-1B workers in U.S. metropolitan areas
(click on the graphic below to go to an interactive presentation)
---
Get all Brookings research and commentary on H-1B visas here.