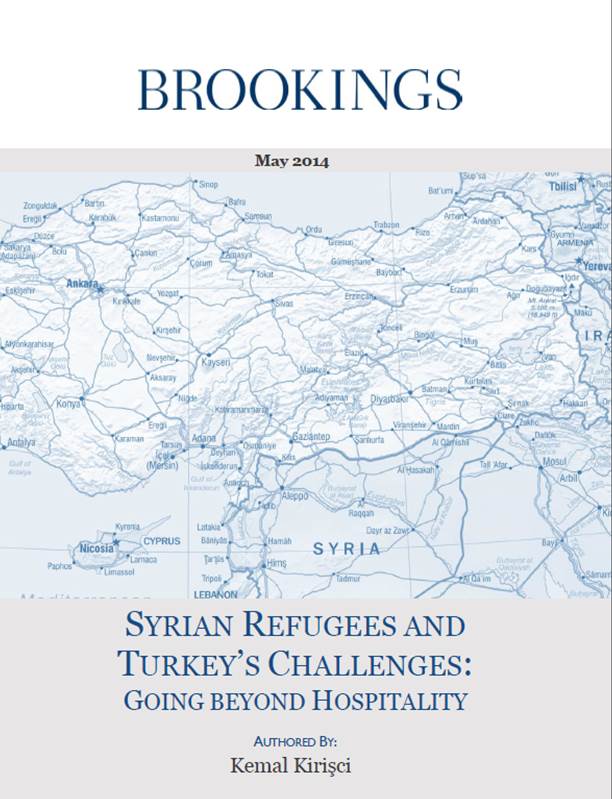 The first Syrian refugees began to cross into Turkey in April 2011. This was at a time when Turkey's relations with the Syrian government had not yet been ruptured. The Turkish side was deeply engaged in efforts to persuade Bashar al-Assad to avoid harsh measures against protests that began in March 2011. However, when the Syrian government, instead, chose to use increasing repression and violence against civilians, relations between the two countries deteriorated very quickly. 
By the end of 2011, the Turkish government had thrown its weight completely behind the Syrian opposition and recognized the then-Syrian National Council as the representative of the Syrian people.Turkey's expectation, which was in line with a good part of the international community, was that the Assad regime would not last long. It was against such a background that Turkey declared in October 2011 an open door policy towards refugees fleeing Syria and extended to them a legal framework known as "temporary protection." 
As of May 2014 there are roughly 220,000 Syrian refugees housed in 22 camps along the Syrian border with another 515,000 registered urban refugees. The government together with UNHCR put the total number of all the refugees in Turkey at around an estimated 900,000. There is general recognition that the government has done a commendable job in providing protection and humanitarian assistance to the refugees in the camps. However, the situation for those refugees outside the camps is more complicated.
The persistence of the conflict and the ever growing number of urban refugees is creating a set of tough challenges for Turkey. It is becoming increasingly clear that refugees are not about to return home anytime soon. This brings up a range of very difficult policy issues for the government. They range from whether the government should start to think in terms of offering refugees the possibility to remain and integrate in Turkey to addressing urgent education, employment, health, shelter and other needs of Syrian refugees. Secondly, the refugee population outside camps has grown significantly and is expected to surpass one million by the end of the year. The government is trying to register them but the process is far from complete, particularly as increasing number of refugees are living outside of camps where assistance is always more difficult and complex. Working with refugees who are dispersed in the host community involves different governmental agencies and it is harder to identify who the target population is, harder to figure out how to assist host communities, especially in the absence of a comprehensive systematic need assessment exercise. Thirdly, the presence of growing numbers of Syrians in Turkey is deeply impacting on host communities economically, socially as well as politically. Last but not least, there is also the continued deterioration of the humanitarian and political situation inside Syria. 
How should Turkey be addressing these challenges?
The government and civil society need to switch gears from policies driven by concerns of extending emergency humanitarian assistance and temporary protection to ones focusing on the long term to facilitate the possible eventual incorporation of the refugees into Turkish society. Recognizing this reality and adopting the necessary policy adjustments is a must if this crisis is to be transformed into an outcome as positive as is realistically possible for all involved. It is only then that a repetition of too familiar scenes of huge numbers of miserable refugees lingering in camps and on the edges of society across generations is to be avoided.
 
Turkey will need to develop a well thought out, debated and structured comprehensive policy with a strong legal grounding. As much as Turkey's open door policy has been a commendable one it has had a weak legal basis. A secret regulation adopted in March 2012 should not constitute the basis of a policy that is extending protection close to one million people and has cost $2.5 billion. For very understandable reasons, many aspects of the current policy evolved incrementally and in a rather haphazard manner. This cannot continue. When developing a policy it will also be very important that the government engages domestic stakeholders in policy formulations and embarks on an effort to mobilize and gain public support. The latter exercise will need patience and a lot of goodwill.
 
Turkey should not have to bear the cost of this policy transformation alone. Protecting and caring for refugees is an international responsibility. The international community will have to contribute to Turkey's efforts in real and effective terms. In addition to the norms of humanitarian assistance, there are other solid reasons why the international community should assist Turkey's efforts to respond to the refugees. If Turkey can indeed be successful in its management of the refugee crisis this would surely benefit the international community too. However, in turn, Turkey will have to shed some of its real or imagined distrust of the international community and its institutions. Turkey is a founding member of the United Nations, is deeply engaged in many of its institutions and also aspires to become a non-permanent member of the United Nations Security Council. It will also be important to recognize and accept that those international actors that will extend financial help will rightfully seek transparency and accountability.