Historically large aid provided during the COVID-19 pandemic prevented dire hardship for millions, but some people who needed aid were left out and some aid went to people who didn't need it, according to a paper presented at the Brookings Papers on Economic Activity conference on March 25.
Also, policymakers will need to consider how to unwind support while also shifting aid to meet ongoing needs, write Krista Ruffini of Georgetown University and Abigail Wozniak of the Federal Reserve Bank of Minneapolis.
In Supporting workers and families in the pandemic recession: Results in 2020 and suggestions for 2021, the authors evaluate the expansion and extension of unemployment insurance, economic impact (stimulus) payments, and the Paycheck Protection Program. They also examined the expansion of the Supplemental Nutrition Assistance Program (SNAP) and federal. state and local eviction moratoria.
"Overall, we find the programs were highly successful at delivering intended aid in 2020," they write.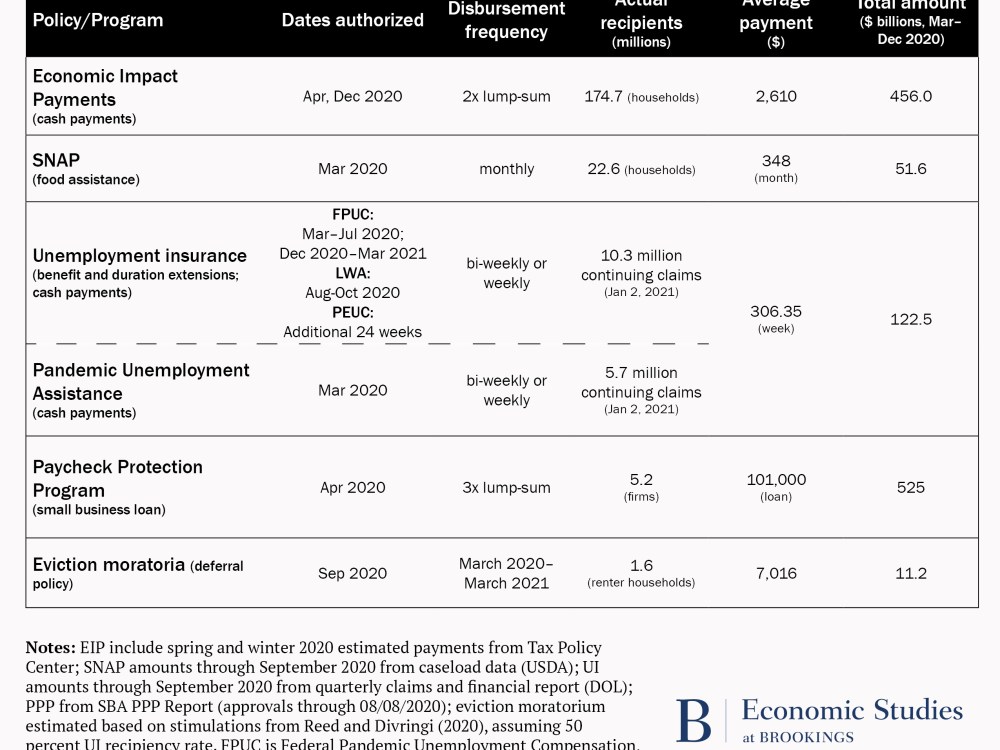 They cite evidence showing the unemployment insurance expansion increased spending by the unemployed and reduced inequality. However, they note that a large share of support payments went to households who saved rather than spent it. At the same time, economic impact payment recipients were drawn from Internal Revenue Service and Social Security Administration databases, leaving out many working-age people who did not earn enough to file tax returns. Going forward, the authors recommend using Medicaid enrollment information to reach more people. Also, they cite research showing the Paycheck Protection Program preserved many small businesses but said the evidence on whether it preserved jobs is mixed.
Eligibility for SNAP vouchers to purchase groceries was expanded during the pandemic, benefits were increased for some recipients, and recipients were allowed to receive benefits for longer. However, the maximum benefit (for the lowest income recipients) was not increased. The authors note a Census Bureau survey showing food insecurity remained high throughout 2020. They write that it is too soon to judge the full effect of the eviction moratoria but noted the survey shows around four percent of renters and homeowners feared losing their housing in the near future, likely similar to or higher than before the pandemic. The survey suggests aid needs to be better targeted to people with the greatest needs, they write.
Looking ahead, policymakers should begin considering ways to smoothly phase out support as the economy recovers, the authors write. Instead of arbitrary expiration dates, or "cliffs," policymakers should tie benefits to the state of the economy as measured, for example, by a mix of labor market indicators. Also, programs that could potentially distort economic decision-making should be phased out first, starting with the Paycheck Protection Program and then proceeding to some of the unemployment insurance expansions and lastly withdrawing support that is not directly tied to work.
The authors call for more spending to address the long-run effects of the pandemic. These include effects of extended schooling disruptions, acute mental health trauma, prolonged periods of poor mental health, and persistent health impacts of COVID infections. They suggest Veterans Administration mental health services could be expanded to non-veterans and that mental health care could be provided to parents through schools. Disability insurance system guidelines could be developed for medium- or long-run work disruptions due to persistent COVID symptoms. They also advocate developing systems for weathering and containing any new outbreaks caused by virus variants, including by supporting firms that offer paid leave to employees that need to receive testing or isolate.
---
Aknowledgements
David Skidmore authored the summary language for this paper. Becca Portman assisted with data visualization.
Citation
Ruffini, Krista and Abigail Wozniak. 2021. "Supporting Workers and Families in the Pandemic Recession: Results in 2020 and Suggestions for 2021." Brookings Papers on Economic Activity, Spring, 111-139.
Conflict of Interest Disclosure
Krista Ruffini is a visiting scholar at the Federal Reserve Bank of Minneapolis. Abigail Wozniak is a labor economist at the Federal Reserve Bank of Minneapolis. She also holds unpaid advisory board positions at the McKinsey Institute for Black Economic Mobility and the Hennepin County Small Business Recovery. Other than the aforementioned, the authors did not receive financial support from any firm or person for this article or from any firm or person with a financial or political interest in this paper. They are currently not officers, directors, or board members of any organization with an interest in this paper.
Disclaimer
The views expressed by the authors, discussants and conference participants in BPEA are strictly those of the authors, discussants and conference participants, and not of the Brookings Institution. As an independent think tank, the Brookings Institution does not take institutional positions on any issue. Please contact Haowen Chen (hnchen@brookings.edu) if you have any questions.