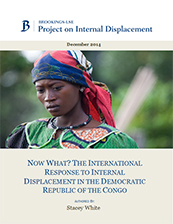 Editor's note: This report on internal displacement in the Democratic Republic of the Congo is available in English and French.
For over two decades, large numbers of people in the Democratic Republic of the Congo (DRC) have been displaced from their homes, often repeatedly, as a result of persistent conflict. The waves of violence have been so chronic over the years that displacement has touched nearly every inhabitant living in the eastern provinces. Although figures have fluctuated, the number of internally displaced persons (IDPs) has generally hovered around the two million mark for over a decade, with an estimated 2.6 million displaced in 2014 – most of whom do not live in settlements but are dispersed among the local population.
There is no doubt that the continual presence of international organizations in DRC over the last decade has helped to save lives and alleviate suffering. Unfortunately, results of the long-term international efforts in the country have failed to progress beyond the narrowest of humanitarian objectives, and even then, the emergency response has never been able to adequately address the vast needs of war-affected populations. Despite a constant presence in the country for years, humanitarian interventions have often been inconsistent and too meager to tackle the immense and diverse needs of vulnerable groups in DRC and not sufficiently agile to provide truly rapid emergency assistance for the newly displaced.
International military and political efforts to bring an end to the conflict have also had their share of impediments as well. After some 15 years of deployment under the auspices of a progressively reinforced mandate, the UN peacekeeping forces of MONUSCO (formerly MONUC) have been only partially successful in neutralizing the multiple armed factions party to the conflict and have struggled to effectively protect the millions of civilians caught in the crossfire.
The potential for renewed fighting and new displacements is not the only humanitarian concern on the table. A lack of vision and funding for the kinds of activities best suited to assist people in a situation of protracted displacement are also preoccupying. There are no durable solutions for IDPs in camps and the situation for the majority of IDPs who live dispersed with host families have never been closely tracked by the international community. The government has long been criticized for lacking the technical capacity, the financial resources, and the political will to address the needs of the chronically displaced in the country although since 2009 it has worked to implement a Stabilization and Reconstruction Plan in conflict-affected areas. Although the government has taken some steps to improve stability and civilian protection and has established national structures for response to IDPs, current efforts are far from adequate.
There is no question that the integrated mission in DRC has diminished perceptions of impartiality of humanitarian action. Since 2004, annual funding for humanitarian activities has ranged from an estimated USD 225 million to USD 740 million but a sharp decrease in donor contributions in 2014 has been a cause of serious concern in DRC.
Year after year, international efforts have concentrated on short-term aid delivery with only recent efforts to look at transitions. Cluster coordination has offered greater visibility on sector-specific issues, a common platform for advocacy vis-à-vis government, non-government, and MONUSCO representatives, and a forum for information exchange and standard setting. International assistance in DRC remains overwhelmingly concentrated on IDPs living in camps, in part, some say, because these people are the most visible and easiest to access. During the course of its longstanding engagement in DRC, the international community has done little to build the autonomy of IDPs living in a constant state of insecurity. At the same time, it has been unable to transition towards durable solutions for IDPs given the protracted conflict and the consequent absence of development actors. As a result, IDPs remain as vulnerable and aid-dependent today as they were a decade ago. In the context of the protracted crisis, the international community finds itself in a "no-man's land," neither operating in a traditional emergency context nor moving towards a more transitional setting wherein development actors could take over. Certainly, humanitarian actions need to be re-energized and improved to better address new shocks and displacements.
Recommendations:
Core emergency response functions to address new displacements should be re-energized and improved through greater international staff presence in the field, more rapid communications alerts, and more nimble funding mechanisms.
In order to reinforce humanitarian space, more high-level support to the Humanitarian Coordinator role should be considered, for example, by naming a high-level deputy to focus on humanitarian issues, perhaps based in Goma.
Response to IDPs should be diversified beyond provision of emergency relief to include resilience-building, support for indigenous coping strategies.
An intensive advocacy campaign should be launched to create a common understanding and approach to durable solutions for IDPs with the national government, MONUSCO, humanitarian actors and multilateral development organizations.
More robust pressure should be applied on the government and national actors to satisfy their responsibilities for the protection and assistance of IDPs in all phases of displacement.