Editor's Note: This post was updated at 11:03 AM to incorporate the most up-to-date information on the Affordable Care Act. 
Today marks the end of the enrollment period for President Obama's Affordable Care Act.  There is plenty of good news for the President.  The websites were working well enough to allow over seven million people to apply for health insurance.  And even though there are big questions yet to be asked about those millions; such as how many are young and healthy, how many are actually previously uninsured and how many are likely to pay their premiums – the news so far is a lot better than it was last fall when the rollout occurred and the websites crashed.
A key benchmark of the law's success will be whether there is a reduction in the total number of uninsured.  Many government programs have enrollment rates that are substantially lower than they would be if everyone who qualified for a benefit actually applied for it.  The following charts show what policy wonks call "the take-up rate" so far in the Affordable Care Act compared to two other recent expansions of the social safety net: CHIP (Children's Health Insurance Program) and Medicare Part D (the prescription drug program).  As is clear from these charts, it takes a while for word to get out about new programs.  Enrollment in the Affordable Care Act improved consistently in its first six months, along with improvement in the websites themselves.  Enrollment in CHIP, passed in 1997, started out slow and improved steadily over the first decade of its existence.  And enrollment in Medicare Part D, passed in 2003 but slated to begin in 2006, also increased over time although the curve was not as sharp as others. For all the gloomy claims about Americans' resistance to enrolling in the program, today's numbers and the experience of other programs show that enrollment will increase as time goes on.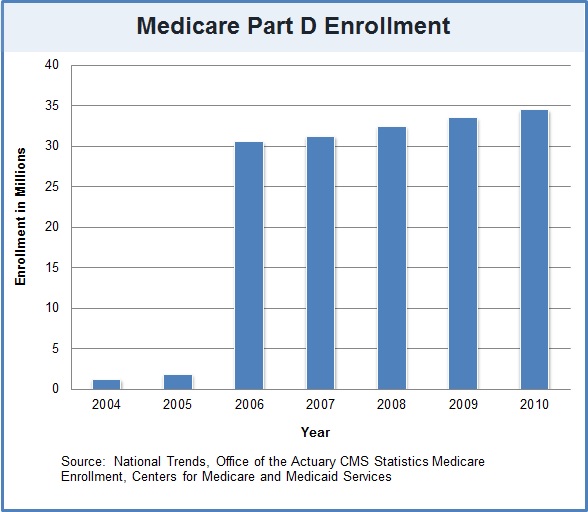 On the other hand, in spite of a respectable take up rate and a bump in favorability, with some polls showing a substantial narrowing of the approval gap, the ACA remains unpopular among large portions of the electorate.The following trend lines from Pew show a law that is becoming a millstone around the neck of Democrats running in the midterm elections. 
And so, not surprisingly, Democrats facing tough races are beginning to talk about how they would change the law.  Last week six of those Senate Democrats published a piece in Politico laying out "How to Fix the Affordable Care Act."  Expect a lot more of this as the election year wears on.
Three of the Senate Dems, Mary Landrieu (LA), Mark Begich, (AK) and Mark Warner (VA) are up for re-election this year.  Landrieu and Begich are in tough races and while Warner looks to be in somewhat better shape, Virginia remains a state that can go either way.  In addition to the three Senators up for re-election, the other authors of these proposals are Democrats from red states; Senator Heidi Heitkamp, (ND), Senator Joe Manchin (WV) and an Independent, Senator Angus King (ME).
The "Gang of Six" proposal is the most comprehensive guidepost so far for what reform of the ACA might look like. It include the creation of a "copper" plan in the allowable menu of health care plans.  The "copper" plan would look very much like many of the plans that were outlawed by the Affordable Care Act.  They would offer fewer benefits and higher deductibles, essentially creating a catastrophic-only plan that young healthy people might be more inclined to buy. It includes provisions that would help small businesses.  The most popular would be one raising the threshold for businesses required to provide insurance from 50 to 100 employees.  And it would fund start-ups for consumer-driven health insurance cooperatives to compete with existing plans and offer more choices to consumers.
While Republican candidates remain mostly dedicated to simply repealing the ACA, other Democratic candidates have been articulating what they would do.  For instance, Michelle Nunn, running for the Senate in Georgia states: "… we need to fix what's wrong with the law. After all, I know from my own experience with start-ups that when you start a business, it takes time to get it right and it often requires meaningful adjustments and course corrections. The same goes for fixing this law."
She goes on to praise the parts of the law that have always been popular; such as the fact that insurance companies can no longer deny coverage because of pre-existing conditions, the fact that young adults can stay on a parent's plan and the fact that there are no life time or annual limits on coverage allowed in the law. These are similar to things that another candidate, Ann Callis, winner of the Democratic Primary in Illinois'13th Congressional District cited during her campaign. Her website says "She'll work to preserve sections of the law that ensure no one can ever be denied coverage for a pre-existing condition, keep the cost of prescription drugs low and that children can remain on their parents' coverage until the age of 26."
Over the weekend, former President Clinton gave Democrats some sage advice.
"I thought that Democrats had a tendency to shy away from things they had done that were unpopular, (and) talk about positions they had that were popular. And that my own experience had convinced me — going back to '94 and even more when I was governor — that that was always a terrible mistake. That you had to turn in toward all controversies and embrace them — even if you said you were wrong or a mistake was made. You couldn't not deal with it."
Clinton followed this strategy often. On welfare (an unpopular issue at the time) he famously advocated that we should "mend it, not end it."  Looks like some Democrats are moving in that direction already.  "Mend it, not end it" could be the winning strategy for health care in 2014.