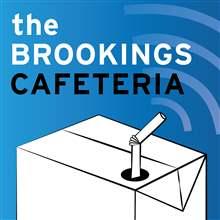 Just over a year ago, I published the first Brookings Cafeteria podcast, an interview with Senior Fellow and Lawfare editor-in-chief Benjamin Wittes. I was nervous about doing my first interview ever as well as launching the product, and even met with Wittes beforehand to glean from his experience hosting his own podcast.
It went well. In "Much of What We Think about Privacy, Liberty, Security and Threat Is Wrong," I had the chance to learn more about his research on these issues and also dive into history to get his take on an oft-misquoted Benjamin Franklin quote. When I asked him what he does to relax, to get away from the demands of his subject, Wittes said, "I kick teenagers." You'll have to listen to the interview to find out what he meant.
Since then, I've had the pleasure and challenge of interviewing 26 more Brookings experts on issues ranging from children's education in the Arab world to the Common Core State Standards, from the Arctic to Africa, from Congress and the filibuster to presidents and pork, and from suburban poverty to billionaires.
In podcasts on immigration, Islamists, and Obama's foreign policy, Brookings experts told me how they became involved in their fields of expertise.
I've interviewed a former U.S. ambassador to Ukraine, a former senior advisor to Vice President Al Gore, and a practicing medical doctor.
You can learn about these and all the rest on the podcast listing page, and also subscribe to them on iTunes. While there, consider taking a moment to rate the show and leave a comment.
Also, if you have any questions or suggestions, send an email to BCP@brookings.edu. I'll try to work them in on upcoming shows.