Content from the Brookings-Tsinghua Public Policy Center is now archived. Since October 1, 2020, Brookings has maintained a limited partnership with Tsinghua University School of Public Policy and Management that is intended to facilitate jointly organized dialogues, meetings, and/or events.
It was billed as the $2.5 trillion photo op—on the market capitalization of the companies involved—but the value of the image to Chinese President Xi Jinping in promoting China's looming stature in the world economy was priceless.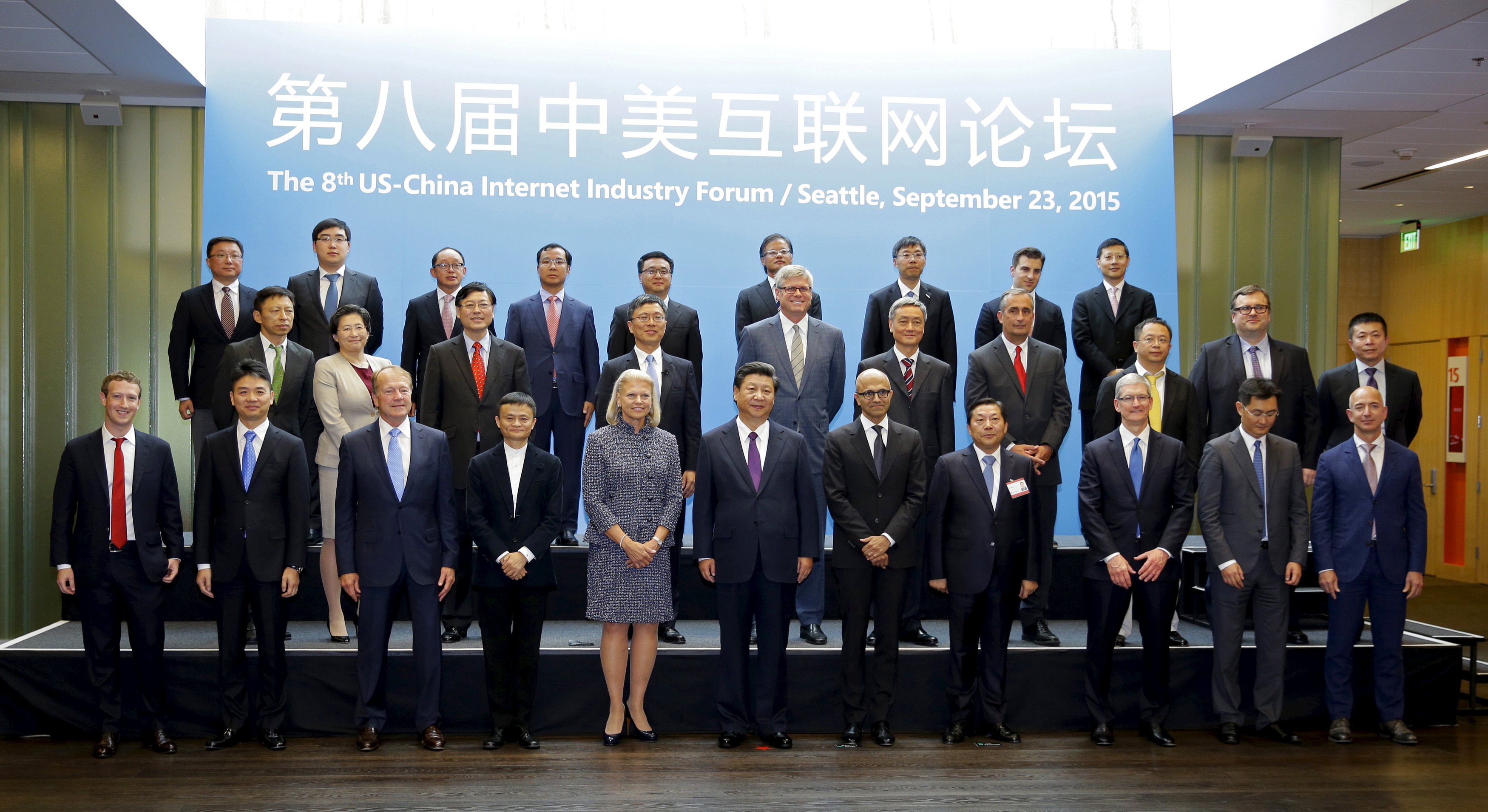 In his commanding position at the center of three rows of tech titans from the world's two biggest economies—the United States and China—President Xi symbolized the power of the Chinese market to command the attention and respect of the world's most powerful corporate giants, even after months of negative news questioning the strength and stability of China's financial system.
The fact that the photo op—part of a multi-day effort to woo American businesses in Seattle—took on more significance than the pomp Xi would later encounter in Washington, D.C., underscores the unique dynamics of his first official state visit.
Despite being overshadowed by Pope Francis' arrival and the announcement of House Speaker John Boehner's departure, Xi took full advantage of his visit to project two images aimed at two distinct audiences. He used Chinese media to show a domestic Chinese audience an image of China's power—in terms of economic relations, foreign policy, and multilateral cooperation—and for the American audience, he cultivated the image of a Washington outsider: embracing the economic and political connections that often can be developed more effectively outside of the nation's capital while appearing respectful of—and connected to—middle class America.
Clearly, Xi understands that domestic sentiment has an outsized effect on the policy decisions of leaders; and he sought to shape that sentiment during his visit. Even Vice President Joseph Biden cited Xi's political acumen during a State Department lunch in the Chinese president's honor.
"When he went to Muscatine, Iowa, I told him I couldn't go, but I should have gone," Biden joked about Xi's earlier visit to the United States. "He went, and he became President. I didn't go, and I'm still vice president."
Prior to Xi's visit, the atmosphere surrounding bilateral relations was hardly conducive to productive discussions during his time in the United States. Expectations were low—characteristic of most US state visits by Chinese leaders—and the relationship was probably at its most tense point since Xi assumed the presidency in 2012. China's recent stock market crisis, activities in the South China Sea and purported attempts at cyberespionage all had sown deep mistrust among the American public.
But unlike the previous meetings between presidents Obama and Xi at Sunnylands in 2013 and at Zhongnanhai in 2014, Xi's 2015 state visit to the United States was far more successful at deftly defusing concerns and changing the dynamics of the relationship.
While this visit brought progress in several important areas, including China's commitments on climate change and UN Peacekeeping support, it also left many unanswered questions on the South China Sea, Chinese market access and human rights issues. But one area saw progress and a potential breakthrough: the issue of cybercrime.
The Sunnylands summit in June 2013 marked the beginning of the effort of both countries to address cyber issues, or "uncharted waters," as President Obama referred to them at the time. US leaders had been prepared to enter that summit with the upper hand on cyber issues: The meeting would occur only four months after the release of a US report revealing that the Chinese government had infiltrated almost 150 major US corporations and agencies over the previous seven years. Unfortunately for the US, two days before the summit was to begin, the initial account of National Security Agency espionage was published in the British newspaper The Guardian, marking the beginning of America's Edward Snowden-induced diplomatic nightmare.
Instead of providing President Obama with the perfect opportunity to confront China about its years of intellectual property theft from US firms, the Sunnylands meeting forced him into a defensive posture. Both sides agreed at the time that international law applies to cyberspace; and they set up a bilateral, cybersecurity working group. But the progress was short lived—the working group was later disbanded.
The progress on cyber issues during Xi's 2015 state visit seems more promising. For the first time, China has agreed that the theft of intellectual property for commercial use is unacceptable, stating that "neither country's government will conduct or knowingly support cyber-enabled theft of intellectual property…with the intent of providing competitive advantages to companies or commercial sectors." To ensure they actually live up to this promise, both countries also agreed to respond in a timely manner to requests for information about malicious cyberactivities, and to help mitigate such actions that occur on their territory.
If concerns arise, there will be two new mechanisms by which to address them: a high-level joint dialogue that will meet biannually beginning in 2015 to review the processing of requests for information on malicious cyberactivities; and a new cyber-incident hotline.
While these actions may be considered small steps, they provide a crucial starting point for future dialogue. A positive sign came soon after President Xi's visit, when several hackers identified by US officials were arrested in China for stealing US commercial secrets on behalf of Chinese state-run corporations. In the coming months, the United States will need to monitor whether China shows any willingness to prosecute these and other known hackers, whether responses to other concerns about China's cyberactivities are received, and—most critically—whether there is an appreciable decrease in the overall number of cyberattacks,.
If progress remains elusive, the US still holds in its arsenal—as a result of an executive order signed by President Obama in April 2015—the ability to implement economic sanctions against Chinese companies and persons accused of cybercrimes targeting companies or US citizens.
In the long term, the US should continue to push for the development of and agreement to international cybernorms, a détente-like cyberarms agreement, and the gradual expansion of internet freedom in China. Although progress on these issues will take significant time and effort, the result will be a far more constructive political and economic US-China relationship.
While photo ops with leaders can memorialize important historical moments, the messages they convey are only as powerful as the enduring achievements they represent. As long as the United States and China continue to make progress on cyber issues, the picture of President Xi alongside the leaders of tech companies will be a lasting symbol of a turning point in US-China cooperation. But if progress falters, his photo op will be a $2.5 trillion reminder of a great opportunity lost.
This article appears in the "100,000 Strong Foundation Signature Report" published in October 2015