The final months of Obama's historic terms of office as America's first black president are taking place against the backdrop of an ugly Republican nominating race, and to the sound of ugly language on race from Donald Trump. Progress towards racial equality is indeed proceeding in faltering steps, as the president himself made clear in a commencement speech, one of his last as president, to the graduating class of Howard University.
"America is a better place today than it was when I graduated from college," the president said. But on the question of progress on closing the race gap, he provided some mixed messages. Much done; more to do. The president picked out some specific areas on both sides of the ledger, many of which we have looked at on these pages.
Three reasons to be cheerful
1."Americans with college degrees, that rate is up."
The share of Americans who have completed a bachelor's degree or higher is now at 34 percent, up from 23 percent in 1990. That's good news in itself. But it is particularly good news for social mobility, since people born at the bottom of the income distribution who get at BA experience much more upward mobility than those who do not:
2. "We've cut teen pregnancy in half."
The teen birthrate recently hit an all-time low, with a reduction in births by 35 percent for whites, 44 percent for blacks, and 51 percent for Hispanics: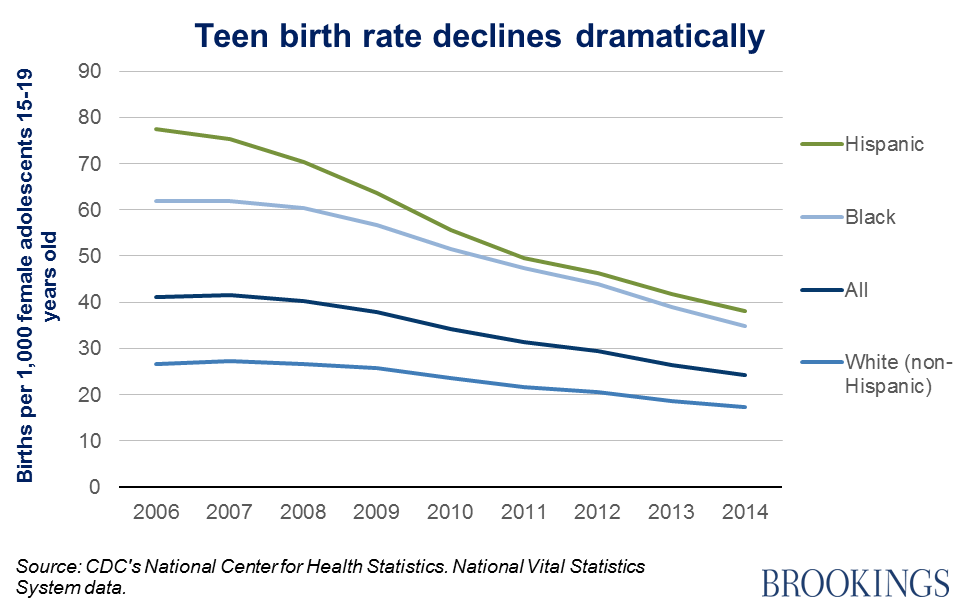 This is a real cause for celebration, as the cost of unplanned births is extremely high. Increased awareness of highly effective methods of contraception, like Long Acting Reversible Contraception (LARCs), has certainly helped with this decline. More use of LARCs will help still further.
3. "In 1983, I was part of fewer than 10 percent of African Americans who graduated with a bachelor's degree. Today, you're part of the more than 20 percent who will."
Yes, black Americans are more likely to be graduating college. And contrary to some rhetoric, black students who get into selective colleges do very well, according to work from Jonathan Rothwell: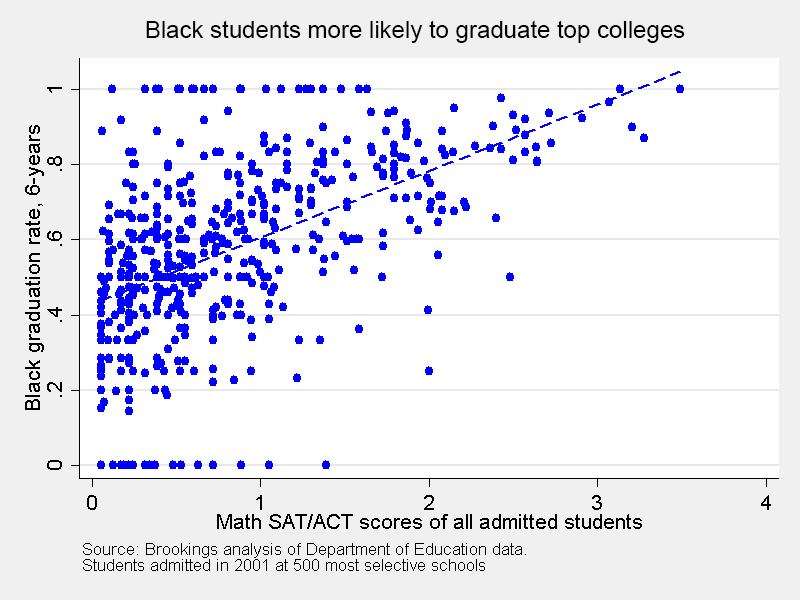 Three worries on race gaps



But of course it's far from all good news, as the president also made clear.
1. "We've still got an achievement gap when black boys and girls graduate high school and college at lower rates than white boys and white girls."
The white-black gap in school readiness, measured by both reading and math scores, has not closed at the same rate as white-Hispanic gaps. And while there has been an increase in black college-going, most of this rise has been in lower-quality institutions, at least in terms of alumni earnings (one likely reason for race gaps in college debt):
2. "There are folks of all races who are still hurting—who still can't find work that pays enough to keep the lights on, who still can't save for retirement."
Almost a third of the population has no retirement savings. Many more have saved much less than they will need, especially lower-income households. Wealth gaps by race are extremely large, too. The median wealth of white households is now 13 times greater than for black households:
3. "Black men are about six times likelier to be in prison right now than white men."
About one-third of all black male Americans will spend part of their life in prison. Although whites and blacks use and/or sell drugs at similar rates, blacks are 3 to 4 times more likely to be arrested for doing so, and 9 times more likely to be admitted to state prisons for a drug offense. The failed war on drugs and the trend towards incarceration have been bad news for black Americans in particular:
Especially right now, it is inspiring to see a black president giving the commencement address at a historically black college. But as President Obama knows all too well, there is a very long way to go.