Living With Cancer: Vicky's Story
Vicky Bolton is a 58 year-old medical legal coordinator who lives in Albuquerque, New Mexico. A widower of 20 years, Vicky has three children and nine grandchildren. She is also a Stage 4 adenocarcinoma lung cancer survivor who receives treatment at New Mexico Cancer Center (NMCC) in Albuquerque. She was previously diagnosed with adult onset asthma 14 years ago, but her pain and breathing problems became progressively worse. 
Three years after her asthma diagnosis, Vicky returned to her primary care provider about the pain in her lungs and was immediately referred to a pulmonologist for biopsy. The pulmonologist was unable to perform the biopsy because of concerns of fluid in the lungs and referred her to a vascular surgeon. The surgeon admitted her to the hospital to perform the biopsy and found that half of the lung was blocked from fluid and cancer, which had metastasized. The surgeon referred Vicky to NMCC and an oncologist met her in the surgery ward.
After starting their relationship 11 years ago, Vicky has been consistently receiving treatment at NMCC. In 2003 she started chemotherapy first with paclitaxel (Taxol) and then carboplatin, but was  found  to  be allergic to both. Her oncologist switched her to gemcitabine (Gemzar), but complications with that chemotherapy agent culminated with a hospitalization in 2006 following kidney failure. Since 2006 Vicky has not been hospitalized, and only had to go to the emergency department or urgent care a few times for breathing problems. She has undergone additional chemotherapy, radiation therapy, and multiple rounds of injectable antibiotics, but all of these services were provided at NMCC's facilities instead of in a hospital.
NMCC provides all of Vicky's care at one location, from lab and x-ray testing to an internal medicine doctor for her recent stomach problems. The extended hours clinic has allowed her to get care outside of work hours, so that she can live with cancer rather than plan around it. In the past six months alone, NMCC prevented Vicky from being hospitalized on three occasions:
In December 2013 she became acutely ill. Although she was out of work for more than a week, she was able to receive all her treatment at NMCC and go home in the evenings and be with her family.
In February 2014 she was diagnosed with bilateral deep vein thrombosis, one of which was infected. On the same day NMCC infused her with daily antibiotics as an outpatient, allowing her to remain in the comfort of her home overnight.
In April 2014 she become ill on a Saturday and called NMCC's extended hours clinic. On the same day, they performed lab work and radiology studies, and infused medications intravenously. NMCC continued to treat her in the evenings after work, allowing Vicky to attend her company's annual meeting that week. During this time, Vicky missed no work days.
Empowering the Patient During Cancer Treatment
Andrene Taylor, Cancer Survivor and Director, ZuriWorks
---
 Part I: Introduction


According to the National Cancer Institute there are more than 13 million people living with cancer in the United States; it is the second leading cause of death in the U.S.1 It is expected that 41% of Americans will be diagnosed with cancer at some point during their lives. More than 1.6 million new cases of cancer will be diagnosed in 2014; a nearly 22% increase over the last decade.2
Cancer care is also expensive. In 2010 it accounted for $125 billion in health care spending and is expected to cost at least $158 billion by 2020, due to population increase.3 In 2011 Medicare alone spent nearly $35 billion in fee-for-service (FFS) payments for cancer care, representing almost 9% of all Medicare FFS payments overall.4
Broadly speaking, problems in complex clinical care fall into two categories: deficits in knowledge (for example, lack of any effective treatment for certain brain tumors) and deficits in execution (for example, failure to treat breast cancer with a standard-of-care protocol).5 Delivery reform seeks to find opportunity in the latter problem type. Considering cancer care through this lens, there are many opportunities to improve outcomes and potentially lower costs, including better coordination of care, eliminating duplication of services and reducing fragmentation of care.6,7,8  In addition, almost two-thirds of oncology revenue derives from drug sales9, and pricing for drugs (calculated by the average sale price plus 6% profit for providers) may incentivize the use of the most expensive drugs rather than equally effective, lower-cost alternatives.
Promising approaches are being developed to deliver high quality care, improve the patient experience, and reduce costs for this condition and other chronic diseases. Care redesign strategies such as adopting team-based models, offering extended practice hours, providing triage to keep patients out of the emergency room, and implementing care pathways help providers address avoidable costs and maximize the value of care. Many of these strategies are not currently reimbursed in the FFS, volume-based payment system.
Consequently, much policy attention is focusing on payment reform. On the heels of the Affordable Care Act (ACA), and numerous quality and payment focused initiatives in the private sector, health care organizations need to enhance the competitiveness and efficiency of their system in the marketplace. Alternative payment models (APMs) such as Accountable Care Organizations (ACOs), bundled payments, and patient-centered oncology medical homes (PCOMH) are just a few of the initiatives supported by public and private payers to align care redesign and payment reform and encourage continuous improvement. This paper provides a comprehensive overview of the complex care associated with oncology and the alternate payment models which help support optimal care and encourage continuous improvement.
To support effective implementation of these strategies in practices throughout the country—including the identification of barriers and challenges—this case study examines the redesign of the New Mexico Cancer Center (NMCC) as one example of how a group of clinicians can implement change. This case study will focus on the care redesign model and potential payment reform options to sustain improvements at NMCC. With the aim to support the education of a clinical audience regarding how  care  innovations  can  be aligned with alternative payment models, this case will answer the following questions:
What challenges or problems encouraged the organization to redesign cancer care?

How did NMCC redesign care to improve quality, enhance the patient experience, and reduce costs?

How can an organization prove they are improving quality and contract with a payer to maintain sustainability?

How can alternative payment models sustain a community oncology medical home?
---
Care and Cost Challenges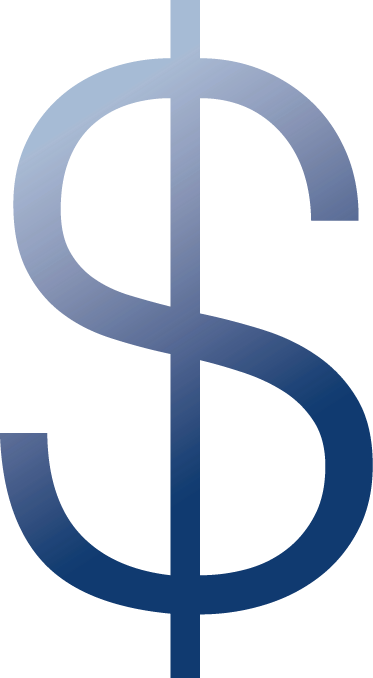 The U.S. spent $125 billion on cancer care in 2010.10 Patients with cancer receiving chemotherapy averaged $111,000 per patient per year in total medical and pharmacy costs, with drugs accounting for about 25% of costs.11 Compared with other conditions, patients with cancer receiving chemotherapy incur six times the annual cost of patients with diabetes and 26 times the cost of patients without cancer.12 For patients themselves, the cost of care is prohibitive, with potentially tens of thousands of dollars in out of pocket expenses. A national survey found that 25% of patients consumed most or all of their savings in dealing with their cancer and its treatment.13 Another study found that patients with higher co-payments were 70% more likely to discontinue their treatment, and 42% more likely  to  skip doses.14 Combined with costs due to lost wages and unemployment, the costs of care can be prohibitive for some patients to seek and adhere to treatment.
A number of disparities exist across age, gender, type of cancer, race, socioeconomic status and geography. For example, African Americans are the more likely to be diagnosed with cancer in four of the five most common conditions. They also have a higher mortality rate: 27% higher among men and 11% higher among women.15,16 These variations in care and outcomes reflect opportunities where care can be standardized and improved.
A. Improved Health Outcomes that Contribute to Unavoidable Costs

There are many factors that make cancer care expensive that cannot be changed without compromising the quality of care received by cancer patients.
Aging Population: Cancer is most common among people aged 65 to 74 (25% of all new diagnoses are in this age range), and thus incidence and expenditures will increase as the elderly population grows.17 The age 65+ population is expected to boom from 40 million in 2009 to over 70 million in 2030, causing an estimated 27% increase in cancer care expenditures.18 As older patients tend to have more comorbidities and poorer health in general, they can also have more complex cases.
Increased Cancer Screening: Increased access to care and recent screening guidelines likely will contribute to significantly higher costs of diagnosis and treatments. While such strategies may contribute to reductions in cancer-specific mortality in some cases (for example, 1 in 1000 women and 1 in 1000 smokers may survive due to mammography and chest CT screening), increasing diagnosis may also lead to expensive testing and treatment in other cancers without benefit. For example, thyroid cancer has seen large increases in diagnosis with no changes in mortality rate.
Increased Survival Rates: Five year survival rates have continued to increase over the past 40 years and show an increase from 49% in 1975 to 68% in 2010.19  This is due to several factors including improved diagnostic and treatment methods (though may also include a component of lead-time bias). While these are clearly favorable outcomes, they contribute to cost increases as people live longer and have potential recurrences.
Advances in Technology: Innovative treatments that provide improved care are constantly being developed and advances in genomics and targeted chemotherapy options have led to numerous new treatment options. The research and development costs per new drugs can range anywhere from $15 million to $13.2 billion21 and treatment costs can also be very high. For example Novartis' Afinitor, a drug used to treat advanced kidney cancer costs approximately $10,000 per month.22
B. Suboptimal Care that Contributes to Avoidable Costs


While some factors driving cancer costs are unavoidable or desirable, others are the result of poor care coordination and lack of evidence based care. These avoidable cost drivers are opportunities where payment reform can drive improved care delivery that can help reduce cancer care expenditures.
Overview of key contributors to suboptimal care and avoidable costs
Cancer Drugs
A specific issue in oncology costs merits special consideration. One of the greatest cost drivers in oncology is expensive cancer drugs. Federal policies regulating drug payment systems impact the financial solvency of practices and jeopardize the financial sustainability of care redesign. Under the "buy and bill" payment mechanism, providers purchase the drugs directly from pharmaceutical companies and are reimbursed for them later (includes average sales price for the drugs plus 6% for Medicare and variables for commercial payers). For many oncology practices, up to 65% of practice revenues result from this system.32 This payment mechanism incentivizes oncologists to prescribe more costly drugs to increase net revenues even when more cost-effective options are available. The undesirable added costs associated with more expensive cancer drugs are a controllable cost. Oncology practices like NMCC can implement care redesign to move toward prescribing more cost-effective cancer drugs, and these savings can be used to incentivize stakeholder buy-in.
Another mechanism that impacts drug pricing, and one that puts community-based, non-hospital practices at a cost disadvantage, is the 340b program. This requires drug manufacturers to provide 25 – 50% discounts on cancer drugs to community health centers (FQHCs), and allows the organizations to use the additional revenue made on more costly drugs to offset other costs. As a result organizations that cannot qualify for 340b status may be restrained in their relative ability to compete against other qualifying centers, which may limit investments in care redesign.
The Future of Oncology: Drugs, Genetic Testing & Personalized Medicine
Richard Schilsky, American Society of Clinical Oncology
---
Care Redesign Framework


This case study uses a framework to consider these drivers of suboptimal care and the specific care redesign elements undertaken by NMCC to improve patient-centered care (Figure 3). All types of care redesign can be described in terms of where the care is delivered; who delivers the care; how are care decisions made; and which data are used to ensure effectiveness. To make any intended transformations 'come alive', extensive engagement is required across all stakeholders.33 Within a health care setting this will include patients, clinicians, the local network of providers, and those paying for care.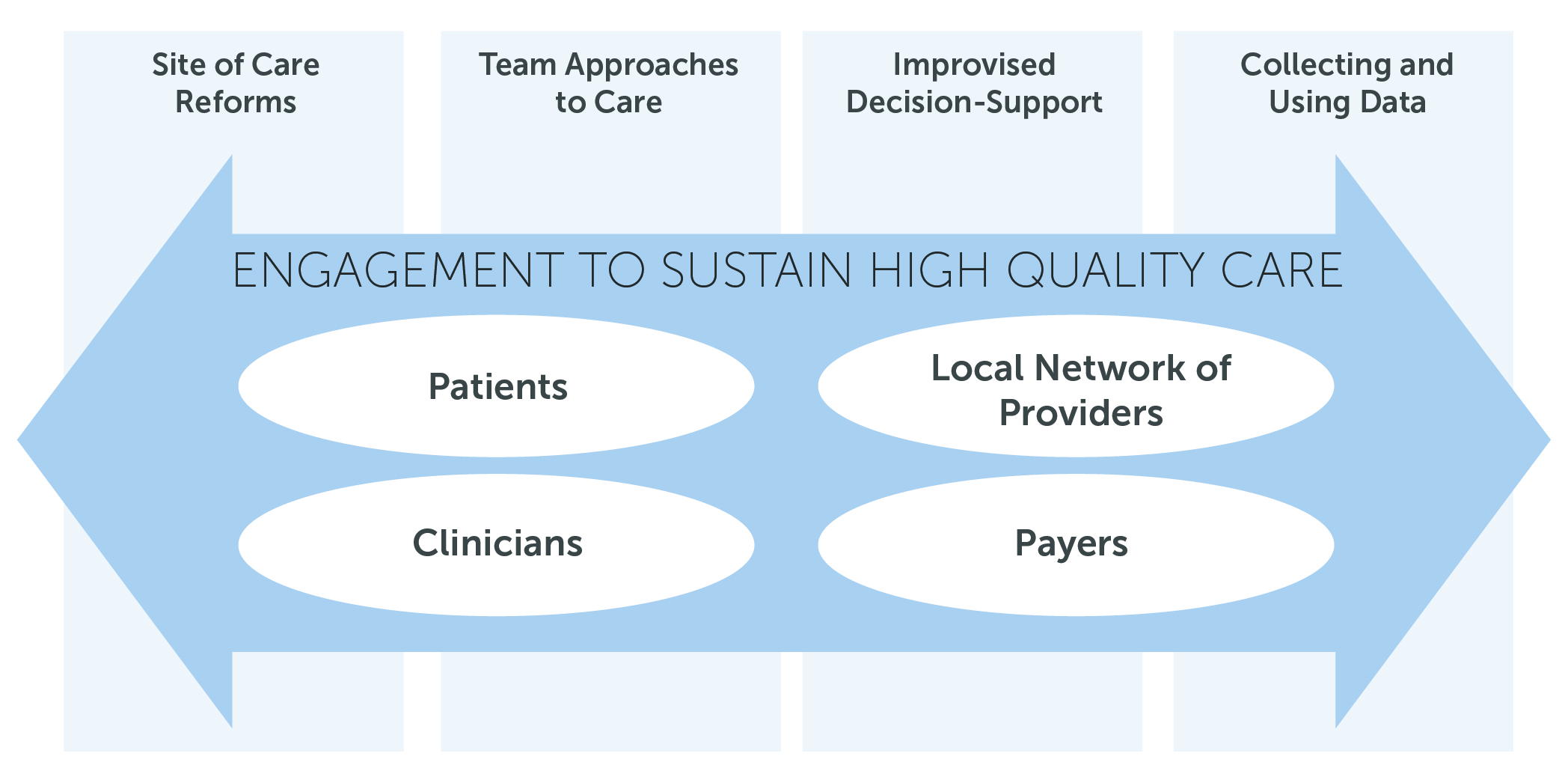 Data and Measurements

In general, payment is currently not tied to value in oncology care. To accomplish this transition to value-based payment, however, good measures of value must exist. Many organizations are developing performance measures. For example, the American Society of Clinical Oncology (ASCO), the Community Oncology Association (COA) and the National Quality Forum (NQF) each have specific oncology performance measures that practices can use to quantify the quality of care they deliver and determine areas for improvement. ASCO has also created the Quality Oncology Practice Initiative (QOPI) a performance benchmarking program with over 700 practices enrolled34 (35% of the estimated 2,000 oncology practices35). QOPI is also an approved registry for reporting the Physician Quality Reporting System's (PQRS) oncology quality measures.
In addition to measures that are already developed, there are several areas in which work is underway to develop appropriate measures including: measurement of team approach to care; end-of-life and palliative care; patient-reported outcomes (quality of life, pain); and patient experience in care (refer to page 10, figure 4 in the case study PDF for a description of performance measure types).
---
Part II: Care Redesign and the Creation of the Community Oncology Medical Home
Dr. Barbara McAneny founded NMCC in 1987 and in her years working as a medical oncologist, she has been particularly frustrated by the adverse impact that fragmented care has on her patients.  Often patients are directed to up to three different locations to receive care from their oncologist, lab, and chemotherapy provider. Cancer patients may also have to wait for hours in the ER before potentially being admitted.
This is particularly concerning for patients actively in treatment, since they experience frequent fatigue and are more susceptible to infection. Exposure to germs and infections can often have catastrophic outcomes. That this fragmentation has also led to many of the avoidable costs to the system outlined in the section above has added to her frustration. Dr. McAneny became dedicated to making major changes to the way that oncology care was delivered in New Mexico and in response created a free-standing, integrated cancer treatment that serves patients in a soothing and frictionless way.
Aligning Clinical Redesign and Payment: The New Mexico Experience
Barbara McAneny, New Mexico Cancer Center

Over  the  past  fifteen  years,  NMCC  has  undergone extensive  redesign to alleviate care fragmentation issues. This includes clinical improvement  to  change  how  care  is delivered,  infrastructure  projects to change where care is delivered, and information and technology implementations to ensure effective measurement of change. Most of this redesign did not have direct financial support. The funding for these changes came from reinvestment of NMCC profits in the early 2000s. NMCC may have also benefited from the attraction of more patient volume due to their reputation for providing innovative cancer care. However, as payment rates have tightened and margins and profits have fallen  over  the  past  10  years,  this  level  of reinvestment is no longer sustainable for the practice under current payment models. While the changes made by NMCC had some impact on reducing fragmentation for patients, Dr. McAneny felt that more could and should be done to improve the patient experience, and to reduce the costs of cancer care. NMCC has, therefore, also attempted to work in a more integrated fashion with the wider New Mexico medical community.
Practice Environment and Local Health Care Market
NMCC competes in a complex environment in Albuquerque, NM. While New Mexico has a population of 2 million, almost half of the population lives in Albuquerque. Of the 50 hospitals across the state, most are small and rural, providing their local population with basic medical services. Specialist services, including cancer care are provided by three major health systems based in Albuquerque, including LoveLace Health Facility, Presbyterian Health Care and University of New Mexico Hospitals.
Until recently there were three main health plans serving Albuquerque: Presbyterian, Lovelace, and BlueCross BlueShield New Mexico (BCBS). Each of these plans had commercial managed care plans and government-sponsored (Medicaid and Medicare) managed care plans. In the fall of 2013 LoveLace lost its  Medicaid contract to Molina Health and in the spring of 2014, sold its Medicare Advantage and commercial beneficiaries to BCBS, meaning Presbyterian and BCBS controlled over 60% of the Albuquerque market.36,37
Working in Collaboration with Others

Over the years, NMCC has considered several strategies to work with providers and payers to change the way oncology care is delivered in New Mexico.
A. Independent Medical Practices: Early ACO Efforts


In 2007, the NMCC leadership attempted to set up Independent Doctors of New Mexico (IDNM); a multi-disciplinary contracting vehicle with other independent physician groups, operating within a framework that included elements of both clinical and financial integration. The goals of the IDNM include: (1) Develop infrastructure to allow independent practices to compete with large vertically integrated systems; (2) Attain a degree of clinical integration to both make health care more efficient and affordable, and to meet governmental and quasi-governmental requirements; (3) Offer group purchasing opportunities not available to independent medical practices; (4) Establish a contracting vehicle to ensure an informed approach to managed care contract negotiations; (5) Support physician investors in their efforts to provide quality healthcare while staying economically viable; and (6) Encourage new insurers and new health care facilities to enter the market.
IDNM developed a web based portal for medical claim processing which included electronic claim submission to the clearing house, handling of remittance files from payers and generation of claim payment advice. While over 100 physicians signed up to the framework by 2008, IDNM was ultimately unsuccessful as a project as they were unable to find a payer to contract with them.
B. A Large Integrated Health System


NMCC previously reported a cooperative relationship with Presbyterian, and in 2010 decided to explore whether they could better address the issues of fragmentation of care by forming a closer working relationship. NMCC analyzed their data for Presbyterian health plan patients and compared this to industry standard data. Through looking at patients' length of stay in hospital, NMCC estimated that they had saved the health plan approximately $18 million in the previous year. The response from Presbyterian was an overture to purchase NMCC for their provider arm.
NMCC's leadership decided to not explore this arrangement as they felt that staying an independent, community- based center was better for their patients. The main driver in this decision was the belief that small community practices can make rapid changes to meet patient needs without the extensive layers of bureaucracy that can slow both the pace and scope of change. NMCC are also passionate proponents of the importance of independent practice as a key part of the delivery of health care; the leadership had concerns about both the impact that a reduction in provider organizations would have on patient choice, and the potential conflicts which exist in a fully integrated health system between payer (aiming to keep costs manageable) and provider (aiming to deliver the best possible care). The analytical analysis undertaken as part of this process served to emphasis the impact that ER visits and hospitalizations had on NMCC's patients and the high cost impact for the whole system.
C. CMS Innovation Grant


The Center for Medicare and Medicaid Innovation (CMMI) was established in 2010 by the Affordable Care Act as a new branch of CMS. The goal of CMMI's initial $10 billion, 10-year budget is to develop and test new models for delivering and paying for health care. Since its  formation,  CMMI  continues  to  develop ACOs, coordinate health care for dual-eligibles (low-income Medicare beneficiaries that also qualify for Medicaid), provide enhanced primary care services, and test bundled payments.38 One CMMI initiative, the Health Care Innovation Awards (HCIA), provides funding to health care organizations that are already improving health care and lowering costs for Medicare and Medicaid patients.
In 2011, Dr. McAneny was involved in discussions with CMMI. The discussion was centered on the CMS pilot projects which were struggling to show cost savings. Dr. McAneny shared NMCC's cost savings analysis developed for the Presbyterian negotiations and was encouraged to apply for an HCIA grant to develop a 'proof of concept' for the community oncology model.
Dr. McAneny applied for the HCIA award along with six community oncology practices and, in order to distribute the grant and provide administrative oversight, she created a company called Innovative Oncology Business Solutions (IOBS). In 2012, the first round of awards gave a total of $1 billion to 107 health care organizations across the country, to explore how better care  could  be  delivered  in  the most cost effective way. IOBS was awarded $19,757,338 to deliver the COME HOME program over three years.39
The grant focused on showing how community oncology practices could manage cancer symptoms and complications, and save money by reducing use of emergency rooms and preventing inpatient admissions. The grant program runs for three years from July 2012 and has an explicit aim to reduce ER visits by 52% and hospitalization by 21%.40 Specifically, the grant described how to reduce costs through symptom management; increased access to care; use of pathways; compliance tracking and better data management; and better management for additional cost efficiencies.
Overview of the COME HOME Model
The program builds on, and acts as an extension to, the foundation of  successful  changes  made by NMCC to develop  a  comprehensive  model of community oncology care demonstrating improved  outcomes,  enhanced   patient   care and saved costs. The program is working with six other clinics across the country to generate a proof of concept for the model, relevant to different markets with an aim that the outcomes from the program can be used to generate ideas for long-term sustainable practice.
Target Population
The target population for the program is newly diagnosed  or  relapsed   Medicare,   Medicaid and commercial insurance patients seeking oncology care at one of seven participating clinics. The program aimed to enroll approximately a total of 9,558 patients during the three year project and as of March 31st 2014, has recruited 107% of target (total of 10,213 unique patients). Of these, 26% are NMCC patients.
Sustaining Patient-Centered Care through the COME HOME Model
Laura Stevens, Innovative Oncology Business Solutions
Projected Savings

The reduction in ER visits and hospitalizations are projected to produce overall Medicare cost savings of $4,178 per patient per year (PPPY), a saving of approximately 6.28%. Over three years, the project is expected to save Medicare $33.5 million and result in a net savings of $13.76 million (See Figure 9). NMCC estimated these savings based on a Medicare enrollment of 8,022 patients over the three years and used Medical Expenditure Panel Survey (MEPS) data to calculate the baseline costs per patient. The majority of the savings per patient will come from reduced hospital admissions but also from reduced ED visits and pharmacy costs. The increase in physician costs reflects the additional visits for acute symptom management that are an essential part of the COME HOME model.42
Program Expenditures

The COME HOME Program funds both ongoing staffing costs and infrastructure development. Each of the participating clinics has 10.5 full-time equivalents (FTE) staff, in addition to the staff who work across the program itself. A key constraint of the grant money is that it cannot be used for any service which is billed with an Evaluation and Management (E&M) code through FFS, to guarantee that CMS is not paying twice at any point. The allocation of the 10.5 FTEs varies between the different clinics. At NMCC this funds 4.8 nurses, 0.4 data analyst, 1.75 patient care coordinators, 1.75 telephone triage operators, 0.75 front desk manager and 0.75 clinic manager.
Overview of project costs by category
---
Care Redesign Strategy
In this section, we consider NMCC's redesign strategies using the delivery innovation framework that focus on four key success factors: site of care reforms, team-based care, improved decision support, and collecting and using data; all of which reinforce efforts to engage and educate stakeholders to ensure sustainability of high-quality care.
A. Site of Care Reforms
Design a patient