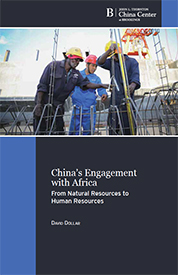 Throughout the 2000s, Chinese demand for primary goods like oil, iron, copper, and zinc helped Africa reduce poverty more than it had in decades. Even so, China's total investment in the continent's natural resources has been smaller than many imagine, and, with growth moving away from manufacturing and toward consumption, China's appetite for raw materials will continue to diminish. China's shifting economic growth model aligns with Sub-Saharan Africa's imminent labor force boom, presenting a significant opportunity for both sides. Maximizing mutual gain will depend on China and Africa cooperating to address a host of challenges: Can African countries limit the flow of Chinese migrants and foster domestic industries? Will Chinese investors adopt global norms of social and environmental responsibility? Where does the West fit in?
This study aims to objectively assess China's economic engagement on the African continent, the extent to which African economies are benefiting, prospects for the future, and ways to make this relationship more productive. David Dollar marshals evidence about the scale of trade, investment, infrastructure cooperation, and migration between China and Africa, all of which are relatively recent phenomena. In addition, Dollar addresses the question of whether and how China's involvement differs from that of Africa's other economic partners. The concluding chapter provides some tentative recommendations for African countries, China, and the West.
More
[Because India cannot tackle China's growing presence on its own,] you have now seen a broader switch in Indian strategy that has involved both developing its own capabilities and welcoming other external actors.