Report
Candidate Issue Index: Climate Change
Compiled by Brookings Institution experts, this chart is part of a series of issue indices to be published during the 2008 Presidential election cycle. The policy issues included in this series were chosen by Brookings staff and represent the most critical topics facing America's next President.
Available vote records and statements vary based on time in office.
The index displays the candidates from both major parties.
Opportunity 08, a Brookings project in partnership with ABC News, aims to help presidential candidates and the public focus on critical issues facing the nation, providing ideas, policy forums, and information on a broad range of domestic and foreign policy questions. Brookings is an independent think tank (501c3) that does not support or oppose any candidate for public office. Voters should learn all they can about the candidates on a range of issues and should not rely on any single source of information before making their decision.

Author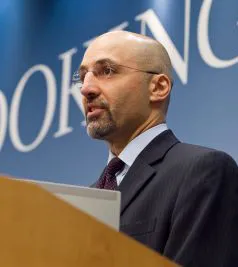 President-elect Bolsonaro has embraced tough-on-crime measures that egregiously violate basic human rights and eviscerate the rule of law. Responding to Brazil's 63,880 homicides in 2017, Bolsonaro calls for increasing protection for police officers who kill alleged criminals and arming citizens. He calls for further militarizing urban policing, reducing the age of criminal liability from 18 to 16, reinstating the death penalty, authorizing torture in interrogations and imprisoning more people... Brazil's police are already notorious for being one of the world's deadliest in the use of force. In many favelas, Brazil's retired and current police officers operate illegal militias that extort and control local communities, murdering those who oppose them and engaging in warfare with Brazil's highly-violent gangs and in social cleansing. Bolsonaro is simply threatening to turn the rest of the police into state-sanctioned thugs.