Editor's Note:
Cheng Li and Zachary Balin write that China may have a one-party system, but claims of President Xi Jinping's rise to absolute power ignore the influence of the tuanpai. This piece was originally published in South China Morning Post.
Analysts in both the United States and China surely understand that concerns at home drive policies abroad, but when surveying China's domestic political landscape, the forest has sometimes been missed for the trees.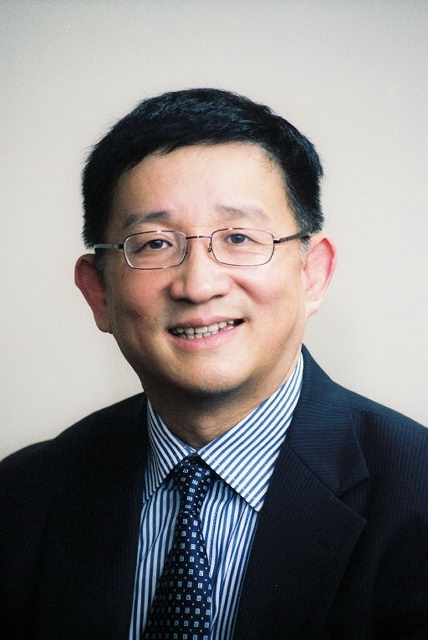 Senior Research Assistant and Project Manager -
John L. Thornton China Center, Foreign Policy, The Brookings Institution
Ahead of the summit between Chinese President Xi Jinping (習近平) and US President Donald Trump this week, many China observers in the US may have overlooked the dynamic tensions and sometimes paradoxical trends embedded in Chinese politics. While Xi is indeed a powerful leader, he still faces significant institutional constraints. These constraints not only create a strong incentive for US engagement with Xi's leadership in the numerous areas where both countries' interests overlap, but also call for a deeper understanding of the Chinese political system.
In Beijing's system, the Chinese Communist Party (CCP) holds a monopoly on power. But the party leadership is not a monolithic group. CCP leaders span a range of political associations, socioeconomic backgrounds, professional credentials, geographic associations and policy preferences. Two broad camps in the leadership vigorously vie for influence and control in post-Deng China: the "elitist coalition", with its core faction of princelings (leaders who come from veteran revolutionary families), and the "populist coalition", which primarily consists of so-called tuanpai (leaders who advanced their careers through the Chinese Communist Youth League).
While not all analysts accept the validity of this "one party, two coalitions" framework, it is nevertheless useful to conceive of political power in China as a pendulum swinging between competing camps. The overriding goals of preserving CCP rule with broad support from both elites and the public keep factionalism in check, giving way to a rhythm of competition and power-sharing. On the eve of the 19th Party Congress, momentum unambiguously favours the elitist coalition, led by Xi, so it is no surprise that countless reports have emerged asserting his vice-like grip on power. But Xi's impressive moves to promote protégés merely reflect the latest oscillation in the clockwork of Chinese elite politics.
In an interesting and revealing way, the current situation mirrors the political dynamic of 10 years ago, when Hu Jintao (胡錦濤) was at the midway point of his two terms as CCP general secretary. At that time, power trended in favour of Hu and the populist coalition. Throughout Hu's decade at the helm, many of the most prominent appointees to CCP leadership were tuanpai cadres who ascended the ranks of the Chinese Communist Youth League in the early 1980s, when Hu headed that organisation. In 2005, about 150 tuanpai officials served as top leaders in ministerial and provincial administrations. At the 17th Party Congress in 2007, tuanpai officials occupied an impressive 86 of 371 seats on the Central Committee – 23.2 per cent of the total.
Since the 18th Party Congress in 2012, Xi and his allies have ridden the pendulum's inertia in the opposite direction, gradually strengthening the elitist coalition's position within the party hierarchy. This trend is remarkably evident in the changing composition of provincial "party chief" positions (party secretaries and governors), which are coveted as stepping stones to the top national leadership. From 2003 to 2010, the tuanpai's hold on provincial chief positions increased from 9.7 per cent to 33.9 per cent, reflecting the populist coalition's growing clout throughout Hu's leadership. But the share of provincial chiefs with tuanpai backgrounds has steadily declined in recent years, sinking to 12.9 per cent at the start of 2017.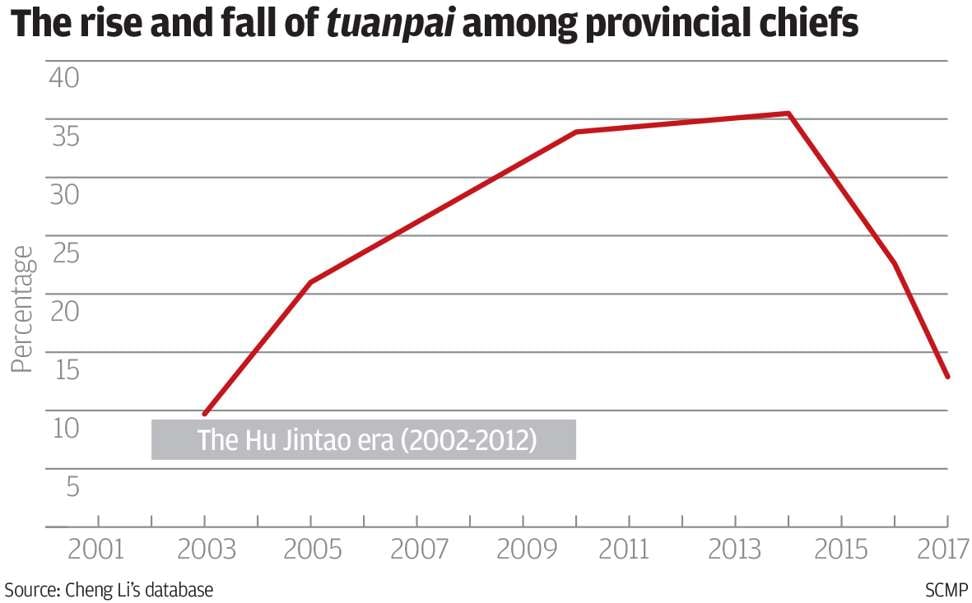 Some have interpreted this shift as evidence of Xi's stranglehold on power. But to a certain extent, this brand of dynamic turnover is precisely what analysts should expect as the 19th Party Congress approaches. Considered broadly, it demonstrates the ability of the two coalitions to share power in accordance with institutionalised rules and norms, such as age limits, term limits, requirements for regional and bureaucratic representation, and inner-party elections, while leaving room for factional competition, all of which emphasises the surprising stability and durability of the system.
Even as the metaphorical pendulum now swings in Xi's favour, he and the elitist coalition are still subject to gravity. Members of the populist coalition will be looking to balance their influence in other areas or levels of the leadership, both during this year's party congress and thereafter. Should the elitist coalition attempt to extend the duration or scale of its control beyond what precedent or extraordinary contingencies permit, such as war or financial and economic crisis, the populist coalition would challenge those moves forcefully, no doubt finding other concerned elite groups with whom to align. For the time being, the leadership changes that have occurred in the lead-up to this autumn's 19th Party Congress remain within the boundaries of expectation.
What could constitute crossing a boundary? Some have suggested that Xi may attempt to retain power for a third term. Such a move would indeed be a significant breach of precedent and would provoke a vigorous challenge from the political establishment, especially from the rival populist coalition. But at this point, arguably even Xi himself cannot know what he will be in a position to do in five years.
Rather than speculate about potential red lines, it is more productive to monitor the political prospects of key members of the populist coalition, namely, Premier Li Keqiang (李克 強) and other heavyweight tuanpai leaders, such as current Politburo members Hu Chunhua (胡春華) and Wang Yang (汪洋). The composition of the next Politburo Standing Committee (PSC) offers a clear test for Xi's attitude toward inner-party politics and his power within the system. Will the PSC boast a team of rivals, or will Xi pursue a winner-takes-all approach on behalf of the elitist coalition?
The possibility of a power grab by the elitist coalition cannot be ruled out entirely. However, based on current evidence, claims that Xi and his allies possess or are moving inexorably towards absolute authority should be met with scepticism. Ideas like this arise from the notion that China's system of governance lacks checks and balances and is ultimately unstable. But the lesson through three decades of the reform era is that the Chinese political system is far more adaptable and durable than many have perceived. Institutional mechanisms have helped to constrain power and sustain regular and peaceful turnover in the country's leadership, and this Chinese-style system of checks and balances is likely to become only more institutionalised as the country's society grows increasingly pluralistic.
This is not to say that China is free of major challenges domestically or that its single-party system lacks inherent disadvantages. What is critical to recognise, however, is that the CCP has proven willing and able to confront such difficulties before they grow into existential threats. Likewise, institutionalised rules and norms have prevented leaders from monopolising power.
The complex nature – yet apparent stability – of China's CCP-led political system carries significant implications for US foreign policy. Analysts should not view Chinese foreign policy as predetermined or immobile, but rather the product of a dynamic political environment. US interests will be best served if leaders can define a long-term vision for US-China engagement. Such a vision should guide relations beyond momentary power oscillations and disregard the misguided notion that China's political system is at elevated risk of collapse. By approaching issues of the day from the perspective of long-term engagement, US leaders can firmly advance American interests and values, capturing the many benefits that can come from collaborating with China while mitigating points of tension that risk harming both sides.
More
China has a strategic dilemma. They're frustrated by the status quo, and they're probing for ways to change it. But taking big, bold actions would come at an extraordinary cost to them. You can't eliminate the possibility that they would be willing to pay that cost, and so we have to be prepared for it. But if you accept the proposition that war is inevitable, and we must do everything we possibly can to prepare for it now, then you risk precipitating the very outcome that your strategy is designed to prevent.
Both leaders held their ground on key issues without offering concessions in either direction. Even so, Biden and Xi clearly set a tone for their respective governments that tensions must be managed and that neither side seeks unbridled confrontation with the other.