Op-Ed
The First Line of Ridge's Defense
Ever since President Bush announced his appointment as homeland security director six months ago, former Pennsylvania Gov. Tom Ridge has been beset with sympathetic critics asserting that he lacks the power to do his job.
So far, the critics have been wrong. Mr. Ridge has assembled a good staff, resolved some important issues and established himself as the focal point for the nation's domestic response to the terrorist challenge. But he is being blocked on his most important initiative to date—the proposal to establish a new, independent agency to guard America's borders. Instead, Mr. Ridge's Cabinet colleagues have pushed for a much more modest consolidation of the Customs Service and the Border Patrol within the Justice Department. Unless President Bush rejects this recommendation and backs Mr. Ridge's original proposal to create a Federal Border Agency, Mr. Ridge will be seriously undercut. And the president will cast grave doubt on his own priority to homeland security.
Days after Mr. Ridge took office, Sen. Joe Lieberman introduced legislation to enhance Mr. Ridge's power. "Clearly, appointing a homeland coordinator with only advisory authority is not enough," Mr. Lieberman declared. "We need a robust executive agency." Similarly, Gen. Barry McCaffrey, President Clinton's last drug czar, worried that Mr. Ridge "will turn into little more than the speaker's bureau for homeland defense."
So far, Mr. Ridge's success has belied these fears. Critics have clearly underestimated the power of a presidential advisory system centered in an interagency coordinating body like the Homeland Security Council Mr. Ridge now runs. If statutory authority and money were all that counted in Washington, then few would be willing to serve as White House chief of staff or national security adviser. Yet, ask any Cabinet member who nominally controls his own budget and administers reams of statutes whether effective power resides in his office or in the West Wing.
In six short months, with strong presidential backing, Mr. Ridge has shown the utility of such a White House power base. He moved rapidly to attract a first-class staff, now numbering more than 80. He established a formal, interagency process at multiple levels of power—from the Cabinet secretaries, to their deputies, on down to the assistant secretaries—making sure that he and his people stand at the center.
His office drafted a budget with clear spending priorities—ranging from bioterrorism and border security to assisting first responders and exploiting 21st-century technologies—to meet the most immediate homeland security needs. He has negotiated a new set of border security arrangements with Canada and Mexico. And just last week, Mr. Ridge announced a new, national-alert system that will help the federal, state and local governments—as well as the average citizen—to take defensive measures appropriate to specific degrees of threat.
Yet Mr. Ridge has failed to gain administration backing for his most significant initiative—the creation of a Federal Border Agency. In December, Mr. Ridge's office circulated a paper arguing that merging the Coast Guard, the Customs Service, the enforcement arm of the Immigration and Naturalization Service (INS) (including the Border Patrol), and the Agricultural Quarantine Inspection program would give one single agency the responsibility for managing "the physical entry and exit of all people, goods, and vehicles into the United States by air, land, or sea, and in so doing to prevent, pre-empt, and deter terrorist infiltration or the introduction of weapons of mass destruction."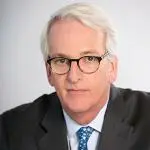 Former Brookings Expert
President -
Chicago Council on Global Affairs
Former U.S. Ambassador to NATO
The proposal met predictable resistance. None of the departments wants to give up border-security functions currently under their control. And all of the agencies proposed for merger feared that duties not related to terrorism would receive shorter shrift if they were merged into an entity whose primary task will be to prevent terrorists and weapons from entering the United States. Customs Service officials even noted that their placement in the Treasury Department dates from a law enacted in 1789.
There may be some historical logic to the disparate, organizational placement of these border agencies. But the current case for the status quo is extraordinarily weak. Not a single one of them is central to the mission of its Cabinet-agency home; not the Customs Service in the Treasury Department, not the INS enforcement arm in the Justice Department, not quarantine inspection in the Department of Agriculture, not the Coast Guard in the Department of Transportation.
Prior to September 11, the heads of these Cabinet agencies gave no serious attention to any of these functions. It may be turf they are guarding, but for them it is not prime turf. And as Mr. Ridge said in taking up his post, "the only turf we should be worried about protecting is the turf we stand on."
Yet, Mr. Ridge appears to be losing his fight. A new proposal lying on the president's desk would bring the Customs Service into the Justice Department. That falls well short of what Mr. Ridge demanded and our nation's security needs. Mr. Ridge's defeat on this issue will have major repercussions for him. Having been rolled on this issue, Mr. Ridge's Cabinet colleagues will attempt to roll him on others as well. To avoid that fate, Mr. Bush needs to embrace Mr. Ridge's original proposal to create a full-fledged Border Agency. Anything less will deliver a grievous blow to the president's homeland security director—and so, inevitably, to the president as well.