After rancorous debate, Congress passed and President Clinton signed a welfare reform law in 1996 that revolutionized the nation's social policy. The bill reformed a host of programs including Supplemental Security Income, Child Support Enforcement, welfare for noncitizens and programs to reduce illegitimate births. It also replaced Aid to Families with Dependent Children, which provided cash benefits to needy families, with the Temporary Assistance for Needy Families program, which made benefits contingent on work.
Now the 107th Congress and the Bush administration are faced with the task of reauthorizing many provisions of the sweeping 1996 law. Because of diverse and abundant research on the reforms, a great deal is known about what has happened since 1996. Here's a brief summary:
Welfare rolls have plummeted and are below half their 1994 peak; work and earnings of single mothers, especially the poorest, have increased dramatically; child poverty has declined and black child poverty is the lowest ever; and the effects of adult work requirements on children appear either neutral or slightly positive.
None of the disasters predicted when Congress debated the legislation has occurred. Even so, reauthorization is no time for excessive exuberance. The booming economy has been important; today's positive outcomes may disappear in the next economic slowdown. Furthermore, research shows an increase in deep poverty, defined as the number of families below half the poverty level.
The president and Congress need to ensure that the gains of the past five years are not lost, while targeting additional help on those floundering families that have not yet been able to support themselves through employment.
How should we do this? First, we should maintain the current level of funding. Some will ask, with welfare rolls down by half, why not reduce the money? This reveals a basic misunderstanding of both the 1996 legislation and what states have done to implement it. Congress told states to encourage or, where necessary, force welfare recipients to prepare for and find jobs.
States have responded by conducting the most successful employment program in the nation's history, with at least 1.5 million previously welfare-dependent mothers at work. If Congress cuts the funds, states will have to reduce their efforts to help welfare mothers get and keep jobs.
The 1996 legislation made only modest and probably inadequate provision for recessions. During the next recession, many mothers can be expected to return to welfare, because jobs will be scarce and the mothers will not have worked enough to qualify for unemployment insurance. The alternative is to place these mothers in public-sector work programs or to create public-private partnerships that help them find new jobs or keep their old ones. This would cost money but would maintain the progress we've made.
Research shows there is a group of mothers and children at the bottom of the income distribution who are worse off as a result of welfare reform. These are mothers who have numerous barriers to employment such as three or more young children to care for, learning disabilities, mild retardation or health or substance abuse problems.
In the past, these mothers often remained on welfare for long periods. But now that work is required, many who were previously thought unemployable have found at least part-time jobs and are contributing to their own support. States must have funding to support these families in work.
The 1996 legislation included a host of provisions aimed at reducing illegitimate births; the United States still has one of the highest rates of illegitimacy in the industrialized world. Congress needs to help states fund demonstration programs to find effective ways to reduce illegitimacy, including abstinence education, effective use of birth control, improved educational opportunity and programs to promote marriage.
Like all good legislation, welfare reform has opened new possibilities for innovation. Further reduction of welfare dependency, better job preparation, less illegitimacy, more income for single mothers, further reductions in poverty and more marriage by poor adults are now within reach if Congress and the president act wisely.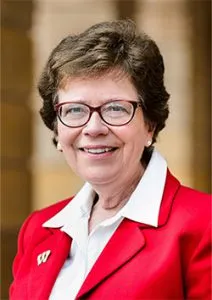 Chancellor -
University of Wisconsin-Madison
Former Brookings Expert