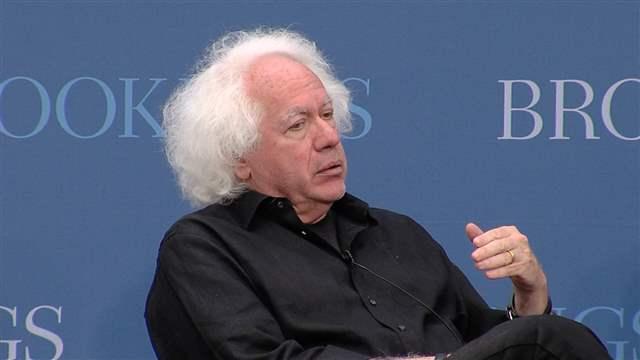 Washington, D.C. – Leon Wieseltier, long-time literary editor of The New Republic, has joined the Brookings Institution, President Strobe Talbott announced today. Wieseltier has been appointed the Isaiah Berlin Senior Fellow in Culture and Policy, focusing on the influence of culture and the humanities on various realms of American life, society and international affairs. The Isaiah Berlin Senior Fellowship is a joint appointment in the Governance Studies and Foreign Policy programs at Brookings.
Wieseltier comes to Brookings following a long and distinguished career as a writer, editor and social and political commentator. From 1983 to 2014, he was the literary editor of The New Republic. He currently serves as a contributing editor and critic at The Atlantic. Over the years, he has written for such publications as Foreign Affairs, New York Review of Books, New York Times, The New Yorker, and Dissent. 
"We're proud to have Leon, a major figure in literary journalism, join our community of scholars," Talbott said. "We have established the Senior Fellowship he holds in honor of Isaiah Berlin's eminence as a political theorist, philosopher, and historian of ideas.  Sir Isaiah's humanist values, commitment to civil discourse, and intellectual leadership resonate with the legacy and aspirations of Brookings. They also resonate with Leon's career and gifts. He combines a capacious intelligence with a uniquely powerful and passionate voice. With his arrival, Brookings will have a fresh perspective and deep-rooted expertise on the intersection between culture and public policy, thereby bringing a new dimension to our mission."
Wieseltier will work both independently and in conjunction with Brookings colleagues to conduct in-depth research on topics related to the intersection of cultural trends (including high and low culture, religion, the climate of ideas and opinions, and scholarly and conceptual developments in the academic world) with domestic and foreign policy challenges. "We are delighted to have Leon at Brookings," said Martin Indyk, the incoming executive vice president at Brookings. "I've long admired Leon's work, because of his unique insights into the influence of culture and religion on politics and international affairs."
"As one of the most influential voices in literary and cultural commentary, Leon will bring an entirely new viewpoint to Brookings," said Darrell West, vice president for Governance Studies and the Douglas Dillon Chair in Governance Studies. "We are honored to have Leon join us and are eagerly anticipating his work on the connection between culture and politics." 
Wieseltier holds a B.A. from Columbia University and was a member of the Society of Fellows at Harvard University. At Oxford University, he studied under Isaiah Berlin. He holds honorary doctorates from Brandeis University and the Jewish Theological Seminary, and was awarded the Dan David Prize in 2013. He is the author of several books, including the widely acclaimed Kaddish (Knopf, 1998). Wieseltier has been the Godkin Lecturer at Harvard University, a visiting lecturer at the University of Chicago's Committee on Social Thought, the Gruss Professor in Talmudic Civil Law at Harvard Law School, and a distinguished professor of history at Johns Hopkins University.
About Brookings
The Brookings Institution is a nonprofit organization based in Washington, D.C. Our mission is to conduct in-depth, nonpartisan research to improve policy and governance at local, national, and global levels.