Past Event
What Does God Have to Do with It? The Links Between Religion, Radicalism and Violence
Until recently, scholars of religion had predicted that as societies modernize, God would become obsolete. Yet today, religion is enjoying a global resurgence. Aside from continental Europe, the majority of the world's inhabitants attends religious services more regularly, and claims to believe more fervently. At the same time, ideologically-inspired violence – both terrorism and war – is also on the rise. Clearly, faith in God is playing a large and mounting role in both private life and contemporary politics.
To enlighten us on this timely and important topic, the Brookings Project on U.S. Relations with the Islamic World hosted Dalia Mogahed, Executive Director for the Gallup Center for Muslim Studies; and Tom Pyszczynski, Professor of Psychology and Director of Human Factors Research at the University of Colorado, Colorado Springs. Pyszcznyski gave a brief presentation on the methodology and scope of his experiments, surveying a range of people and probing them about memories and thoughts they affiliated with certain events. He concluded that the roots of many international conflicts stem from perceived threats to particular world views. He went on by stating that as more and more images of violence, terrorism, and conflict are broadcast by the media, people are constantly reminded of death. As a result, people tend to "cling more to their world views and be hostile to people who are different."
Dalia Mogahed followed, and presented a persuasive argument, based on her extensive polling data, on what leads to public support or public sympathy for terrorism. She concluded that self-esteem can push people either towards reactionism and violence, or towards compassion and mutual coexistence. However, due to many of the international flashpoints today, she concludes that "what is dominating among this group is that self-esteem is pushing them toward this idea of revolt because they do not believe it's what they deserve"
Agenda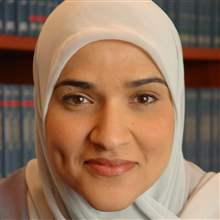 President/CEO, Mogahed Consulting; Former Executive Director, Gallup Center for Muslim Studies, United States
Director, Human Factors Research, University of Colorado at Colorado Springs
More Information
To subscribe or manage your subscriptions to our top event topic lists, please visit our event topics page.