2016 will be a crucial year for African countries as they seek to respond to shifting dynamics in the global economy. Mitigating the adverse effects of China's economic slowdown, tumbling commodity prices, and the U.S. interest rate rise in 2015 on the region will demand serious policy reform and investment in African economies—so will maintaining the continent's trade competitiveness, given the rise of mega-regional trade agreements such as the Trans-Pacific Partnership Agreement. Domestic issues including stagnating industrialization and job creation, rapid urbanization, and governance and security threats could undermine the continent's upward-trending development trajectory; however, if managed prudently with timely action from African policymakers in 2016, the continent could equally recover from external and internal shocks, accelerate regional growth, and further expand the benefits of growth to the more than one billion people living throughout Africa.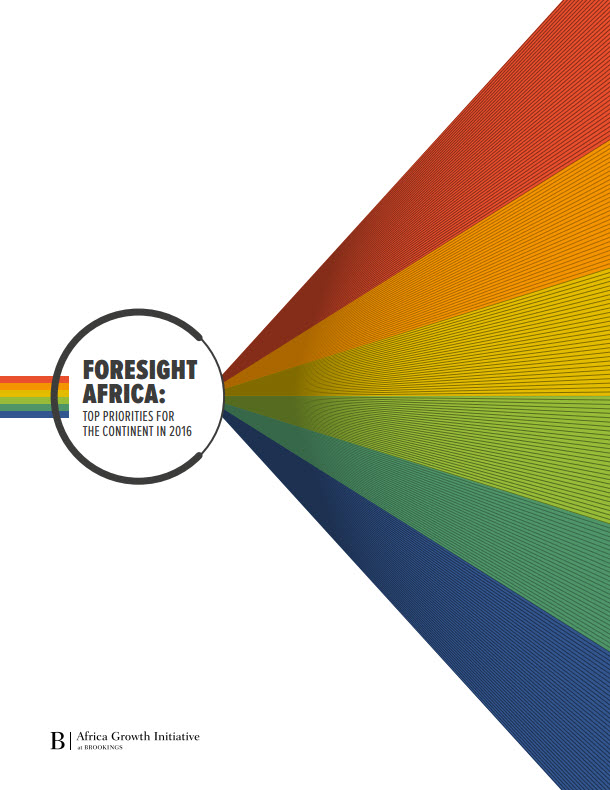 On January 20, the Africa Growth Initiative at Brookings hosted a panel of leading Africa experts on the most pressing challenges facing the continent in 2016. The panel was moderated by Mark Goldberg, editor of U.N. Dispatch, and included Ambassador Hassana Alidou of Niger, as well as Brookings experts Joshua Meltzer, Witney Schneidman, Eyerusalem Siba, and Amadou Sy who offered their expertise on these important issues and provided recommendations to national governments, regional organizations, multilateral institutions and civil society on how to contend with these priorities in the year ahead.
The event follows the release of the new Foresight Africa report, a collection of issue briefs, viewpoints, and infographics on the major issues for Africa in 2016.
Join the conversation on Twitter using #ForesightAfrica.

To vote on what you think the top priority for Africa should be in 2016, click here.