Past Event
Music and Art in a Changing Pakistan
On October 11, the Project on U.S. Relations with the Islamic World hosted a discussion with the award winning musical duo of Zebunnisa Bangash and Haniya Aslam and Arif Rafiq, adjunct scholar at the Middle East Institute. The panel was moderated by Cynthia Schneider, distinguished professor in the practice of diplomacy, Georgetown University and a nonresident senior fellow at the Brookings Institution. Durriya Badani, deputy director of the Project on U.S. Relations with the Islamic World, delivered welcoming and introductory remarks.

Cynthia Schneider, Zebunnisa Bangash and Haniya Aslam

The popular duo, "Zeb and Haniya" have recently been in the United States as cultural exchange Ambassadors on behalf of the U.S. Department of State, sharing their insights about the significant role that music and musicians are playing amidst the increasingly conservative climate in Pakistan. As young Pashtun women, the duo shared their perspective on the initial difficulties of attaining recognition. However, to their surprise and delight the influence and impact of their music has now reached well beyond the boundaries of Pakistan, and into Uzbekistan, India, Iran and Afghanistan.
Arif Rafiq stressed the fact that the average American fails to familiarize him/herself about other cultures and societies beyond what is portrayed in the media. Rafiq reminded audiences that, "the cultural fluidity expressed in Zeb's and Haniya's music contradicts the conventional image of Pakistan." In a country where 70 percent of the population is comprised of youth, it is important to recognize and support emerging positive agents of change in a country embroiled in violence, conflict and political instability.

Zebunnisa Bangash, Haniya Aslam and Arif Rafiq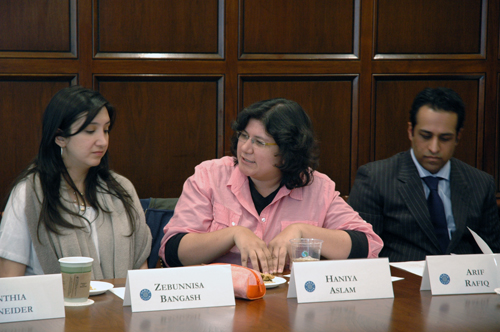 Zebunnisa Bangash, Haniya Aslam and Arif Rafiq


Participants listen to the panelists discuss the impact of art on change in Pakistan

Agenda
Music and Art in a Changing Pakistan
Along with Cynthia Schneider and Arif Rafiq, musicians Haniya Aslam and Zebunnisa Bangash discuss the role of women, culture and civil society in a changing Pakistan.
Adjunct Scholar -
Middle East Institute
More Information
Contact
Brookings Office Of Communications
202.797.6105
To subscribe or manage your subscriptions to our top event topic lists, please visit our event topics page.