All too often, we think of healthcare, education, sustainability, criminal justice, and tax reform as areas of policy addressed solely at the federal level. The truth of the matter is that Washington's role in these areas is often quite limited. It is at the local level where these issues manifest themselves, and local leaders are the ones tasked with facing problems in these areas head on.
On February 24, the Metropolitan Policy Program at the Brookings Institution hosted county executives from across the country to share their experiences in confronting the complex challenges that arise in their jurisdictions. Far from an ideological debate, these practitioners provided their front-line perspectives on which areas of policy function well—and which areas are truly broken.
The Hon. Rushern L. Baker, county executive of Prince George's County, Md.; Hon. Maggie Brooks, county executive, Monroe County, Ny.; Hon. Mark Luttrell, mayor, Shelby County, Tenn.; and Hon. Ben McAdams, Mayor, Salt Lake County, Utah joined for a moderated panel discussion to examine the roles and responsibilities of a county executive, how county executives balance priorities within their jurisdictions, how states affect their behavior, how the federal government's scale back has affected them, and the ways in which they have innovated in order to more effectively deliver on their governing mandate.
Bruce Katz, vice president and co-director of the Brookings Metropolitan Policy Program, moderated the discussion with the county executives. The discussion covered a broad range of issues, including the challenges county executives face, the innovative steps taken to better serve their populations, and where county governance fits in the larger body of American federalism.
Join the conversation on Twitter with #MetroRev.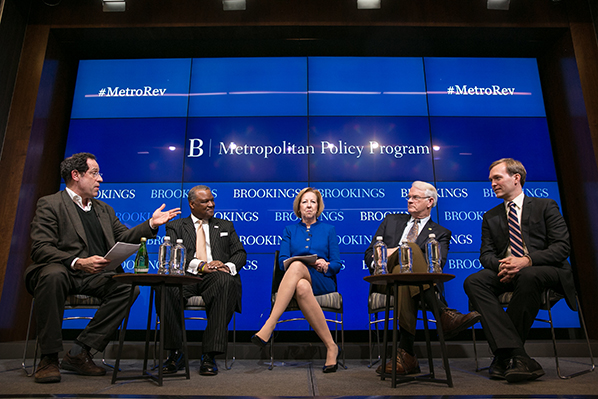 The panel discusses challenges and opportunities unique to counties. From left: Bruce Katz, Brookings Metropolitan Policy Program; Hon. Rushern Baker, Prince George's County MD;  Hon. Maggie Brooks, Monroe County NY; Hon. Mark Luttrell, Shelby County TN; and Hon. Ben McAdams, Salt Lake County UT.
Governing from the ground up: How local government really works