2015 is a crucial year for the international community. For the first time, all nations will converge upon a new set of Sustainable Development Goals applicable to advanced countries, emerging market economies, and developing countries, with the experience of implementing the Millennium Development Goals to build upon. Implementation is the critical component.
The Brookings Global Economy and Development program hosted a day-long private conference at the Brookings Institution in Washington, DC on Monday, March 30 to focus on "Governance innovations for implementing the post-2015 Sustainable Development Agenda."
Hosted in collaboration with the Ministry of Foreign Affairs of Finland, this high-level conference drew on experiences from the North-South Helsinki Process on Globalization and Development carried out over the past 15 years. The Helsinki Process presaged many of the prerequisites for achieving accelerated progress by linking goal-setting to goal-implementation and by utilizing multistakeholder processes to mobilize society and financing for social and environmental goals to complement sound economic and financial policies. 

Download the conference agenda »


Download the list of registrants »
Download the conference statement »
Brookings President Strobe Talbott shakes hands with Finland's Minister of Foreign Affairs Erkki Tuomioja after welcoming participants to the conference.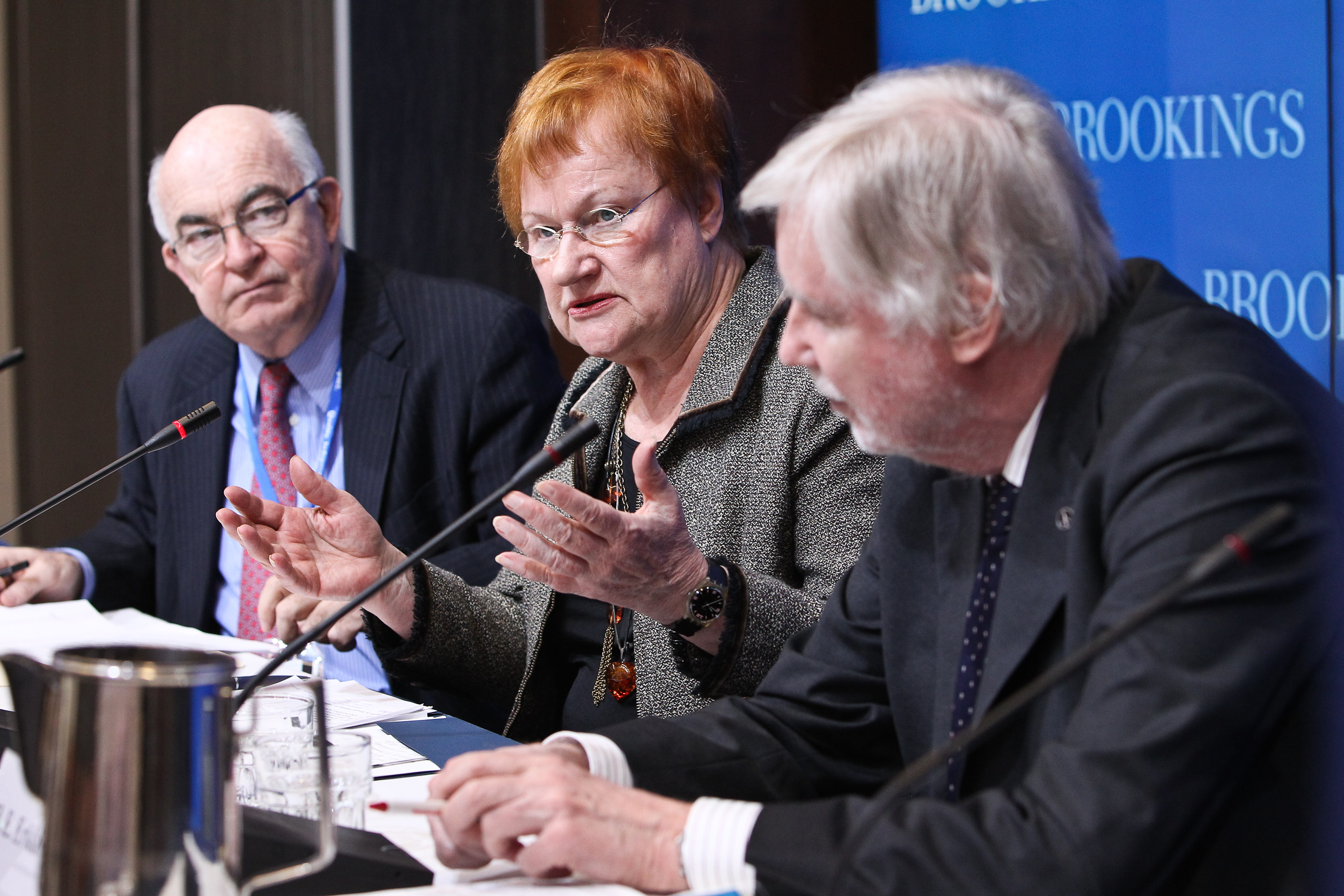 Former President of Finland Tarja Halonen shares insights in the conference's opening panel.
Over 75 conference participants from governments, multilateral institutions, civil society, the private sector, and think tanks participated in a number of roundtable discussions throughout the day.
President Halonen and Minister Tuomioja share lessons from the Helsinki process as conference participants consider paths forward for implementing the post-2015 Sustainable Development Goals.