Cities and metropolitan regions across the United States are struggling with the challenge of spurring economic growth and job creation that are sustainable and inclusive. While the national economic picture continues to improve, the gains are unevenly distributed among people and regions. Meanwhile, new challenges and opportunities such as globalization, evolving demographics, technological advancement, and workforce readiness are forcing business, government, and civic leaders to rethink their economic development strategies. Leaders in metropolitan areas across the country have begun to transition from the traditional model of growth through consumption-based industries and business attraction to one that engages global demand, talent, and capital.
On Wednesday, April 22 the Metropolitan Policy Program at Brookings and JPMorgan Chase hosted the Global Cities Detroit Economic Conference, focused on this new endeavor. Building on its long history of industry, innovation, workforce assets, and production for the rest of the world, Detroit is uniquely positioned for this transformation. The speakers at the forum provided context on the current position of the city and region in the international marketplace and offered insight into how leaders can strengthen global competitiveness and economic growth.
Related Research
Presentation by Bruce Katz
Photographs
John Carter, Michigan Market President, Chase

Former Chicago Mayor and current Global Cities Chairman Richard M. Daley, 

Beth Chappell, President and CEO of the Detroit Economic Club

Detroit Mayor Mike Duggan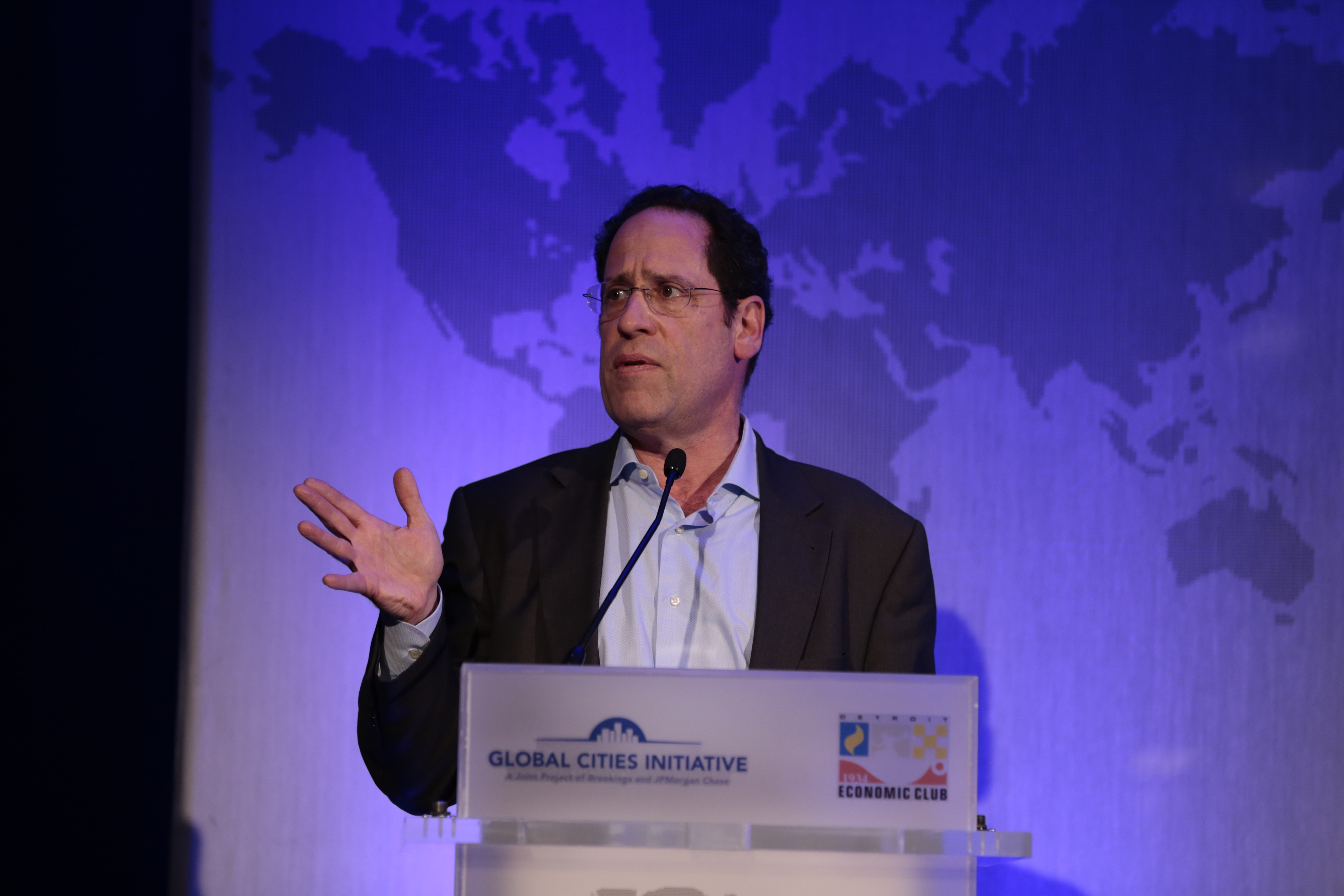 Vice President and Director, Brookings Metropolitan Policy Program and Co-Director, Global Cities Initiative

Peter Scher, Chairman of the Washington, D.C. Region and Head of Corporate Responsibility, JPMorgan Chase and Co.


Marek Gootman, Brad McDearman, Phyllis Campbell, Deborah Scherer, and Aaron Brickman

Stephen Henderson, Sandy K. Baruah, Rodrick T. Miller, Dr. M. Manickam, and David Zilko
Panel - Detroit's Future as a Global City