Past Event
China's Economic Development and Legal Reform: Financial Markets and Corporate Governance
Over the past two decades, China has been transformed from an underperforming state-planned economy into a market-oriented juggernaut. China recently surpassed France, Italy and Britain to become the world's fourth largest economy. Despite its economic development, China is often derided by the financial and business communities for poor corporate governance, an inefficient financial sector, and lax enforcement of substantive law. How are we to reconcile China's fantastic economic growth with its Rule of Law profile? How important is legal and financial sector reform to China's past and present economic growth?
Agenda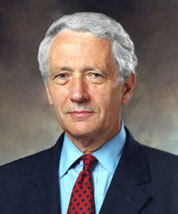 Max Pam Professor Emeritus of American & Foreign Law -
University of Chicago Law School
John M. Olin Fellow and Lecturer, University of Chicago Law School
More Information
To subscribe or manage your subscriptions to our top event topic lists, please visit our event topics page.
If Trump and his group hoped that this kind of tough talk would make the North Koreans nervous, and make them come back with their tail between their legs — no, that's just not the way they work. This is a stupid move. By pushing North Korea away, in such an in-your-face way, he's pushing them to work separately with the South Koreans and the Chinese.
I think probably that the lesson that [Kim Jong Un is] learning is that he doesn't have to give up anything and yet people will be scrambling for summits with him. ... The longer we have these drawn-out talks, these summits, bilaterals, trilaterals, quadrilaterals, the more it buys time for them to reinforce their claimed status [as a nuclear power] but also to continue with their R&D. But I do think that there is an element of trying to mitigate the sanctions, and also Kim took all those discussions about military strikes seriously enough to try and take the wind out of the sails. ... I find it difficult to envision how or why he would give up his nuclear weapons, which have pretty much given him what he's wanted: which is the strategic relevance, the international prestige, and deterrence.
[Regarding President Trump's shift from enthusiasm to uncertainty over the U.S.-North Korea summit] In effect, President Trump is getting a mini-lesson in talking to the North Koreans even before he talks to the North Koreans.