Nobody knows more about the duties, the difficulties, and the strategies of staffing and working in the White House than Brad Patterson. In To Serve the President, Patterson combines insider access, decades of Washington experience, and an inimitable style to open a window onto closely guarded Oval Office turf. The fascinating and entertaining result is the most complete look ever at the White House and the people that make it work.
Patterson describes what he considers to be the whole White House staff, a larger and more inclusive picture than the one painted by most analysts. In addition to nearly one hundred policy offices, he draws the curtain back from less visible components such as the Executive Residence staff, Air Force One and Marine One, the First Lady's staff, Camp David, and many others—135 separate offices in all, pulling together under often stressful and intense conditions.
This authoritative and readable account lays out the organizational structure of the full White House and fills it out the outline with details both large and small. Who are these people? What exactly do they do? And what role do they play in running the nation? Another exciting feature of To Serve the President is Patterson's revelation of the total size and total cost of the contemporary White House—information that simply is not available anywhere else.
This is not a kiss-and-tell tale or an incendiary exposé. Brad Patterson is an accomplished public administrator with an intimate knowledge of how the White House really works, and he brings to this book a refreshingly positive view of government and public service not currently in vogue. The U.S. government is not a monolith, or a machine, or a shadowy cabal; above all, it is people, human beings doing the best they can, under challenging conditions, to produce a better life for their fellow citizens. While there are bad apples in every bunch, the vast majority of these people ply their trades honestly and earnestly, often in complete anonymity and for modest compensation. This book illuminates their roles, celebrates their service, and paints an eye-opening picture of how things really work on Pennsylvania Avenue.
Related Books
Government's Greatest Achievements
Reinventing Government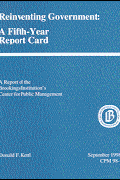 The Professor and the President
Bradley H. Patterson has lived and worked in Washington for over six decades, including fourteen years working with the White House staffs of Dwight Eisenhower, Richard Nixon, and Gerald Ford. A past president of the American Society for Public Administration and a senior fellow of the National Academy of Public Administration, he has also worked in the State and Treasury departments and the Peace Corps. He is the author of The White House Staff: Inside the West Wing and Beyond (Brookings, 2000) and The Ring of Power (Basic Books, 1988).