American presidents typically spend much of their first term trying to ensure a second term. Yet those "four more years!" are usually disappointing, replete with scandal, squabbling, plummeting approval, and few accomplishments. Thus far, George W. Bush's second term has largely followed that unfortunate pattern. In Second-Term Blues, John Fortier and Norman Ornstein lead a stellar cast of political analysts illuminating the priorities, governing tendencies, and leadership style of a president trying to steady his ship in rocky seas. While the media obsess over who will be elected, they rarely ask how a candidate would govern if elected. For example, how would the president approach other political institutions? Would foreign policy stress caution and coordination, or will the U.S. "go it alone"? What would be the tone of public persona and rhetoric? This is the first in-depth analysis of Bush's second go-round from that perspective. The contributors include some of the shrewdest and best known observers of U.S. politics. David Sanger (New York Times) reveals how Bush's foreign policy, particularly on Iraq, defines and restricts his presidency. Dan Balz (Washington Post) dissects America's changing political mood and considers how the president's personal style fits into that milieu. Charles O. Jones, former president of the American Political Science Association, defines Bush's executive style: "Seemingly, where narrow-margin politics appears to call for sensitive mastery of Congress, President Bush employs an unrelenting executive style, among the most intense ever." In addition, Carla Robbins of the New York Times and Fred Greenstein of Princeton University make insightful contributions. This important book considers how all of this helps explain what we've seen coming out of Washington since 2001 and what it may portend for the future.
Related Books
Intensive Care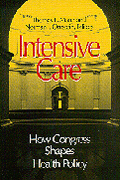 The Diminishing Divide
What So Proudly We Hailed
John C. Fortier is a research fellow at the American Enterprise Institute and a columnist for The Hill. He is the author of Absentee Voting and Early Voting: Trends, Promises, and Perils (AEI, 2006). Norman J.Ornstein is a resident scholar at the American Enterprise Institute for Public Policy Research. He also serves as an election analyst for CBS News and writes a weekly column,"Congress Inside Out," for Roll Call.