"Adequacy lawsuits" have emerged as an alternative strategy in pursuit of improved public education in America. Plaintiffs allege insufficient resources to provide students with the quality of education promised in their state's constitution, hoping the courts will step in and order the state to increase its level of aid. Since 1980, 45 of the 50 states have faced such suits. How pervasive—and effective—is this trend? What are its ramifications, at the school district level and on a broader scope? This important new book addresses these questions. The contributors consider the legal theory behind adequacy lawsuits, examining how the education clauses in state constitutions have been reinterpreted. According to James Guthrie and Matthew Springer, this trend has more fully politicized the process of cost modeling in school finance. Frederick Hess looks at the politics of adequacy implementation. Research by Christopher Berry of Harvard finds that the most significant result of the movement has not resulted in broad-ranging changes in school funding. How the No Child Left Behind Act and adequacy lawsuits impact one another is an especially interesting question, as addressed by Andrew Rudalevige and Michael Heise. This is the most comprehensive analysis to date of the adequacy lawsuit strategy, a topic of increasing importance in a controversial area of public policy that touches virtually all Americans. It will be of interest to readers engaged in education policy discussions and those concerned about the power of the courts to make policy rather than simply to enforce it.
Related Books
A Notion at Risk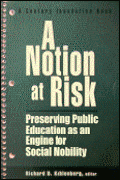 Spinning Wheels
Education
Spinning Wheels
Frederick M. Hess
November 1, 1998
Teachers versus the Public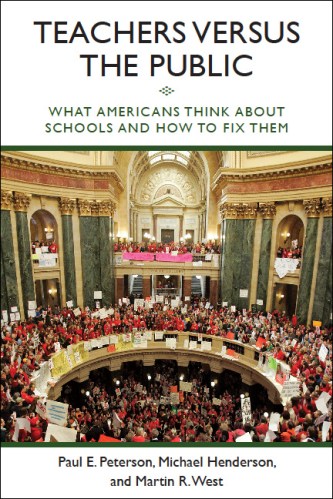 Education
Teachers versus the Public
Paul E. Peterson, Michael Henderson, Martin R. West
April 29, 2014
Martin R. West is an assistant professor of education at the Harvard Graduate School of Education and deputy director of the Program on Education Policy and Governance (PEPG) at Harvard's Kennedy School of Government. He was formerly a guest scholar in governance studies at the Brookings Institution.
Paul E. Peterson is the Henry Lee Shattuck Professor of Government at Harvard, the director of PEPG, and a senior fellow at the Hoover Institution. He is author or editor of numerous books, including The Education Gap: Vouchers and Urban Schools, with William G. Howell (Brookings, 2004 and 2006). He is coeditor (with Martin West) of No Child Left Behind? The Practice and Politics of School Accountability (Brookings, 2003).