Burma had the brightest prospects of any Southeast Asian nation after World War II. In the years since, however, it has dropped to the bottom of the world's socioeconomic ladder. The grossly misruled nation—officially known as Myanmar—is in the midst of a political transition based on a new constitution and its first multiparty elections in twenty years. That transition, together with a recent change in U.S. policy, prompted this book.
Two military dictators have ruled Myanmar with an iron fist for nearly fifty years. A popular uprising in 1988 was brutally suppressed, but it forced the generals to hold an election in 1990. When an anti-regime party led by Nobel Peace Prize Laureate Aung San Suu Kyi won by a landside, however, the generals rejected the results, put Suu Kyi under house arrest for most of two decades, and continued to exploit the country's abundant resources for their own benefit while depriving citizens of basic services. Years of Western sanctions had no measurable impact, but in 2009 the Obama administration adopted a new policy of "pragmatic engagement," encouraging greater respect of democratic principles and human rights as a basis for eventual removal of sanctions.
This thoughtful volume examines Burma today primarily through the eyes of its ASEAN partners, its superpower neighbors China and India, and its own people. It provides insights into the overarching problem of national reconciliation, the strategic competition between China and India, the role of ASEAN, and the underperforming, resource-cursed economy.
Contributors include Pavin Chachavalpongpun (Institute of Southeast Asian Studies, Singapore), Termsak Chalermpalanupap (ASEAN Secretariat, Jakarta), David Dapice (Tufts University), Xiaolin Guo (Institute for Security & Development Policy, Stockholm), Gurmeet Kanwal (Centre for Land Warfare Studies, New Delhi), Kyaw Yin Hlaing (City University of Hong Kong), Li Chenyang (Institute of Southeast Asian Studies and Yunnan University, Kunming), Andrew Selth (Griffith University, Brisbane), Michael Vatikiotis (Henry Dunant Centre for Humanitarian Dialogue, Singapore), Maung Zarni (London School of Economics)
Related Books
Is This a Meaningful Milestone for Myanmar/Burma?
Weathering the Storm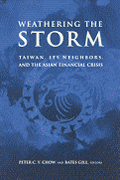 Deferring Democracy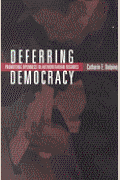 Lex Rieffel is a nonresident senior fellow in Global Economy and Development at the Brookings Institution.