Democracy in the States offers a 21st century agenda for election reform in America based on lessons learned in the fifty states. Combining accessibility and rigor, leading scholars of U.S. politics and elections examine the impact of reforms intended to increase the integrity, fairness, and responsiveness of the electoral system. While some of these reforms focus on election administration, which has been the subject of much controversy since the 2000 presidential election, others seek more broadly to increase political participation and improve representation. For example, Paul Gronke (Reed College) and his colleagues study the relationship between early voting and turnout. Barry Burden (University of Wisconsin–Madison) examines the hurdles that third-party candidates must clear to get on the ballot in different states. Michael McDonald (George Mason University) analyzes the leading strategies for redistricting reform. And Todd Donovan (Western Washington University) focuses on how the spread of "safe" legislative seats affects both representation and participation. Supreme Court Justice Louis Brandeis famously observed that "a single courageous state may, if its citizens choose, serve as a laboratory; and try novel social and economic experiments without risk to the rest of the country." Nowhere is this function more essential than in the sphere of election reform, as this important book shows.
Related Books
America's New Swing Region
Reflections on Regionalism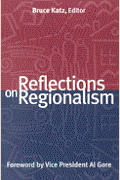 Work over Welfare
Authors
Bruce E. Cain
Former Brookings Expert,
Charles Louis Ducommun Professor in Humanities and Sciences
- Stanford University,
The Spence and Cleone Eccles Family Director
- The Bill Lane Center for the American West
Bruce E. Cain is Heller Professor of Political Science at the University of California–Berkeley and director of the UC Washington Center. He is the author or editor of more than a dozen books, including Party Lines: Competition, Partisanship, and Congressional Redistricting, edited with Thomas E. Mann (Brookings, 2005). Todd Donovan is professor of political science at Western Washington University. His books include Losers' Consent: Elections and Democratic Legitimacy, written with Christopher J.Anderson, Andre Blais, Shaun Bowler, and Ola Listhaug (Oxford, 2005). Caroline J.Tolbert is associate professor of political science at the University of Iowa. She is the author, most recently, of Digital Citizenship:The Internet, Society, and Participation, with Karen Mossberger and Ramona S. McNeal (MIT, 2007).