It was welcome news in early June that the United States had finally surpassed the number of jobs it had pre-recession. Some areas of the country, however, had long ago achieved that feat. For others, the road back to even remains a long one. And in many parts of the country, these two kinds of metro areas are in close proximity.
That's evident from a map in our latest MetroMonitor, which tracked the economic performance of the 100 largest U.S. metropolitan areas through the first quarter of 2014. Of the 100, just 44 had more jobs than their pre-recession peak. Clearly, Texas metro areas remain standouts, with all six posting at least 5 percent more jobs than before the crisis. Florida is the anti-Texas, with all seven of its major metro areas beneath their pre-recession jobs totals.
Total Job Changes in the Nation's 100 Largest Metro Areas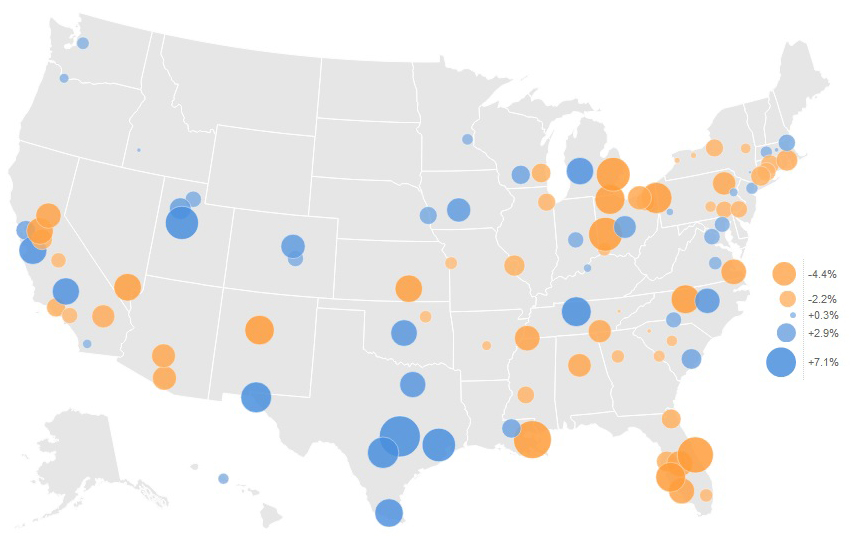 It is striking, however, just how many states and regions house metro areas both above and below their pre-crisis positions. Raleigh has bounced back while Greensboro struggles. Columbus is far ahead of nearby Dayton. Nashville is booming but Chattanooga lags. And the Bay Area and Silicon Valley continue to pull away from close-by Central Valley metro areas (Modesto, Sacramento, Stockton) on job growth.
A variety of factors explain the metro jobs recovery patchwork. Housing prices didn't fall as much in the Bay Area as in the Central Valley. Madison was buffered by stable higher education employment, while Milwaukee lost lots of manufacturing jobs. Allentown is benefiting from its proximity to larger markets like New York and Philadelphia in a way that Scranton can't. And government jobs are growing in Richmond, while military cutbacks have shrunk the jobs base in Virginia Beach.
It's all a stark reminder that smart strategies to grow jobs—particularly through expanding local specializations, versus zero-sum games that move simply jobs across municipal or state lines (and often waste a lot of tax dollars in the process)—need strong metro leadership.