FixGov
2014 Midterms: Intensity Matters for the Future of the ACA
Editor's Note: As part of the 2014 Midterm Elections Series, experts across Brookings will weigh in on issues that are central to this year's campaigns, how the candidates are engaging those topics, and what will shape policy for the next two years. In this post, Elaine Kamarck looks at how public opinion of the Affordable Care Act has impacted the election.
The Affordable Care Act was supposed to be the central issue in the 2014 midterm elections, like the political lightning rod it was in 2010. It has not risen to that level nationally. However, it remains on the minds of many voters, and in some races, it is having a critical impact.
First of all, it remains—as it has since its passage—more unpopular than popular.  But that broad brush hides a number of nuances.  For instance, individual provisions remain popular, such as the fact that the law prohibits denying health insurance for a pre-existing condition. And some provisions are very unpopular, most especially the mandate that everyone purchase health insurance. And, as with everything else these days, attitudes break down along partisan lines with Democrats strongly supportive and Republicans strongly opposed to the law. In addition, differences in support exist across states, often connecting back to partisan views on the issue.
But as in all public policy decisions, what matters is not the broad brush of public opinion but the intensity people have about the issues. As numerous polls have shown, Republican voters opposed to the health care law are much more intense about its repeal than Democratic voters. And at this stage, Republican voters are apparently more motivated than Democrats to get out and vote.
In addition, as our research in The Primaries Project shows, Republican candidates across the board campaigned on repeal of Obamacare. In doing so, they rejected any nuance and painted their party into a unified corner.
And attacks on Obamacare have continued into the fall campaign. Of course this doesn't mean that the law will be repealed right away. President Obama is there to veto any such attempt.
But it does mean that the 2016 presidential elections will be especially important and that the election of a Republican President could have profound consequences for the law.  The underlying problem for the legislation is not that people oppose it but that, in the end, it may lack intense support. Among the array of polls out there on the law, one poll is an important indicator of how intensely people feel about it.  In an October 2014 poll the Kaiser Family Foundation asked, "So far, would you say the health care law has directly helped you and your family, directly hurt you and your family, or has it not had a direct impact?" The results indicate a distinct lack of salience to most Americans. Beginning in May of this year and continuing throughout October well more than half of all Americans answered that the poll has not had any direct impact on their families. And fewer than 20% say it has helped them.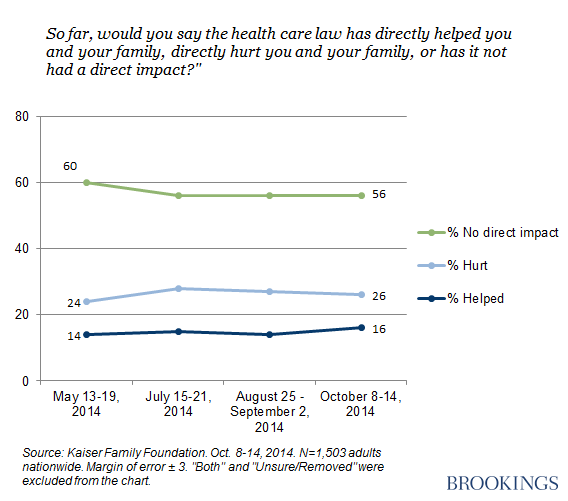 These numbers may change as the substantial kinks in the implementation of this law get worked out. But the bottom line is that those Democrats who think that opposition to the law will fade as more and more people take advantage of it may have to face the fact that the Affordable Care Act, unlike Medicare or Social Security, is not a broad based entitlement. In fact, it is a piece of legislation narrowly focused on a particular part of the population.  It has the great misfortune to have become one of the biggest battlefields in a highly polarized nation.
Author