To wrap up 2015, we're sharing the most popular Chalkboard posts of the past year. In July of this year, we relaunched the Chalkboard as a more frequent blog series and have offered timely research-based insight into important events happening in education policy. Teacher issues, college admissions, and higher education affordability were just some of the topics that emerged as important in the national conversation on education policy over the past year. These are mirrored in the eight most read posts of the year.
In addition, one of the biggest developments in American education policy in years is the reauthorization of the Elementary and Secondary Education Act (ESEA) as the Every Student Succeeds Act (ESSA) which happened in December 2015. Though no individual piece broke into the list below as we've only recently published on ESEA and ESSA, several important contributions on the topic look at reauthorization from a research perspective, a historical perspective, and a lens focused on waivers themselves. And there will be more analysis of ESSA implementation to come in 2016.
The top Chalkboard posts of 2015 are as follows:
Seth Gershenson shares findings from a July 2015 study that provides evidence of systematic biases in teachers' expectations for the educational attainment of black students.
Nicholas Papageorge explains surprising research that suggests policies aimed at reducing so-called "negative" non-cognitive or behavioral traits could harm children in the long run. 
Beth Akers and Liz Sablich identify the four primary themes of Hillary Clinton's higher education plan and discuss each element in terms of its likely economic impact.
Stephanie Cellini assesses the costs and benefits of a for-profit college education and finds that for the average student, the earnings gains associated with attendance are too low to justify the cost.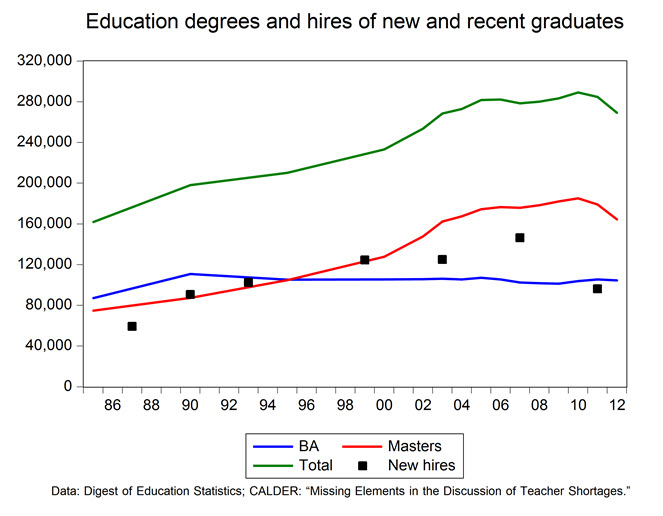 Dick Startz considers whether or not the United States faces a nationwide teacher shortage. He concludes that quantity matters when it comes to teacher supply, but it's a mistake to not consider quality as well. 
Ben Backes explores whether class-based preferences may be a more viable alternative to affirmative action in light of the upcoming Fisher v University of Texas Austin Supreme Court case. 
Gil Troy argues that in today's relaxed era, middle-class and upper-middle-class parents' obsession with befriending their kids and cultivating self-esteem undermines parental and educational authority.
Tom Loveless explains why utilizing the decline in SAT scores between 2014 and 2015 to draw conclusions about U.S. high schools is irresponsible and misleading. 
Thanks for reading in 2015! Bookmark the Chalkboard and sign up for the Brown Center on Education Policy's weekly newsletter as we continue to blog and bring evidence to bear on debates surrounding education policy today.
Managing Editor, Brown Center Chalkboard
The Brown Center Chalkboard launched in January 2013 as a weekly series of new analyses of policy, research, and practice relevant to U.S. education.
In July 2015, the Chalkboard was re-launched as a Brookings blog in order to offer more frequent, timely, and diverse content. Contributors to both the original paper series and current blog are committed to bringing evidence to bear on the debates around education policy in America.
Read papers in the original Brown Center Chalkboard series »