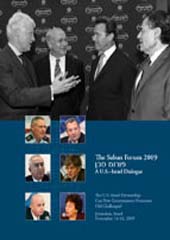 Each year, the Saban Center for Middle East Policy at Brookings convenes leading Israeli and American policymakers, journalists, and members of the public and private sectors for discussion of the most critical issues in the Middle East. This past year, the Saban Forum was held in Jerusalem on November 14-16, 2009, and featured remarks by Prime Minister Benjamin Netanyahu, a conversation with President William J. Clinton, a meeting with Prime Minister Salam Fayyad in Ramallah, and a discussion with Governor Arnold Schwarzenegger and Congressman Henry Waxman.
The theme of the Forum was "The U.S.-Israel Partnership: Can New Governments Overcome Old Challenges?" and participants examined several challenges both governments must address, including Iran's continued pursuit of nuclear capabilities, the stalled peace process, and the growing desire for energy independence. At the same time, the forum explored the state of the U.S.-Israeli relationship, and asked whether the Obama administration and Netanyahu government see eye-to-eye on the solutions to the challenges their countries face.
The Saban Forum Proceedings presents summaries and photographs of the dialogue sessions, the list of participants, the program, and a transcript of the event's keynote address.
Download the full Saban Forum Proceedings » (PDF)
Sections
Participants » (PDF)

Saban Forum 2009 Israeli, American, and International Participants
Program » (PDF)

The program schedule for Saban Forum 2009