On February 9, President Obama submitted his FY 2017 budget request to Congress. The proposed international affairs budget is down 1 percent from current funding levels and 12 percent (in constant dollars) since 2010, better than many domestic accounts. In addition, outside the regular budget, the administration is proposing $1.8 billion ($376 million from the international affairs budget account) to meet the latest pandemic—the Zika virus. Given the budget environment, the proposed amounts for the international affairs budget seem reasonable.
But from a long-term perspective, the budget is alarming. It seems unable to take account of global trends, it relies on fractured and ad hoc processes, and it is excessively siloed into pre-determined sectors.
Being satisfied with relatively small budget cuts does not face the reality of far greater and more pressing challenges today than in 2010. Today, Iraq and Afghanistan are still demanding sizable budget resources. We need to respond to Russia's muscle-flexing by demonstrating our commitment to its independent neighbors. The effort to move HIV/AIDS to a more sustainable model is commendable but showing minimal success, so U.S. funding cannot slip. The Ebola crisis has been succeeded by the Zika virus. The Middle East is unstable and violent, with half the population of Syria killed or displaced. Sixty million displaced persons is the highest level ever reached. The world is addressing four Level 3 humanitarian crises, an unprecedented number. The fear of terrorism is spreading and disrupting rational political dialogue. Domestic violence and civil strife is increasing in Central America. Free expression is under siege in many countries and civil societies are in need of reinforcement.
Many of these challenges reflect an underinvestment in development in the past. We are using a Rube Goldberg budget system that cobbles together funding from multiple sources for a single objective and locks in funding several years before a penny flows, making it difficult to adjust to changing circumstances.
The budgeting system problem
The 2017 budget uses a gimmick that may not be sustainable. To fund the Iraq war, the Bush administration invented an off-budget account (Overseas Contingent Operations, or OCO, a successor to earlier emergency funding) that does not count against the annual budget caps. The State Department and USAID got part of their budgets starting in 2012 from this account. OCO for FY 2017 is proposed at one-quarter of the international affairs budget. The problem is that OCO cannot be counted on in the long-term, and the sustainable base budget for FY 2017 is down 30 percent from FY 2010 in constant dollars.
The budget process is also absurdly long. The Obama administration began planning the FY 2016 budget in the spring of 2014, roughly 18 months before Congressional appropriations. Typically, it could take another six months for agency officials and appropriation committees to agree on country and program allocations. Only then, 30 months later, can U.S. development professionals working overseas get on with the business of putting those resources to work.  
This budget process, with its long timeframes and pre-determined earmarks and presidential initiatives, means that despite best efforts by USAID, it is difficult to respect "local ownership" of development—something that development experience demonstrates is fundamental to successful and sustainable development.
Presidential initiatives have their place as a way to bring along political allies and the American populace. It is also appropriate and constructive for Congress to weigh in on funding priorities. But it can be counterproductive to effective development when presidential initiatives and congressional earmarks dictate at the micro level and restrict flexibility in implementation, especially in a rapidly changing world with frequent crises. 
Another problem with the current budget system is that most but not all sectors are protected by budget accounts or earmarks. Health is protected and the funding divided into various sub-accounts. Education and agriculture get earmarks. New in the FY 2016 appropriations bill is a separate line item for democracy.
Another structural issue is the crisis-reactive nature of our assistance programs. Health, which garners the lion's share of U.S. economic assistance, has been dominated for nearly two decades by responses to global crises — first massive funding for combatting HIV/AIDS, followed by significant funding to tackle malaria, Ebola, and now the Zika virus. It is funding by individual disease. Crisis galvanizes political and popular support for the here and now. But what if we had focused on building up national health systems for the last 20 years rather than fighting one-off diseases? If we moved to more preventive approaches now, maybe in 10 or 20 years the pandemic of the day could be met less by the U.S. ramping up in a crisis mode and more by the health systems in those countries affected, with the U.S. playing a supportive and technical role rather than the core funding role. 
These issues are examples of why it is imperative for the next administration and congress to engage in a strategic dialogue on the objectives and priorities of foreign assistance programs, both in funding levels and how the funds are used. It is time to move away from the current structure that resembles building a Cadillac from parts of models stretching from 1949 to 1973, as in the Johnny Cash song "One Piece at A Time."
Figure 1: How we build our budget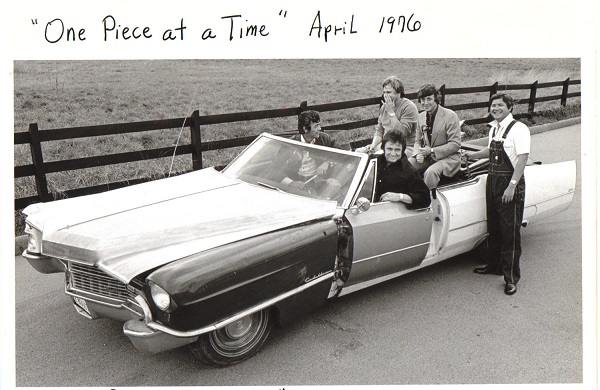 Source: Abernathyautoparts, CC BY-SA 2.5

It is not unrealistic to envisage a more strategic approach. One option is to return to the approach in the 1970s, when all development funding was put into one of just five or six functional accounts, and provide some flexibility in moving funds between accounts.
Policymakers who believe that America is an exceptional or indispensable nation and that world problems do not get solved without American involvement need to take a hard look at whether they are providing the U.S. government with the required diplomatic and development tools. It is high time for U.S. policymakers to take a more strategic approach to the level of funding of international affairs and how the U.S. uses its foreign assistance. The inauguration of a new president and Congress in 2017 offers the opportunity to seize this challenge.