In order to fulfill President Trump's border security objectives, Customs and Border Protection (CBP) has their work cut out for them. In the Center for Effective Public Management's new paper, Hitting the wall: On immigration, campaign promises clash with policy realities, we examine the obstacles to implementing the president's immigration agenda. A major implementation challenge comes from his call for CBP to hire an additional 5,000 Border Patrol officers.
Over the last 24 years, the Border Patrol has already expanded significantly, from fewer than 5,000 agents in 1992 to just under 20,000 as of fiscal year 2016. While that may make another increase seem within reach, recent trends tell a different story. The size of the Border Patrol force reached its peak in 2011 and has declined since then. In fact, the agency was authorized for an additional 1,000 officers even before the president's order—and has struggled to meet that goal.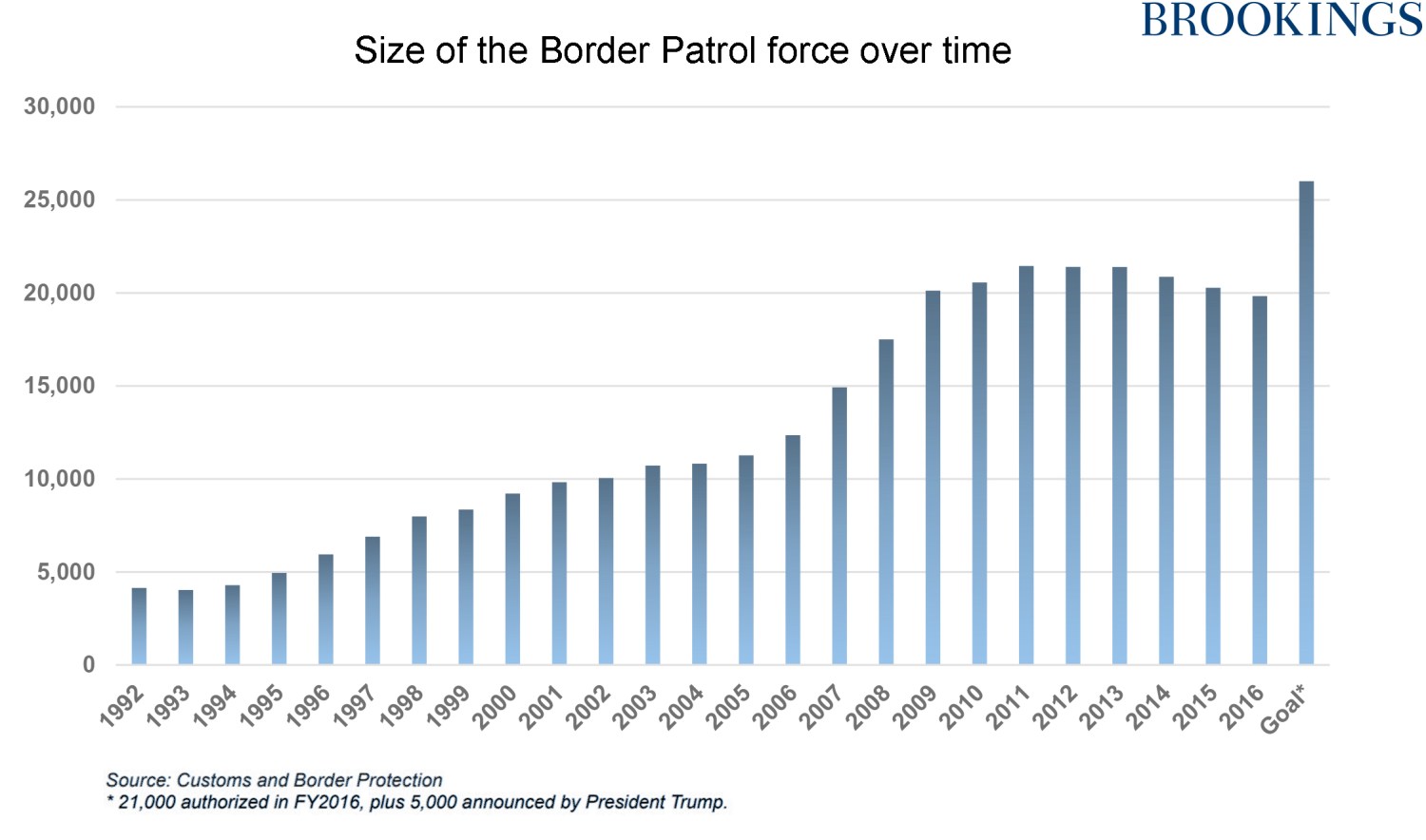 Size of US Border Patrol
It's been difficult for the agency to recruit, train, and retain enough officers to maintain its staffing levels for a number of reasons. Although Border Patrol is a law enforcement employer, officer postings are at remote locations rather than in communities where their recruits live. Other barriers to attracting applicants include lower pay relative to other law enforcement agencies such as ICE, and burdensome requirements including a polygraph test. Getting a new officer through the hiring process itself is a major bottleneck, and can take seven months or more—although CBP has reduced that time significantly in the last few years.
It will be extraordinarily expensive for CBP to hire an additional 5,000 officers, and could take years. Given that the Border Patrol reached such a persistent upper limit in their staffing levels, it could be better to spend this money on other, equally important aspects of their mission
See our paper for an in-depth discussion of the hiring challenges facing Customs and Border Protection, as well as Immigration and Customs Enforcement.