In this era of fiscal constraint, I firmly believe the federal government will need to optimize the workings of the emerging federal-state-metro order. The urgency and complexity of the challenges facing the nation today suggest the need to devise new ways to increase impact and do more with less … It won't be easy but the time is ripe to invest in infrastructure projects that put us on the path to a more productive and sustainable economy.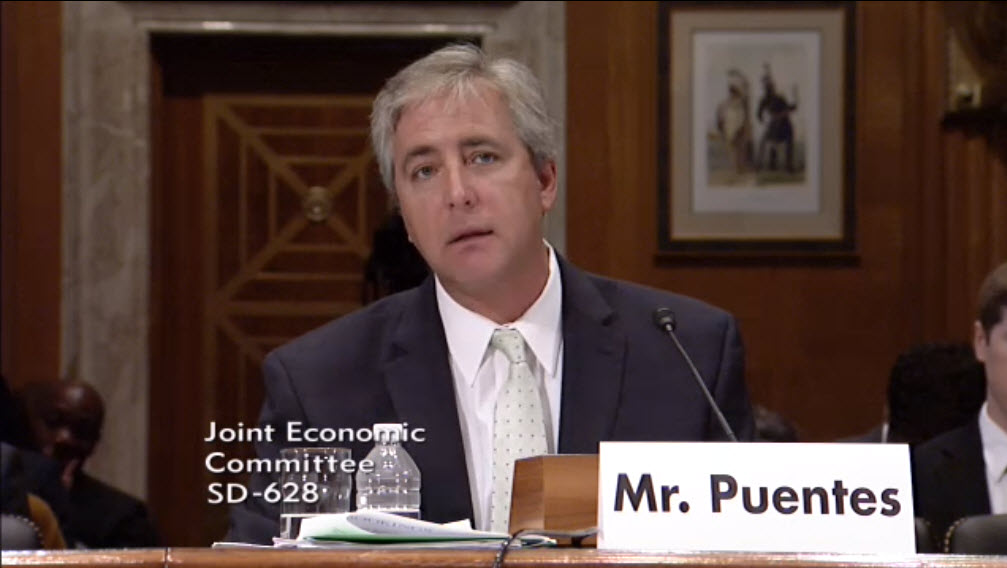 In testimony to the Joint Economic Committee of the U.S. Congress, Senior Fellow Rob Puentes described how the federal government can engage in new partnerships with public and private investors on infrastructure projects, and by doing so, "put Americans back to work and rebalance the economy." His testimony covered four major areas, highlighted below.
Revive Build America Bonds (BABs)
Congress created the two-year Build America Bonds program in 2009 as part of the American Recovery and Reinvestment Act (the "stimulus"). Puentes says BABs "proved wildly popular" and "successfully spurred investment in job investment and economically important infrastructure projects across the country."
In an earlier paper, Puentes and Emilia Istrate examined the purposes for which BABs were used and where they were used. For more on municipal bonds in the immediate post-Great Recession period, with a treatment of BABs, see Tracy Gordon's paper, "Buy and Hold (on Tight): The Recent Muni Bond Rollercoaster and What It Means for Cities." Also in 2011, Barry Bosworth and Sveta Milusheva evaluated innovations in U.S. infrastructure financing in their paper, including a review of BABs and public/private partnerships.
Exempt Private Activity Bonds (PABs) from the Alternative Minimum Tax
Private Activity Bonds help promote projects ranging from highways to freight transfer facilities. Puentes explains that federal tax policy "has undercut the potential of PABs to pull sorely needed private financing into critical infrastructure projects" in particular due to the AMT. He argues that while eliminating the AMT on all PABs could cost the government $49 million/year from 2012-17, "the exemption would generate billions of dollars in additional economic activity and lead to cost savings of almost $748 million for airports alone over the next ten years."
Read more from Puentes, with Joseph Kane, on PABs and the AMT in "Cut to Invest: Exempt Private Activity Bonds from the Alternative Minimum Tax."  
Establish a national Public/Private Partnership unit to support bottom-up infrastructure investment
Many public entities lack the technical capacity and expertise to manage large, complicated infrastructure contracts with private-sector firms. Puentes has long advocated "PPP Units" that would, as he testifies, "provide states, cities, and metropolitan actors with the support and technical assistance needed from the procurement state through long-term management of the [infrastructure] projects."
Puentes and Istrate collaborated on a paper about public/private partnerships and provided an interactive graphic that shows PPP activity at the metro and state levels across the country.
Create repatriation tax holiday to capitalize a National Infrastructure Bank
"If designed and implemented appropriately," Puentes testified,
… an NIB has the potential to leverage billions of dollars of private investment in important projects across the country. An NIB can not only provide a streamlined selection process for projects, but also apply a more rigorous standard for evaluating critical investments in energy, transportation, water, telecommunications, and other infrastructure assets attractive to private investors. Beyond bridges, roads, and other conventional projects, the NIB could spur cutting-edge investments in clean technologies, efficient energy distribution, and new resilient infrastructure assets.
Puentes says that one way to capitalize a NIB is a one-time repatriation tax holiday and despite problems with a similar program in 2004, one focused on infrastructure has great potential.
Scholars across the Brookings Institution have contributed significant thinking and recommendations on the purposes of a National Infrastructure Bank.
The policy ideas Puentes lays out in this testimony are drawn from a larger body of proposals and research found in the Remaking Federalism | Renewing the Economy series of papers.
---
To learn more about the hearing, including testimony from other witnesses, visit the Joint Economic Committee's website, where you can also watch the archived webcast. Puentes's portion begins at 54:23.