Although the U.S. economy experienced 71 consecutive months of job growth, many people and households are not better off. This is particularly true if you are poor and physically isolated from jobs and good schools. The barriers facing many Americans are multiple, and creating effective pathways to opportunity requires action on a wide range of issues, from early childhood education, to nutrition, to personal finance. But there are few things more central to a person's well-being than a home of their own and the transportation networks that provide both physical and economic mobility.
A recent Brookings event aimed to address these barriers to opportunity by highlighting the need for more comprehensive plans, innovative investments, and coordinated regional strategies centered on housing and transportation.
When it comes to housing, HUD Secretary Julián Castro discussed his department's final version of its "Affirmatively Furthering Fair Housing" (AFFH) rule, which is intended to provide communities—and HUD grantees—with greater guidance and technical support under the Fair Housing Act. Through more open data, extensive collaboration, and locally tailored policies, regions have the potential to incorporate fair housing more seamlessly into their existing community development plans. Still, overcoming long-standing impediments to fair housing, such as restrictive zoning, and achieving greater transparency in compliance efforts remains to be seen, with success largely hinging on actions by individual localities.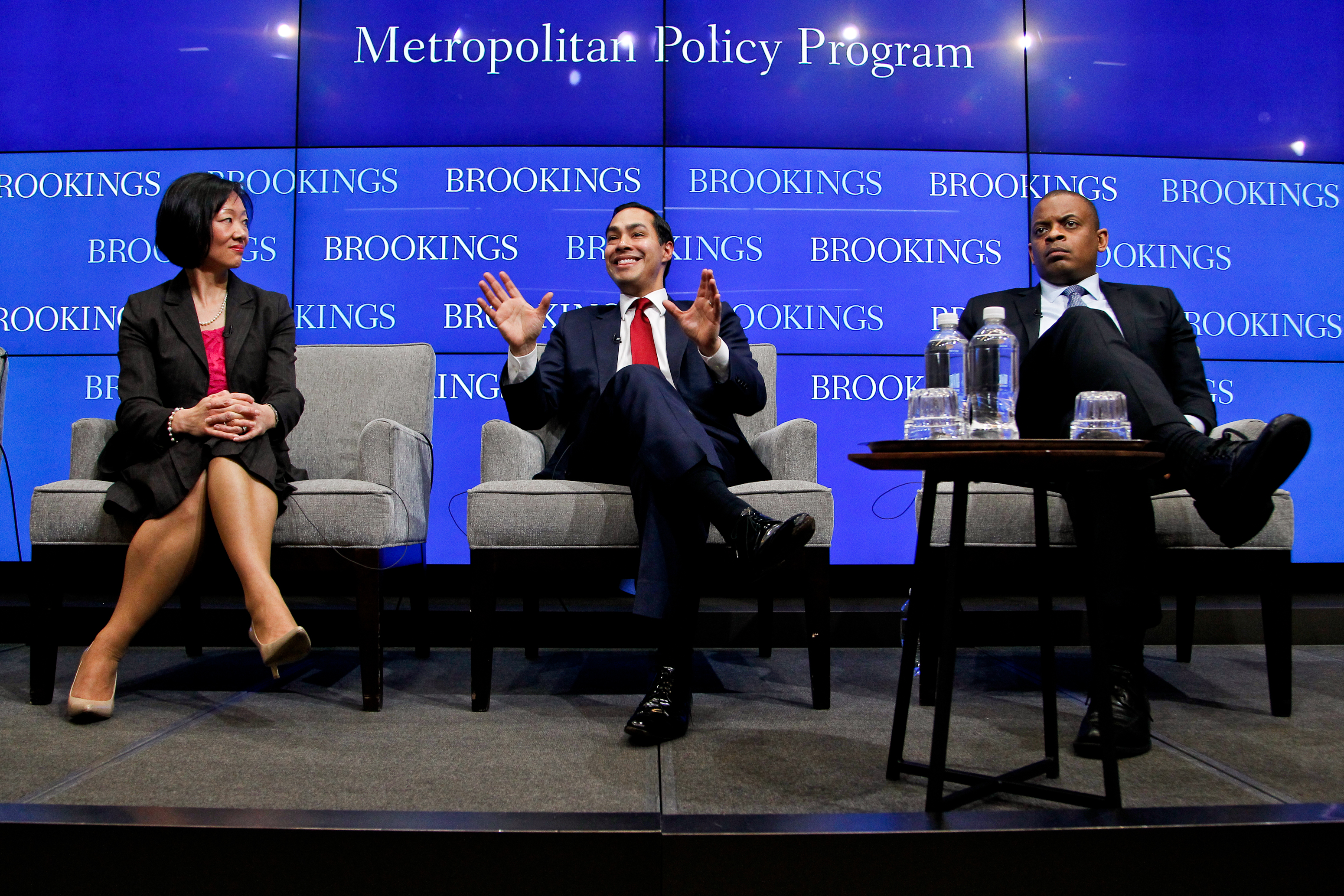 Amy Liu, Vice President and Director, Brookings Metropolitan Policy Program; Honorable Julián Castro, Secretary, U.S. Department of Housing and Urban Development; Honorable Anthony Foxx, Secretary, U.S. Department of Transportation
Transportation Secretary Anthony Foxx, likewise, has promoted clearer infrastructure connections to economic opportunity with the department's Ladders of Opportunity initiative, although regions ultimately remain the key players in putting people first in transportation plans and spearheading a range of multimodal projects in support of more widespread accessibility. Under the Ladders initiative, for example, pilot projects in seven U.S. cities—from Atlanta to Phoenix—are receiving federal support in the form of technical and financial assistance, but the long-term success of these projects will crucially depend on how well they connect to local land use strategies and other planning efforts.
In turn, when tying together broader housing and transportation concerns, regions represent the primary laboratories for experimentation and innovation, backed by support from a number of different public, private, and civic partners. Whether considering poverty in outlying suburbs or urban cores, metro areas like Kansas City are actively assessing their fair housing challenges and also taking direct aim on how transportation services need to change to better connect low income households. Chicago is linking up local housing authorities with that region's metropolitan planning organization to promote more housing choice on a regional level. Baltimore is similarly working with their region's principal transportation planning agency to add on the responsibility of housing to its work.
As a result of federal action, opportunities for creative metropolitan actors to "put it all together" in service of multi-dimensional and integrated solutions are starting to proliferate. But this is tough stuff. Despite some clear successes in these regions, we still have a long way to go to make sure housing and transportation policy actively promotes and support economic mobility. The task is for metro leaders to learn from one another and craft their own bottom-up solutions that match their unique challenges.