On the invitation of House Speaker Paul Ryan, who stated that "[t]he friendship between the United States and India is a pillar of stability in an important region of the world," Indian Prime Minister Narendra Modi will be addressing a joint meeting of the U.S. Congress on June 8. There have been five Indian prime ministers who've given such remarks: Jawaharlal Nehru (1949, to separate House and Senate gatherings), Rajiv Gandhi (1985), P.V. Narashima Rao (1994), Atal Bihari Vajpayee (2000) and Manmohan Singh (2005). Their speeches were reflective of the contemporary global context and the state of the U.S.-India relationship, but they did share some themes as well. Modi will likely emphasize that he is transforming India (as these other prime ministers asserted as well) and want to highlight the change he is bringing, but his speech might also echo some of these past themes. Below is a look back at what India's prime ministers have said to Congress—a past glimpse that is also instructive in terms of how much the U.S.-India relationship has changed.
On October 13, 1949, two years of India's independence (and a few days after the communists had taken over China), Jawaharlal Nehru addressed back-to-back meetings of the House and Senate. Declaring that "Nehru puts India on freedom's side," The New York Times noted in a front-page story that "Pandit Nehru expressed pride for India's past, hope for her future, but acute awareness of her present economic difficulties."
On June 13, 1985, Rajiv Gandhi, Nehru's grandson who had won a major electoral victory the previous year, became the first Indian premier to address a joint meeting of Congress. In an above-the-fold story featuring a photo of a smiling Gandhi, Vice President George H.W. Bush and House Speaker Tip O' Neill, The New York Times particularly remarked on the 40-year-old prime minister's youthfulness and remarks on Afghanistan.
On May 18, 1994, a few years after the collapse of the Soviet Union and after having introduced a wave of economic reforms, P.V. Narasimha Rao addressed Congress. Ten days before that The New York Times featured a story on his finance minister Manmohan Singh and the reforms the two leaders were undertaking. Reflecting the relative disinterest in India in the U.S. at the time, the Times did not, however, cover Rao's speech.
On September 14, 2000, Atal Bihari Vajpayee, India's first prime minister from the Bharatiya Janata Party (BJP) addressed the U.S. Congress. His two years in power till then had seen India conduct nuclear tests, a crisis with Pakistan seen as a turning point in U.S.-India relations because the U.S. called out Pakistan for its actions, and a U.S. presidential visit to India after two decades. A jovial photo of the prime minister and President Clinton made the front page a couple of days later, but the speech itself did not get coverage in the newspaper of record.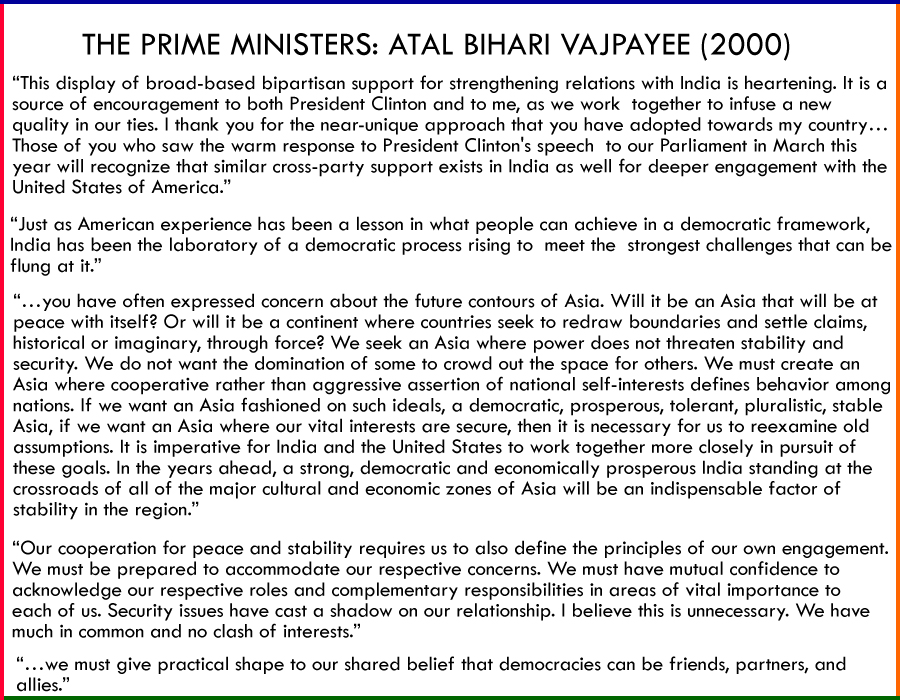 On July 19, 2005, Manmohan Singh, who'd just reached a civil nuclear agreement with President Bush, addressed Congress. His visit—and that agreement—received front-page coverage, but the speech itself was not covered separately.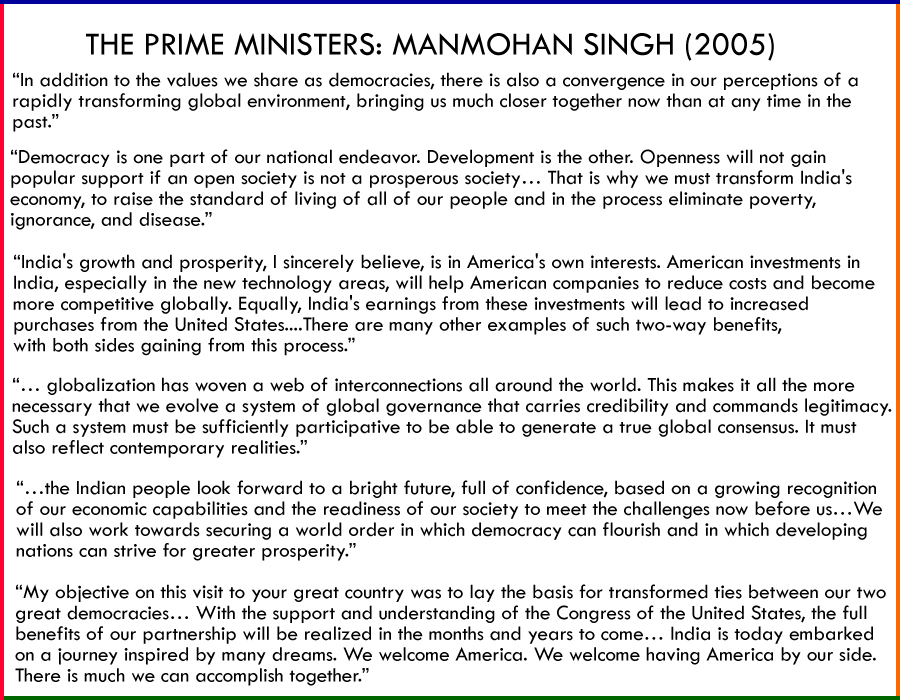 In his speech, Prime Minister Modi will likely stress the challenge that terrorism poses globally and regionally, and highlight U.S.-India the counter-terrorism cooperation. The last three Indian premiers have addressed this challenge as well.
President Obama reiterated U.S. support for Indian membership of the Nuclear Suppliers Group and encouraged other members to welcome Indian into the group. The U.S. and India have come a long way on a subject that has come up in every prime minister's speech since Rajiv Gandhi.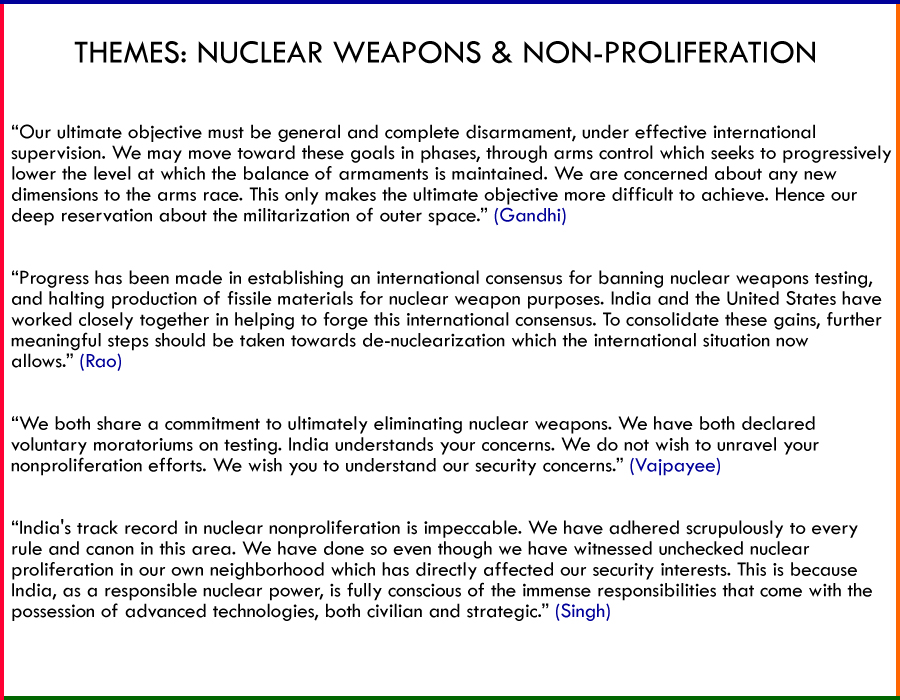 Every prime minister has outlined their economic policy objectives and achievements—more recent ones, have highlighted the opportunity India represents. While this was the focus of Modi's speech to the U.S.-India Business Council, expect this to be a subject he covers in his remarks to Congress as well.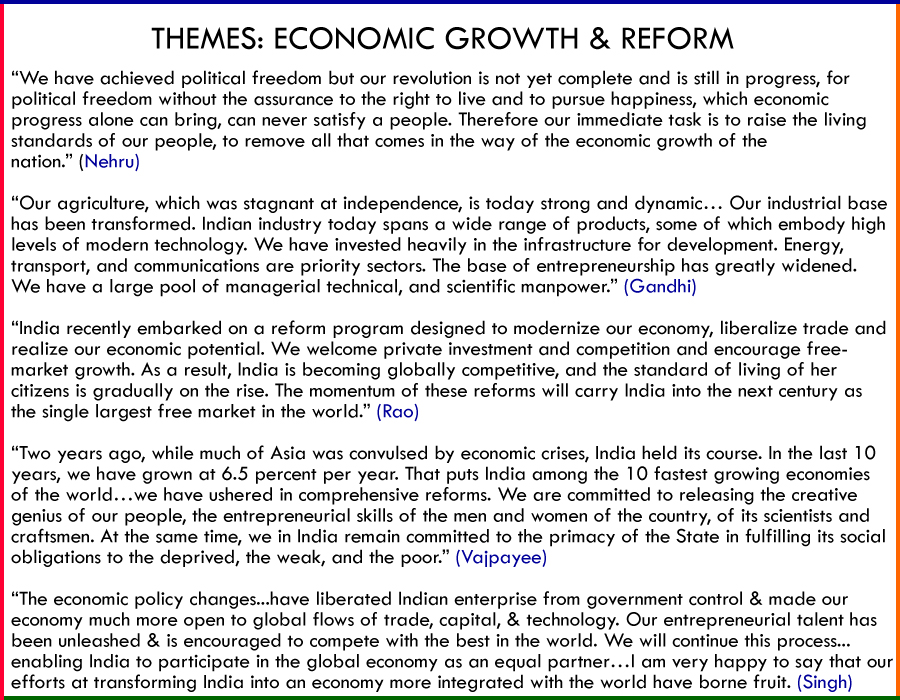 Indian prime ministers have seen the U.S. as a crucial source of technology, and often made the case for technological assistance or transfers or collaboration.
There has also been the linkage between democracy and development in various ways: highlighting the development task India is undertaking in a democratic context, stressing that democracies are better placed over the long-run to innovate and develop equitably, and suggesting that the U.S. has an interest in helping India's democratic experiment—now democratic engine—succeed.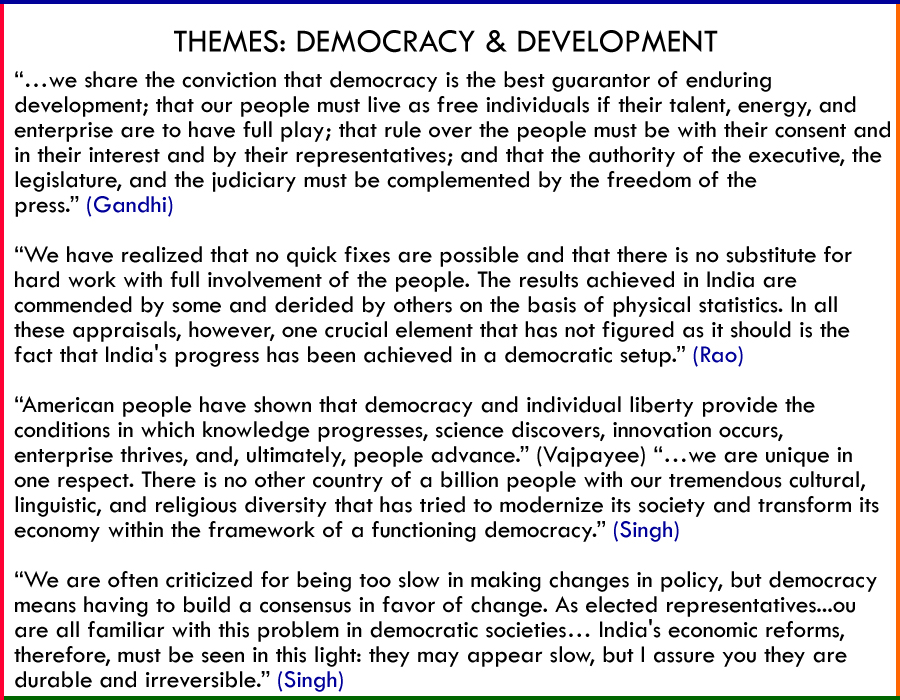 Whether to address concerns in Congress, note the similarities between India and the U.S., or stress India's multi-cultural, multi-ethnic, multi-lingual and multi-religious nature, each prime minister has talked about diversity, equality and freedom.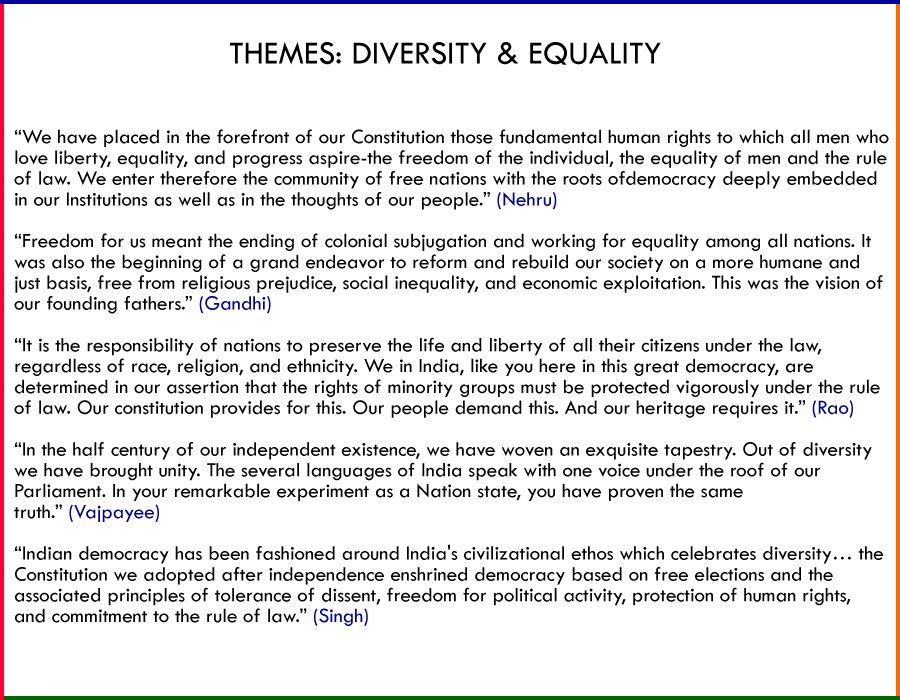 In their speeches, each of the prime ministers have noted the contributions of the growing numbers of Indian-Americans and non-resident Indians in the United States. Modi has made the diaspora a key focus; expect him to emphasize its role.
A week before his speech to Congress, Vajpayee famously asserted that "India and the USA are natural allies." He's not the only one to have noted the "natural" character of the relationship, though there's been different reasoning behind that assertion or hope.