Apprenticeships are gaining momentum as a way to close the opportunity gap, address racial and gender inequities such as occupational segregation, and improve access to quality jobs. But the policies governing apprenticeships in the U.S. are dated, and there are several structural challenges that limit their scale in industries other than the skilled trades. Moreover, the proliferation of different approaches, funding sources, and scopes threatens to undermine progress toward broader systems change. Failing to get the scale right will push greater costs for technological adoption, talent investment, and lifelong learning onto businesses, workers, and learners.
At Brookings, we have spent two years working with teams of state leaders from Alabama, Colorado, and Indiana to examine what it will take to scale earn-and-learn opportunities, including apprenticeships. Each of these states brought unique partnerships and innovations to the community of practice that other states can learn from, and we held local site visits to ground our conversations in the talent needs of the aerospace, biotechnology, and education industries.
In honor of National Apprenticeship Week 2023, this post offers key takeaways about the barriers to scaling earn-and-learn opportunities.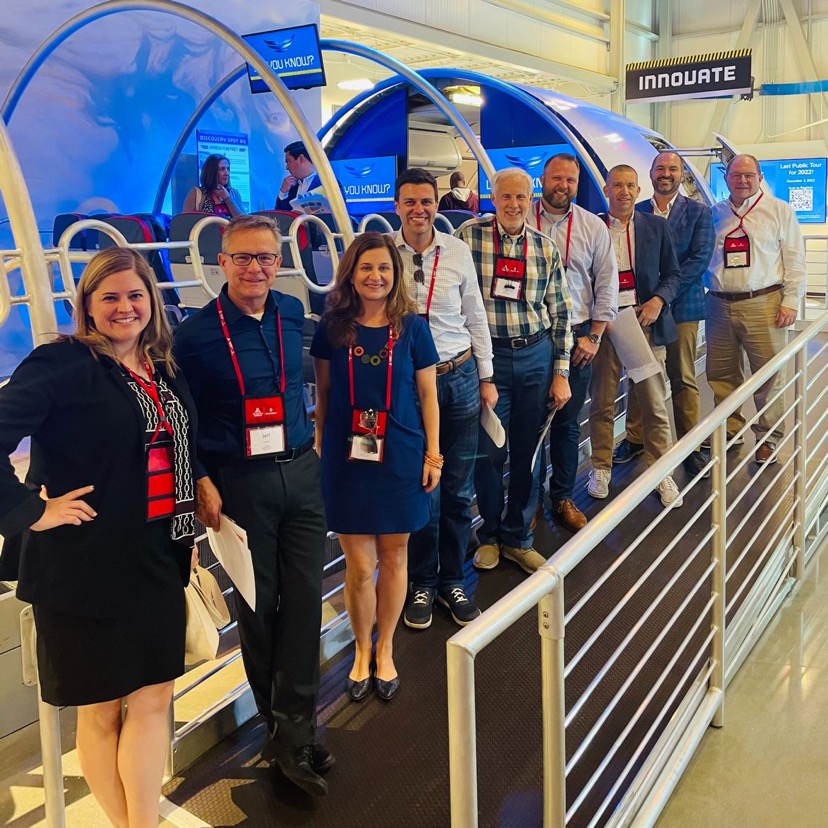 Leaders from Indiana visit the Airbus U.S. Manufacturing Facility in Mobile, Ala. (left to right): Stephanie Bothun (Ascend Indiana), State Senator Jeff Raatz, Marie Mackintosh (EmployIndy), Jason Bearce (Indiana Chamber of Commerce), State Representative Bob Behning, Todd Hurst (Indiana Chamber of Commerce), Jason Callahan (Indiana Department of Education), Matthew E. S. Butler (Office of Governor Eric J. Holcomb), Anthony Harl (Indiana Commission for Higher Education)
Apprenticeships are structured education programs lasting one to six years that offer a combination of classroom education, mentorship, and paid work experience in a profession. (Read the technical definition on page 28 and 29 of OECD Handbook for Internationally Comparative Education Statistics 2018).
Barriers to scaling apprenticeships
In our conversations and work together, state leaders identified the following stumbling blocks to scaling apprenticeships to reach a wider audience:
The lack of data to convince employers that apprenticeships offer them a real value proposition.
Confusion about different forms of work-based learning, such as apprenticeships, internships, pre-apprenticeships, and youth apprenticeships.
Lack of funder alignment, which tends to foster competition rather than partnership, friction over roles, and duplication of effort.
Staff burnout and turnover within intermediary organizations that work with employers, apprentices, and education and training providers.
Lack of a system to recognize, transfer, and articulate learning across educational institutions and settings (workplace, classroom, etc.), which can require learners to take courses for skills they've already mastered.
Let's look at these challenges through the lens of an anonymous case study of an innovative community college leader in California who wanted to create a new dental assistant apprenticeship to address regional health care talent needs. She obtained funding to support apprenticeship expansion at her college, which had offered successful apprenticeship programs in the building trades for decades. She believed that the same model could be adapted to other sectors.
However, the community college leader soon found herself confronting legacy systems and processes ill-suited to the task, such as:
Because her employer partners preferred candidates with associate degrees, she needed to modify existing curriculum so that the apprenticeship's classroom component ("related instruction") awarded academic credit. This accreditation process typically takes one to two years to complete.
Next, she had to find employer sponsors, who then needed to register their apprenticeships through the state, which can take up to six months.
To leverage public workforce training dollars or Career and Technical Education (Perkins) funding, she would have needed to get her program approved and set up for administrative compliance separately through those programs as well.
She also had to seek approval from the relevant occupational licensing body for dental assistants, so that students who complete the apprenticeship can sit for the exam without requiring additional coursework or fees.
Navigating this maze of separate processes reduced the leader's ability to respond quickly and effectively to employers' needs and learners' career aspirations. In this way, without a more cohesive and efficient system, intermediaries will continue to struggle to expand and scale apprenticeships.
From pilots to systems
To scale earn-and-learn opportunities, we need to create stronger incentive structures for collaboration between employers, educators and training providers, learners, and career navigation and support providers. The following practices would help:
Align and work on a collective impact strategy, such as funders developing shared metrics to build an evidence base, strategically aligning to reduce duplication of convenings, and embracing a shared language to describe the continuum of work-based learning.
Give industry a clear role, return on investment, and responsibility, including a policy mechanism for industry to speak in a unified voice about shared skill needs, ensure those needs are reflected in curricula, and regularly update the curricula.
Prioritize messaging and outreach to disrupt pervasive myths about apprenticeships and vocational education, such as messaging that apprenticeship is an options multiplier that offers a paid path to a college degree.
Recognize learning and assure quality of learning to instill trust and ensure that professionals coming out of earn-and-learn systems are treated with the same status, qualifications, and respect as traditional college graduates.
Right now, a fragmented landscape at the federal and state level threatens to undermine progress toward broader systems change. We will be sharing more details and critical insights from our community of practice in the months to come.
Overall, if U.S. innovators are to succeed in scaling earn-and-learn opportunities, they will need aligned governance structures, funding streams, data systems, and other shared infrastructure. Otherwise, our neglected institutions will struggle to keep pace with demand for talent, constraining our ability to innovate and create a more equitable future for America's increasingly diverse workforce.