What's most important to you when thinking about where to apply to college and what school to attend when those big envelopes finally come in?
There's the obvious: closeness to home—or maybe distance!—the comfort of the dorms, and, of course, the quality of the dining hall food.
But if you're thinking a little further down the road—like what happens when you finish your degree—then new college rankings from the Brookings Institution may be able to help you pick among your top choices. 
Our rankings are a little different than other college rankings you might have seen. We look at what actually happens to graduates of four-year colleges and universities (and two-year community colleges as well) and we factor out all the things about their student body that might push some schools to the top and focus just on the college itself. For example, Princeton always ranks highly, but Princeton attracts some of the very best students. If a Princeton graduate does well, how much did the university itself have to do with it?  In Princeton's case, we find, actually, a lot, but other institutions can't take as much credit for the success for their graduates. We use lots of new data not only from the Department of Education but also the professional social networking site LinkedIn and the salary reporting website PayScale.com to determine how much colleges are doing to support their graduates' economic futures.
How do we measure success? We look at three economic factors:
What average graduates earn when they are in the middle of their careers.
How many graduates can make their student loan payments on time within three years of graduation.
What kinds of jobs graduates go into and, on average, what those jobs earn.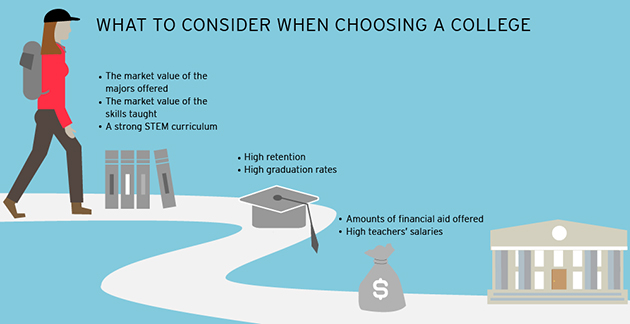 For example, if you've narrowed down your choice to two colleges, you might want to compare the two to see (1) how much graduates actually earn when they leave, and (2) how much the college seems to be responsible for it. Similarly, if you're concerned about the amount of student loans you'll need to take out, you can see how those two schools compare when it comes to (1) the share of graduates who are able to make payments on their loans during their first three years out of school, and (2) how much the school seems to be able to prepare them to do so.
These rankings won't tell you if majoring in engineering is better at one school or another, but they can tell you how well the average student does.  If you want to increase your post-graduate salary, we found that science, technology, engineering, and math (STEM) degrees were associated with very high earnings.
It's important to remember that our rankings are looking specifically at economic success, and picking the right school is about more than the paycheck you can expect afterwards. We do hope, though, that prospective students and their parents can use these rankings and data to make a more informed choice about the important and increasingly expensive decision about where to attend in the fall.